At Archiscene we wrote for the first time about the project back in early 2015 when Snøhetta while still never failing to impress just as many had to work with less sophisticated renderings and also be only one of myriad of office building projects. Nevertheless, the work on the massive Le Monde Group headquarter building was completed in the mighty uncomfortable 2020 the year of peak pandemic.
Today, with vaccination the building is in full use and it is housing 1,600 employees of the Le Monde Group on its Paris address of the 67-69 Avenue Pierre-Mendès-France in the 13th arrondissement of Paris. Snøhetta brings it's contemporary signature to the streets of Paris with the now completed building, with careful planning of the rooftop as the 5th façade, but also the 6th façade under the building itself.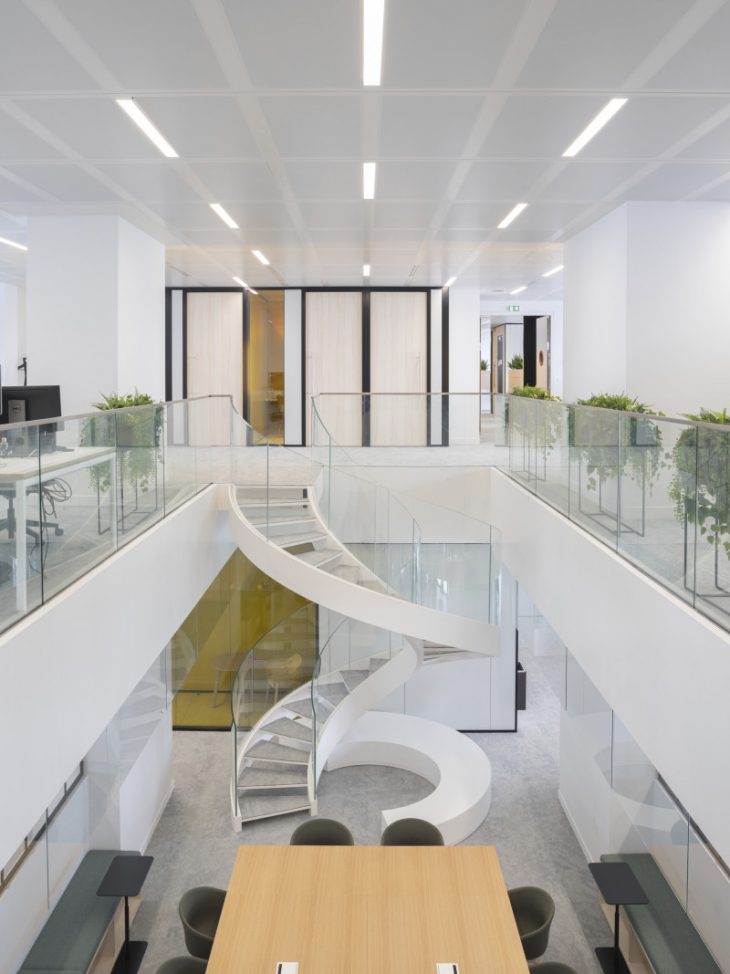 "A translucent, dynamic façade and expansive public plaza express the building's openness to its surrounding context. Indeed, the project itself emerged from a moment when these priorities were called into question. As the Le Monde Group deliberated over architectural proposals for their future home in early 2015, just days after the attacks on Charlie Hebdo Magazine's headquarters, they ultimately selected Snøhetta and local partner SRA Architectes' design, opting for a building that remains in open dialogue with the city of Paris and its inhabitants," – notes the Snøhetta architecture team.
While planned in 2015 the building was not much of a risk for a media company of a size such as Le Monde. However the current climate is hardly friendly to the traditional print media, luckily Le Monde Groupe still enjoys success across digital and print media, also by investing in various publications over the years. Today, the building stands as the publisher's dedication to the office work set against the work-from-home momentum shutting down office buildings across the globe.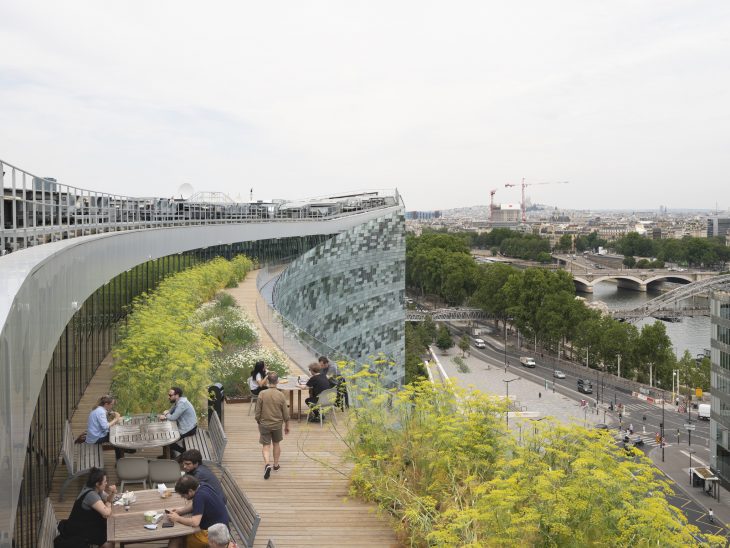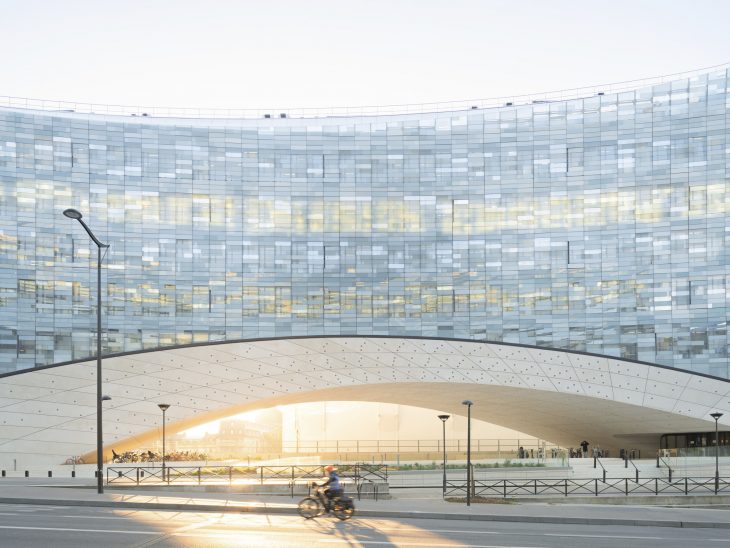 "The journey through the Le Monde Group Headquarters commences at ground level where visitors are greeted by a broad public plaza with integrated vegetation. The plaza invites passers-by to linger and interact while also creating connections to the cityscape on each side of the building. From 2021, this physical connection will be further enhanced with the introduction of a new bridge that will spanning across the neighbouring railways of the Gare d'Austerlitz," adds Snøhetta in their description of the Le Monde HQ project.
The building is now office home for Le Monde, but also Télérama, La Vie, HuffPost and Courrier International, as wells as l'Obs. The opening of the Le Monde headquarters also comes as massively growing interest in the Rive Gauche of Paris, part of the city often not considered by companies working in publishing. This is also opportunity to unite all of its six newsrooms under one roof, previously spread around the city of Paris.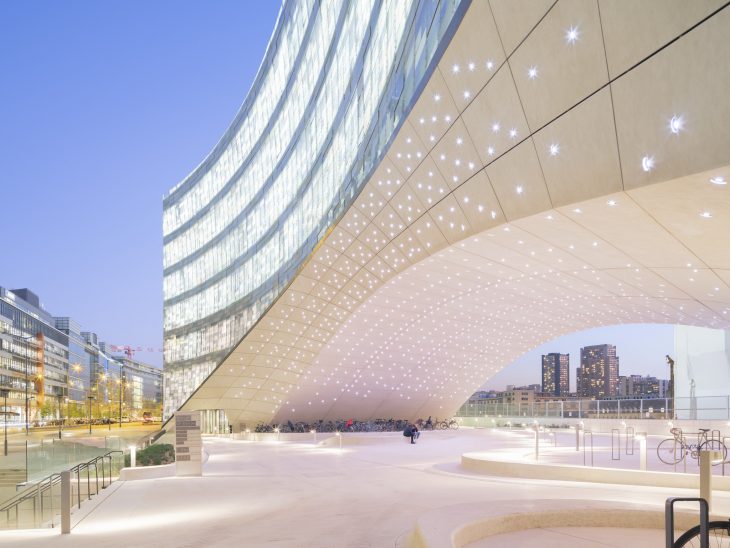 Talking about the project Snøhetta architecture team adds: "Spanning 80 meters from one side to another, the building is a response to the conditions and challenges of the site: Acquired by the Le Monde Group in 2014, the site is situated just above the railways and platforms of the Gare d'Austerlitz which makes the creation of a technical basement impossible. The first challenge, therefore, was to construct a building where the entire technical system of the building would be cleverly incorporated into the structure of the building itself. The second challenge was that the site could only carry a specific amount of weight, and only on the two extremities of the site. As the middle section was not planned to hold the weight of a building, the client's initial brief was to create two buildings on the parts of the site that were buildable."
Snøhetta worked closely on the project with its French partner the SRA Architects. Discover more of the project in our gallery: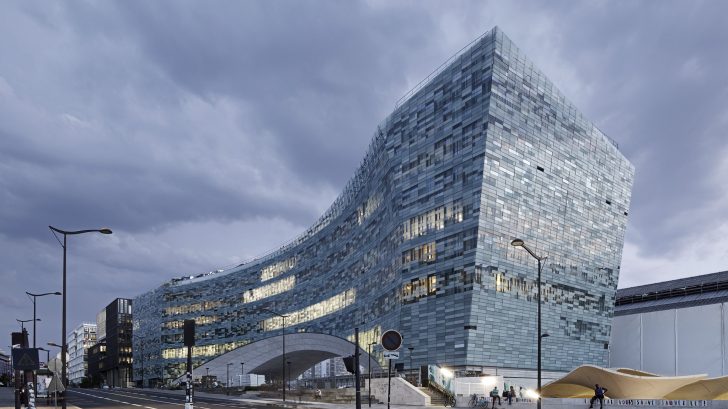 Timeline 2014 – 2020
Status Completed
Location Paris, France
Client The Le Monde Group // Redman IDF
Local Architect SRA Architectes
Size 22 933 m2
Certifications BREEAM Excellent, Etiquette COV A+
For more projects by Snohetta log on to snohetta.com