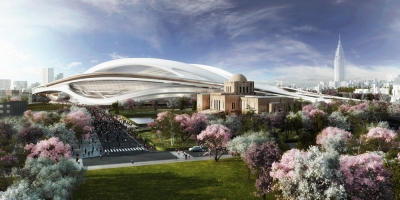 Project: Japanese National Stadium
Designed by Zaha Hadid Architects
Size: 290 000 m2
Capacity: 80 000 people
Location: Tokyo, Japan
Website: www.zaha-hadid.com
Zaha Hadid Architects' solution for the Japanese National Stadium in Tokyo wins the first award in the competition for the design.
From the Architects:
The building volume sits gently within the urban landscape and is articulated as an assembly of stadium bowl, structural skeleton, cladding membranes and the museum, together forming an intricate structural composition that is both light and cohesive. The perimeter of the bowl structure becomes a new inhabited bridge, a continuous exhibition space that creates a new type of journey for visitors flowing along the project's North-South axis.
The stadium roof defines an iconic silhouette that integrates gently within the cityscape around it. It is an intricate assembly of efficient long-spanning structural ribs which are spanned by a system of lightweight, translucent membranes. This unique structure is a lightweight solution, where the stadium elevation graciously touches the ground, defining a clear approach towards the stadium entrances. The interior of the stadium is also given a clearly identifiable identity through the strong roof structure that contrasts with the lightness of the translucent membrane tensile structures.
The museum is displaced from the main bowl geometry as a discernibly separate element. It defines an elevated plaza for public use – a new urban gathering space that can be used by the public for functions outside of sports events, yet its carefully controlled views into the stadium intimately tie it to the overall sports complex. The museum is lifted up above the ground plane, allowing for a minimal footprint on ground where the landscape extends beneath it.