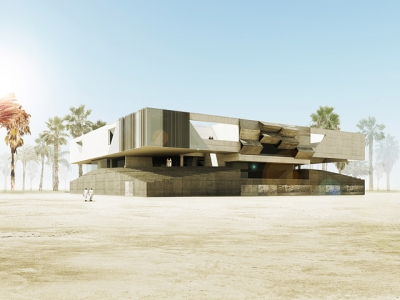 Project: Motor Sports Complex Museum
Designed by Marc Anton Dahmen Architecture & Studio DMTW
Location: Kuwait City, Kuwait
Website: www.studio-dmtw.de
Motor Sports Complex Museum building project coming from the drawing board of Marc Anton Dahmen Architecture & Studio DMTW.
From the Architects:
Located next to a new race track and a dragster speedway, the museum is another component of the projected "Motor Sports Complex" in Kuwait City. Its main function is to be a public showroom for the King's private collection of vintage racing cars. Besides the main exhibition hall with approximately 50 cars, it also houses a pitbuilding including a garage for restauration, a driving school for kids, a little conference centre, a cinema and some private VIP spaces.

The volume is split into three main parts which are stacked on top of each other. The public layer in the middle – in between all the car-related facilities on the groundfloor and the conference spaces and VIP area on the top floor – acts as kind of an open transparent gap, presenting all the King's cars. A concrete landscape transforms from the exhibition space on the one side to a concentric tribune on the other side – allowing view connections to the upper and lower levels.

A big ramp leads up to the main exhibition floor, serving as a drop off zone for the King's special guests, covering the main entrance on the groundfloor.

Due to the local climate the major part of the outer facade is closed. The heavy concrete structure provides enough mass to cool down the entire building. Only the "gap" is totally glazed. A huge set back protects the exibition space from direct sunlight and provides diffuse natural lighting and a great view over the whole race track.