TAKA + PARTNERS has recently completed the design of "MOLDEE | Bar & Restaurant in Thessaloniki, Greece. Moldee is a hybrid dining experience that combines fine casual dining with fine drinking. The space is divided into two co-located components, the limits of which are not clearly defined.
It is located on the ground level of a 1973 listed apartment building. The chef's ambition is to create a location where they may develop their vision and provide the public a fresh nutritional path. Discover more after the jump.
From the architects: Anatomy of a plate. Moldee gives shape to high gastronomy.
Moldee is a hybrid dining scenario, where fine casual dining is combined with fine drinking. The space consists of two units that are co-located, with their boundaries being not so distinct, entering into each other. It is located in the center of the city of Thessaloniki and is housed on the ground floor of a listed apartment building built in 1973. The chef's vision is to provide a space where they would develop their vision, to offer the public a new direction in nutrition. In this way, the users of the place are transformed into "moldees", that is, they are trained by the chefs in order to know the quality food and to be fed with quality ingredients and clean flavors in their daily life. The gastronomic concept also influenced the architectural design in a very minimalist way and without unnecessary elements.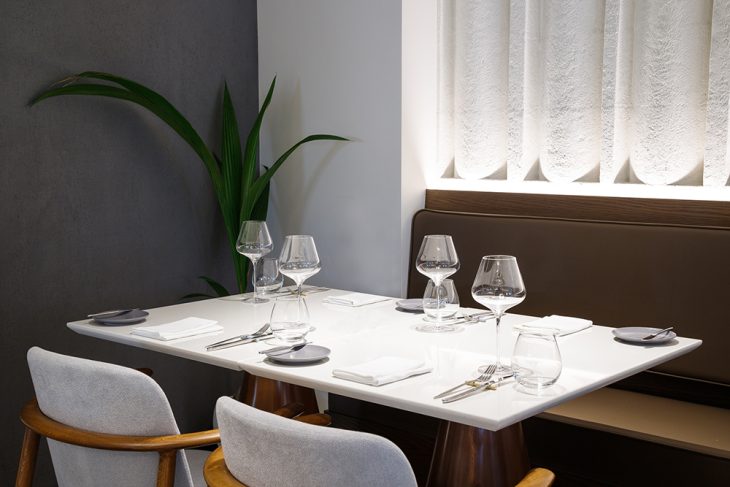 Making a theoretical section of a plate, the following ingredients are identified: the dish as a strong base, the ingredients that create the composition of flavors and shapes, and finally the topping which consists of impressive and light elements that contribute to the creation of emotions and atmosphere. These elements are visible in the space, where initially one sees a single and very special floor that is the basis. Forms influenced by chefs' dishes are designed on this base, combining clean straight lines with curves and circles.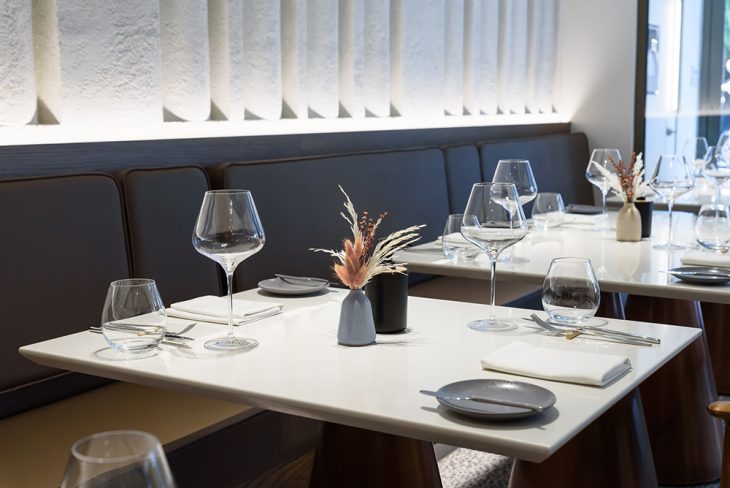 These forms are mainly made with molds, offering a sense of sculptural rigor. Finally, as a topping, an impressive ceiling is chosen with a strong curved geometry that helps the light to function as the light and connecting element of all the above. The lighting of the spaces contributes to the variability of the atmosphere in order to serve the various needs at different times of the day. The styling of the dishes plays an important role in the vision of the chefs. For this reason, the restaurant is chosen to create a calm atmosphere in earthy shades, where the protagonists are the colorful dishes. In contrast, the area of fine drinking is characterized by the same colors but in darker and more intense tones and with more points of interest. In short, our goal was to design a familiar space imbued with sensitivity and rigor that at first surprises but then with the help of all the elements one can delve into the minimalist luxury of space and food.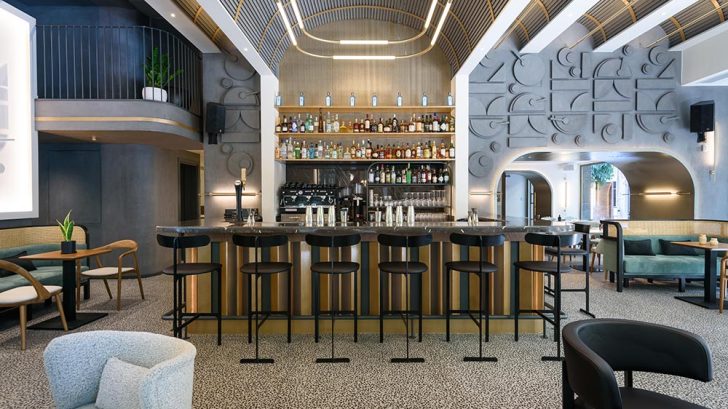 PROJECT DATA
Project name: MOLDEE
Project location: Thessaloniki, Greece
Client: Nefeli IKE
Gross Built Area (square meters): 310,00 m2
Design & Completion Year: 2020-2022
Photo Credits: Βασίλης Μαυρίδης, Michele Troiani
IMPLEMENTATION STUDY TEAM:
– Concept – Architectural design implementation studies – Interior design: TAKA +
PARTNERS – www.takaandpartners.com
– Lead Architect: Aspasia Taka
– Design Team: Maria Avramidou, Maria Solidaki, Anna Lazaridou, Christos Komzias
– Construction: MBRACE.gr – Georgios Mitolidis
– MEP study: EMDC – K. Kapesidis – N. Mertzios LTD
– MEP building study: Cambicci+Associates
– Acoustic study: Acousone – Georgios Karpouzas
– Supervision: Ioannis Askaridis