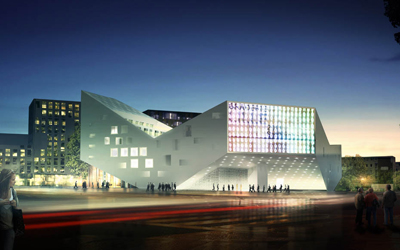 Project: Euralille Youth Centre
Designed by JDS architects
Team: JDS, EGIS, Agence Franck Boutté, Consultants, SL2EC
Project Leader: Renaud Pereira
JDS Partner in Charge: Julien de Smedt
Project Team: Henning Stuben, Sandra Fleischmann, Heechan Park, David Dominguez Iriondo, Leonora Daly, Priscilla Girelli, Marion Julien, Edna Lueddecke, Francisco Villeda, Wouter Dons, Felix Luong
Client: Saem Euralille
Size: 6.980 sqm
Location: Lille, France
Website: jdsa.eu
JDS Architects create a contemporary engaging project for the Euralille Youth Centre in the French city of Lille. For more images and architects description continue after the jump:
From the Architects:
Over the past twenty years Lille has become a European hub; a destination for business and congress, a great place to study and live and also a tourist destination. It is a city with a turbulent history of conquest and reconquest, a heritage as an important medieval city and later on enjoyed and sometimes suffered the title of Northern France industrial capital.
Our project emerges from the idea of creating an urban catalyst, accommodating three distinct programmes on a triangular site. By placing a program in each point of the triangle we offer maximum privacy while allowing them a closeness and continuity of space, organized around a garden, like a cloister of calm in the center of the city. The lifting of the mass of the programme at the corners illuminates and activates the adjacent public spaces and creates a continuity from outside to inside of the building.