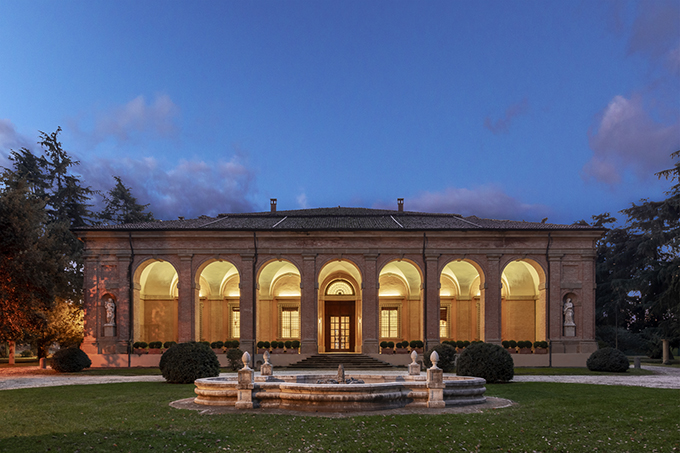 Florentine studio Pierattelli Architetture converted the Villa Boncompagni alla Cicogna, a 16th century villa designed by the famous Italian architect Jacopo Barozzi, into the headquarters of the Unipol Group's Corporate Academy. Unipol Group is the second insurance group on the Italian market and among the top ten in Europe. Discover the complete story after the jump.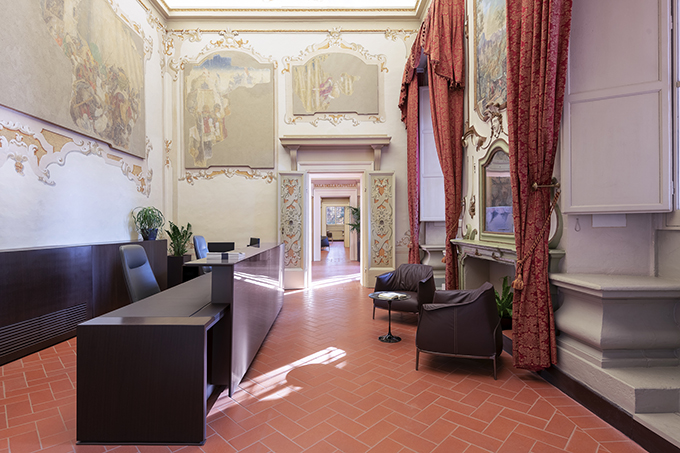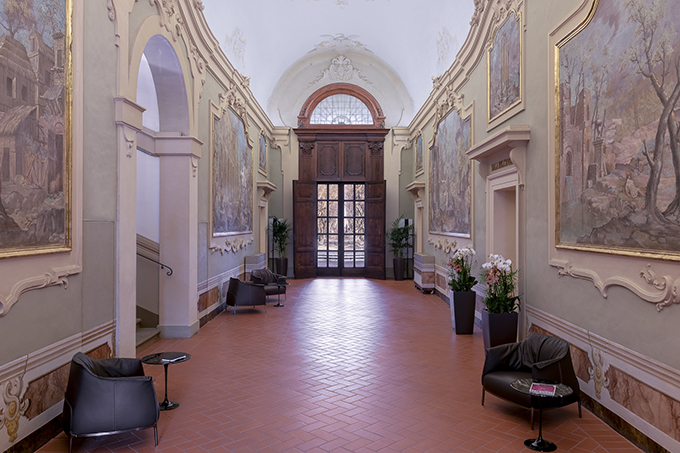 The intervention involved both Villa Boncompagni, which houses all the training part of the Academy and that of representation of Unipol Group, and the adjacent villa, Villino, where there are the management offices of the learning center, for a total of about 2000 square meters of intervention area.
The interior design preserves the large rooms, the heights, the frescoes and the interior decorations, also protecting the solemnity of the spaces thanks to a chromatic and material palette in line with the style of the residence. The rooms thus combine Renaissance charm with elegant and contemporary furnishings. To the realization of a timeless project also contribute products of some design elite, such as Kartell, Flos, Poltrona Frau, Arper, Edra…
The Renaissance references are found in the style of the residence and, at the same time, in Unipol's vision and desire to create a place dedicated to knowledge, education and culture. The Academy headquarters is not merely a container, but a context that can amplify and enhance the new functions housed in the building, meaning them even more.
Without distorting the original project and maintaining its architecture and character, the interior spaces have been reorganised by Pierattelli Architetture to accommodate and combine the innovative and multiple educational technologies adopted by the Insurance Group for the training of all its employees, agents and network personnel.
In Villa Boncompagni the style and charm of the villa have been maintained during the functional conversion of the interior spaces, transformed into versatile environments, suitable to accommodate the different training activities offered by Unipol. Both floors on which the villa is divided are characterized by two large central rooms around which are developed the different rooms of training and management of the structure. Starting from this layout, the villa has been divided into a series of themed areas with specific functions: classrooms – of various sizes and types – plenary room – which dominates the center of the ground floor of the villa – lounge and break areas, archive and meeting room.
The Villino houses the operational offices, management and computer training rooms. Also in this case the rooms have been rethought trying to maintain an aesthetic and functional cleanliness faithful to the architectural project.
Photography by Iuri Niccolai
Find more projects by Pierattelli Architetture: www.pierattelliarchitetture.it