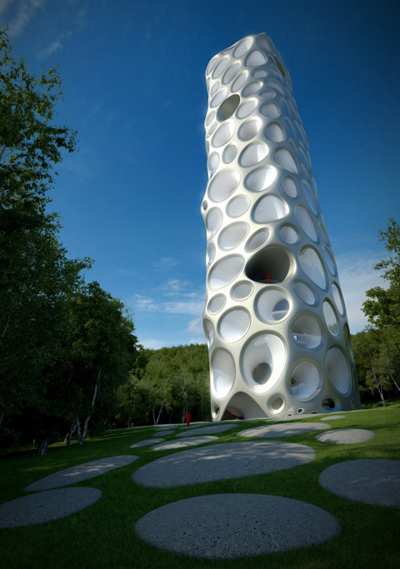 Project: Wine Museum
Designed by DRA&U Architects
Architect Team: Simone Luciani, Livia Campana, Giorgio Pini, Annapina Di Filippo, Yana Ivanova
Location: Santiago de Chile, Chile
Client: Asociacion de Vinedos de Chile
Website: www.dra-u.net
For Wine Museum project design in Santiago de Chile designers at DRA&U Architects create a 100 meter high proposal project. For more images and architects description continue after the jump:
From the Architects:
The dynamics line and surface define the templates that create architecture and organisations. In the making of form it is not only shape that counts but the rules and interior logic by which such contours are derived.
We wanted to build from first principles and our own prescriptions of form based on interior dynamics that grow they own logic. The approach is to accept as irreducible the nation of the complexity; a holistic view, one that is different from the traditional methods of drawing sections and plans and then extruding or patching them to make buildings. A form is not only a building but can be viewed as structure or sculpture-any organisation that interrogates space in new ways. How to integrate a 100m high building in a nature park context? The question push us to work in organic filed with an idea to create a living organism. External and integral volumes were connected with great number of capillaries. The system of capillaries helps to avoid a direct light in exhibition spaces, and in the same time permits to visitors to observe city or park on 360 degrees.