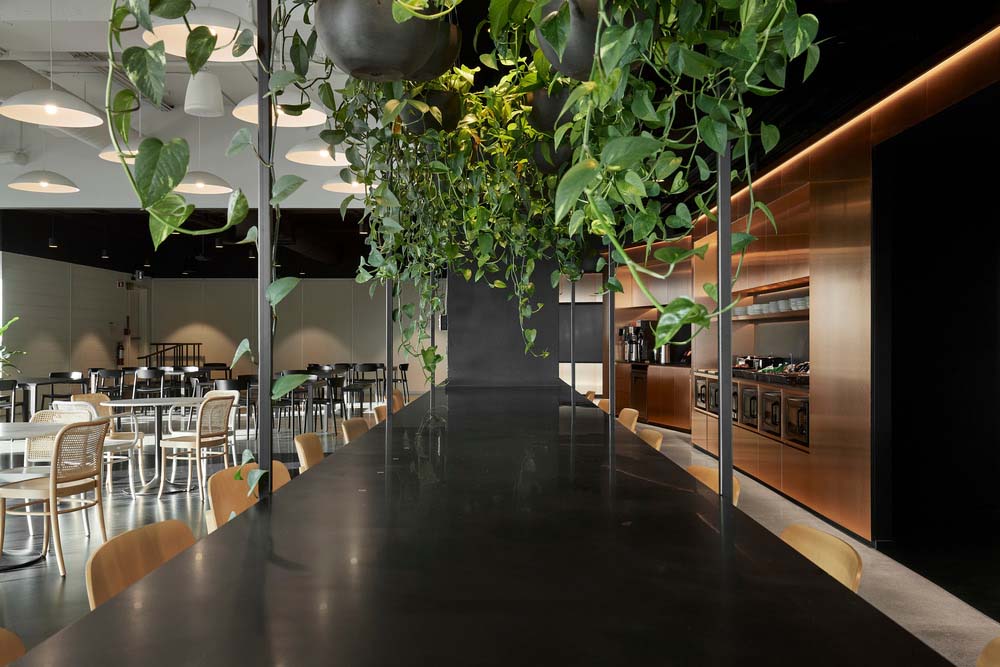 ACDF Architecture was commissioned by american video game publisher 2K to design its Montreal office. 2K wanted an office that stood out in Montreal, a hotspot for gaming firms. As a point of departure, ACDF experimented with dimensions, sightlines, and a monochromatic color scheme while drawing inspiration from mid-century domestic architecture. Over the course of the 30,000 square foot area, which has a capacity for over 150 people, ACDF has created spaces with limited lighting to meet the very specific needs of developers and other nooks with abundant lighting that evoke garden cafes and outdoor terraces. The variety of settings, from more private to more public, are combined under one overarching concept.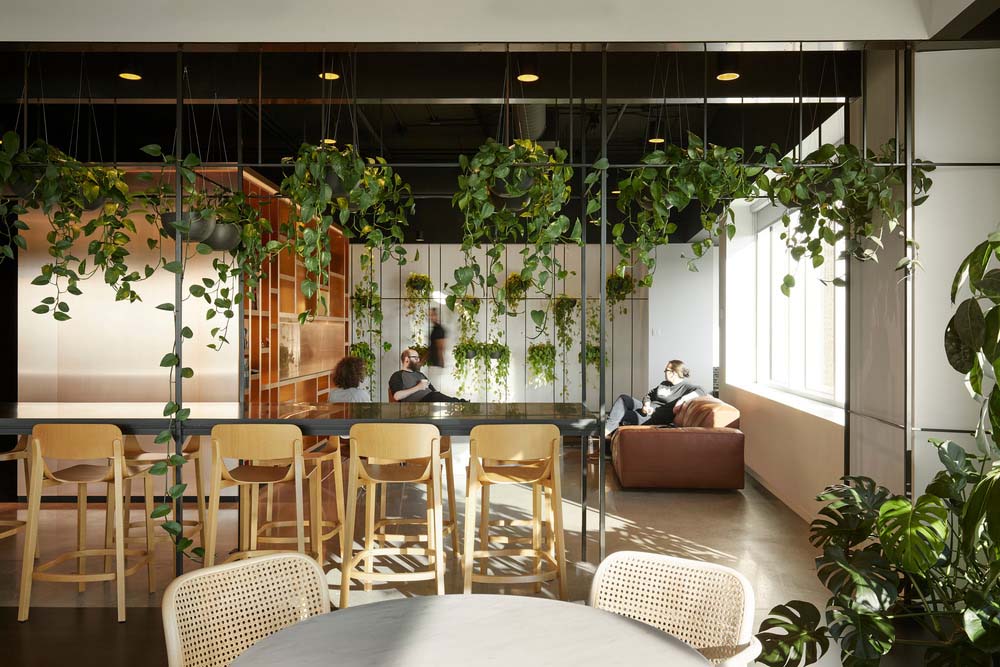 The facility, which is in the city's Westmount neighborhood, is on the fifth level of what was once a bank credit card company's data center and has undergone extensive renovations. The contrast between calming darkness and energizing light serves as the inspiration for the adaptive reuse office design. With a darker, more intimate look for focused, solo work and brighter spaces with white ceilings that promote openness and collaboration, ACDF designed these contrasts. With the help of this organizing idea, the open floor layout is divided up into zones that are specific to each of 2K's teams. Each team has a separate, open space designated for individual work, which is distinguished by furnishings that go with the subdued colors of carpeting in their modest offices and conference rooms.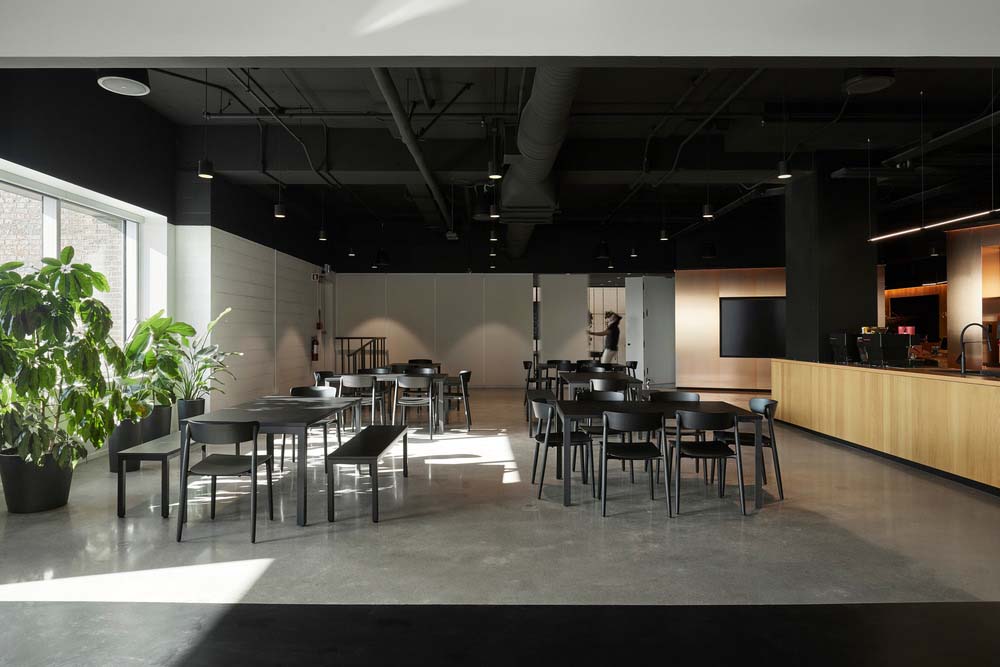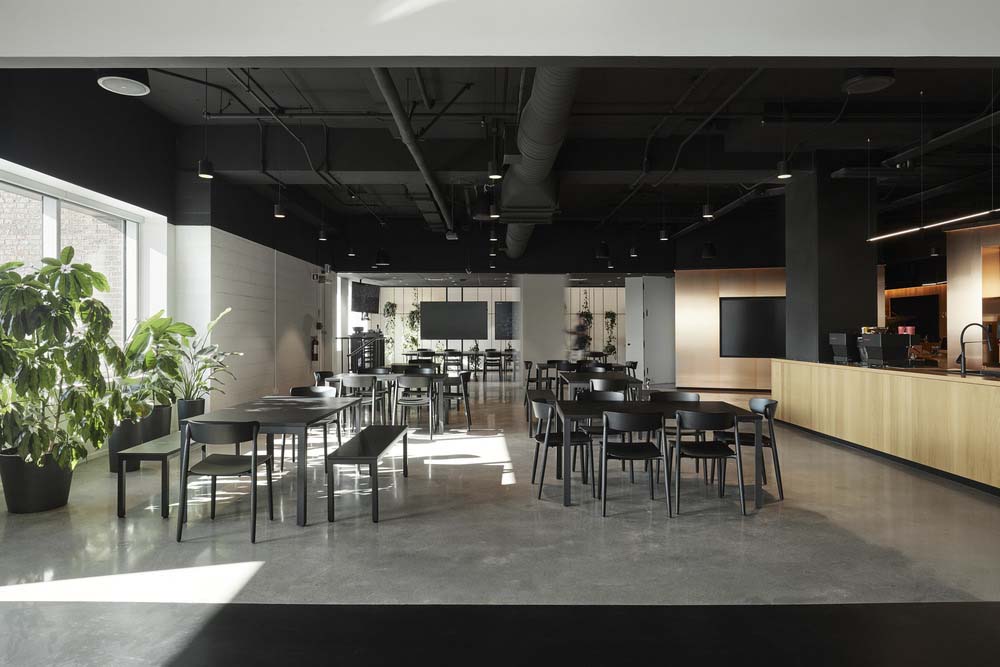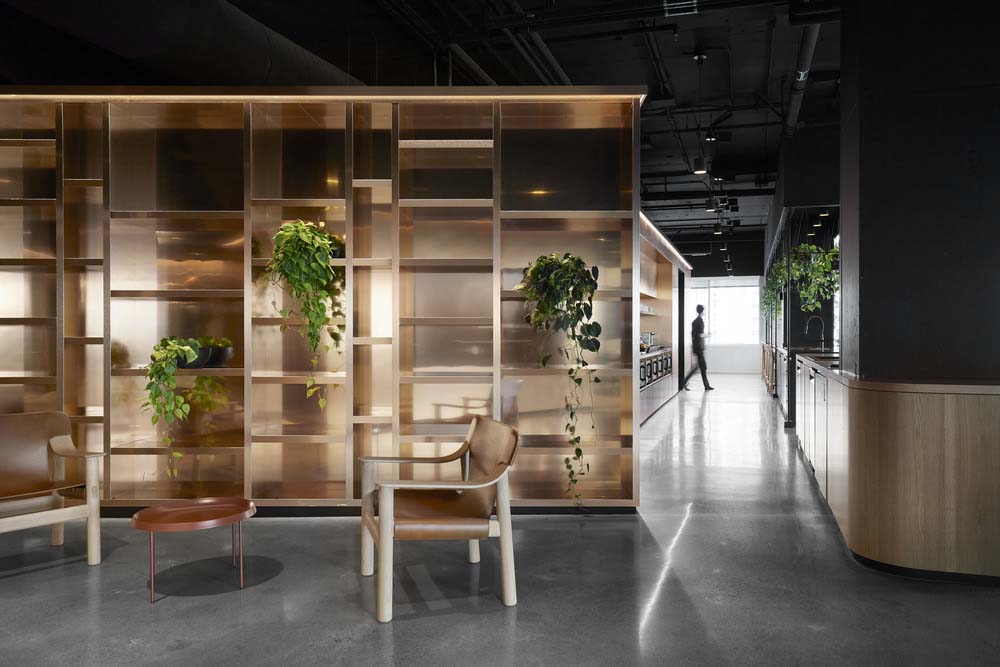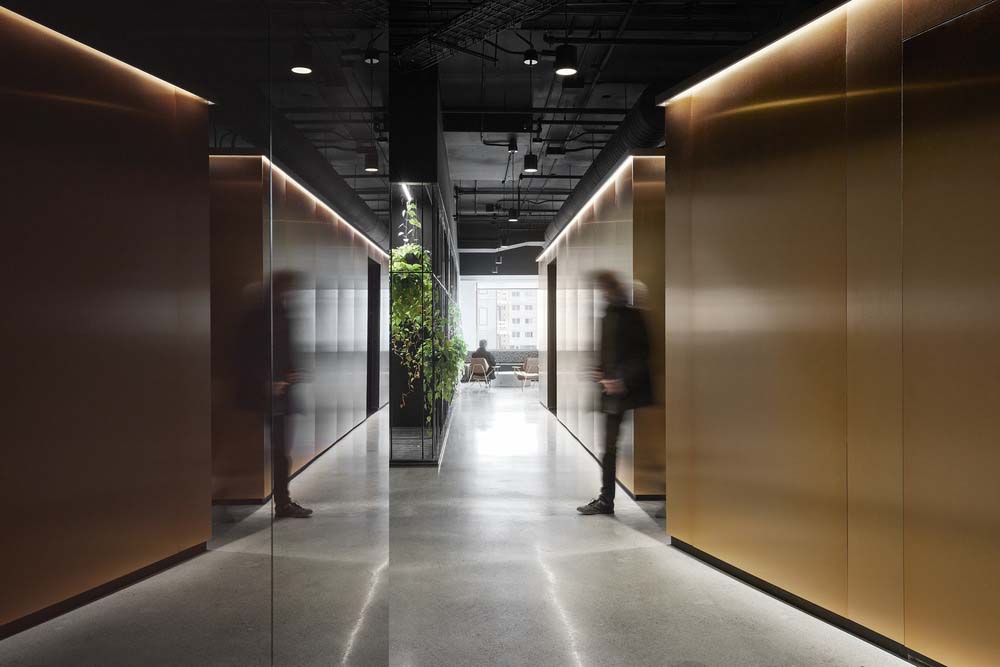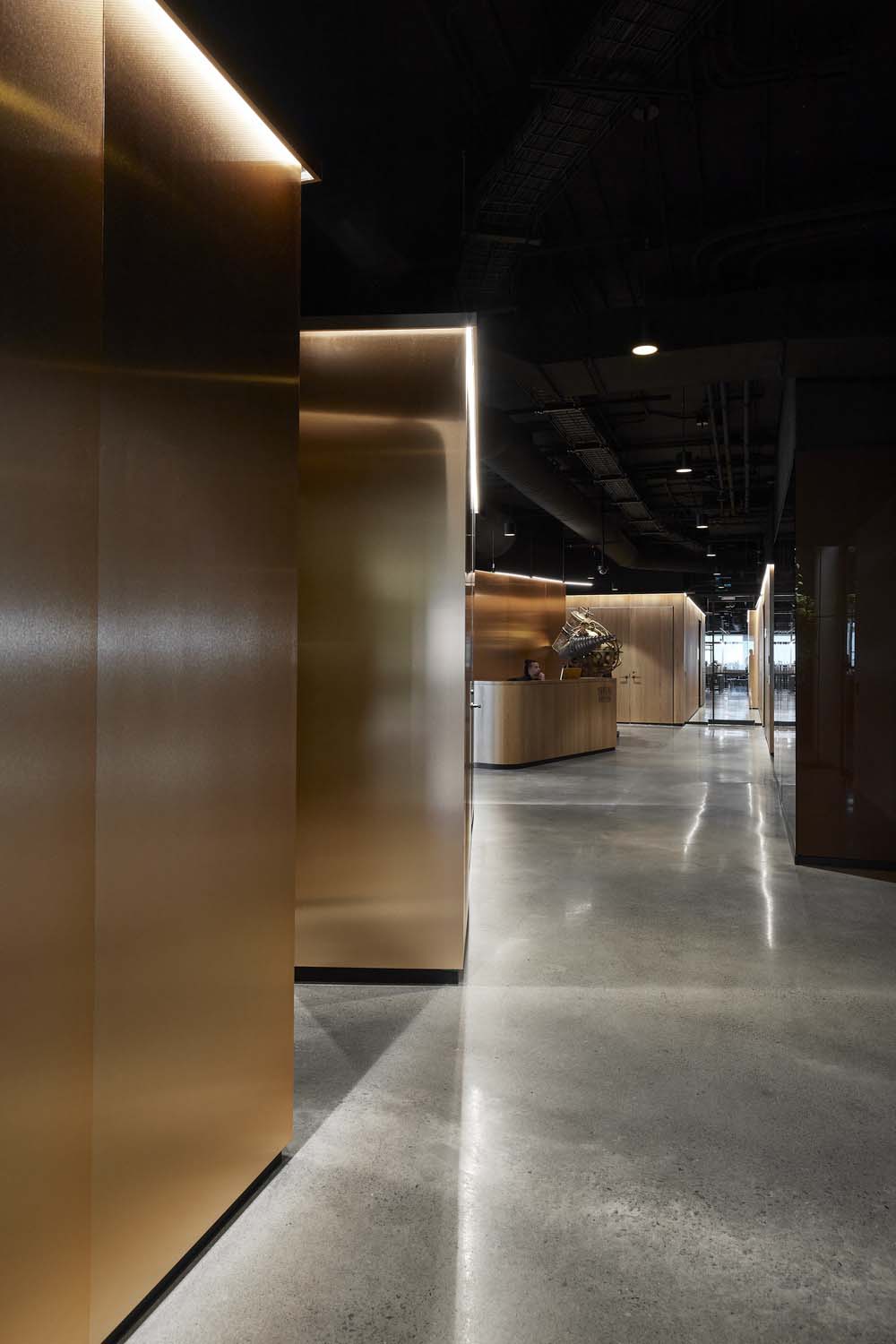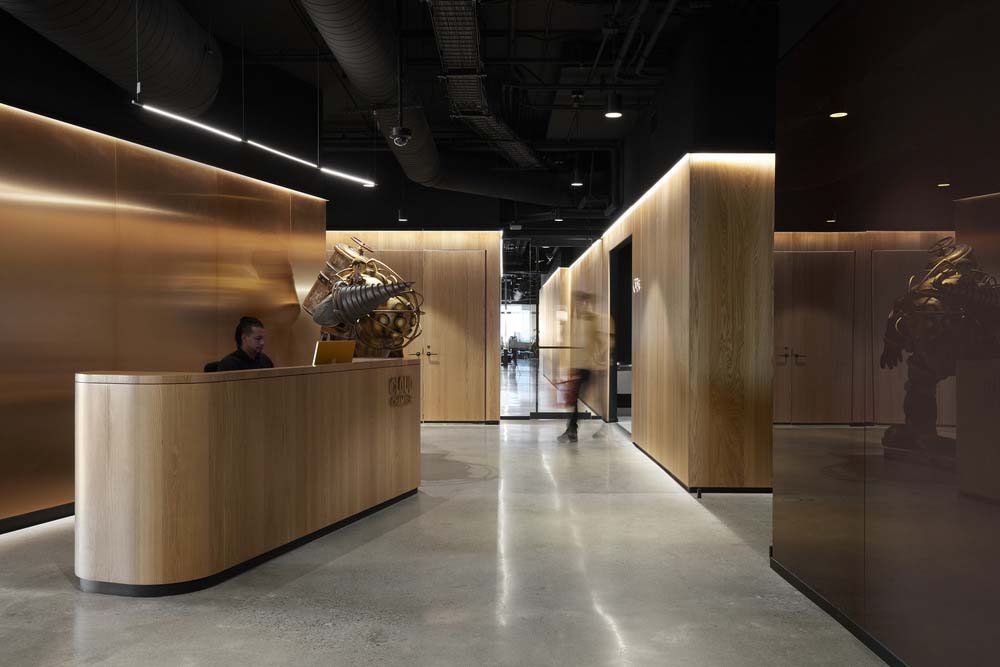 "We took advantage of the building's three-dimensional envelope and used its natural nooks to differentiate between zones."
said ACDF partner Joan Renaud.
As a result, the "gardens" are furnished with a wooden deck, black metal supports for writing boards and hanging plants, and white curtains that may be opened or closed in accordance with the desired amount of privacy.
Instead of using conventional walls to partition the floor plate, ACDF made use of the spaces between already-existing buildings and closed center volumes to create a non-linear flow with opportunities for social contact, which strengthened the sense of teamwork. A succession of interior units, ranging from utility spaces to elevator shafts, are visually unified and clad in a warm color scheme of copper panels, wood panels, and tinted glass. These rooms offer a feeling of order and rhythm, gradually dividing the sea of open desks, and also feature an entry, front desk, private offices, and coat storage for Montreal's bitter winters. Different lighting techniques, such as backlit tensile and exposed ductwork, provide the impression of high ceilings throughout.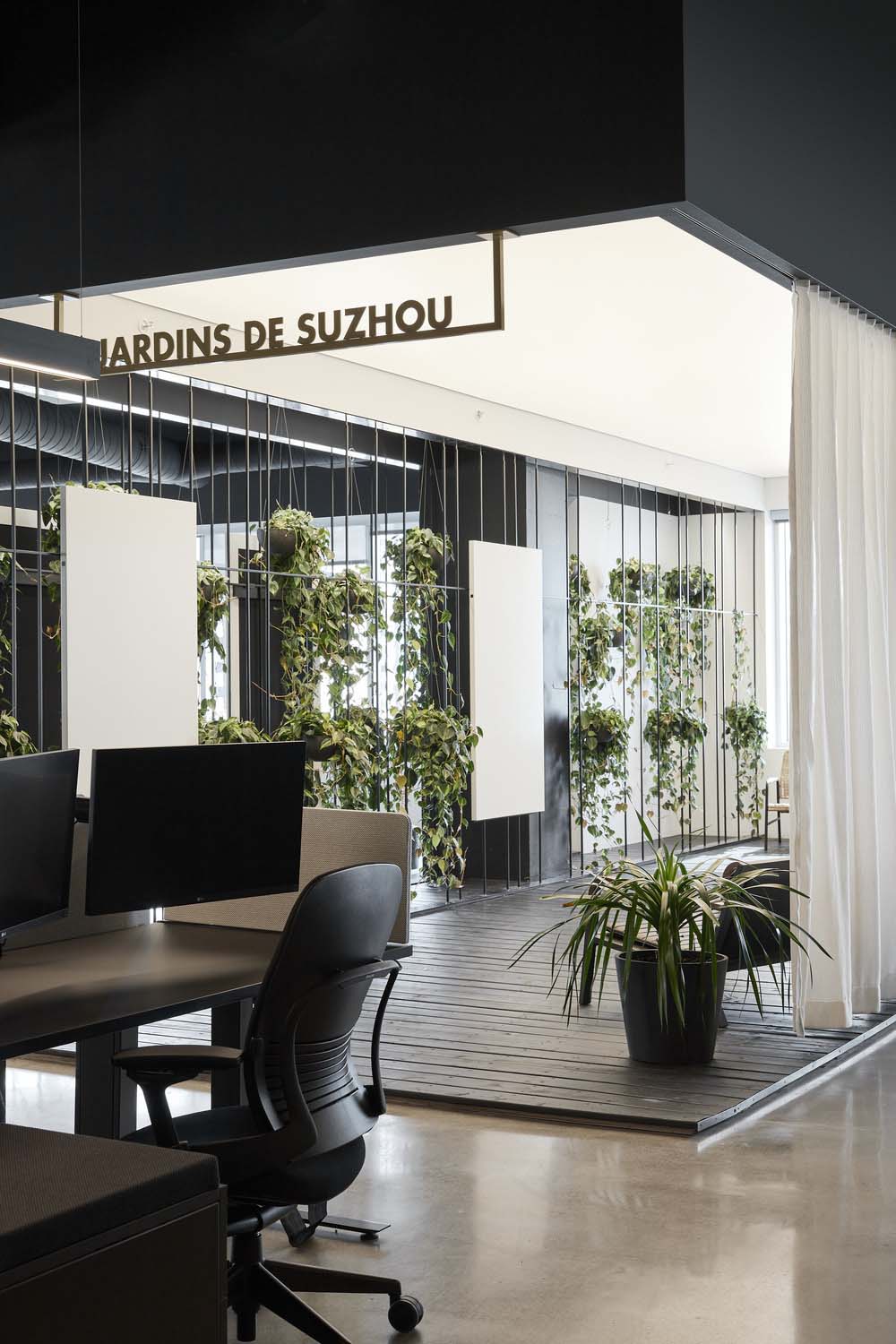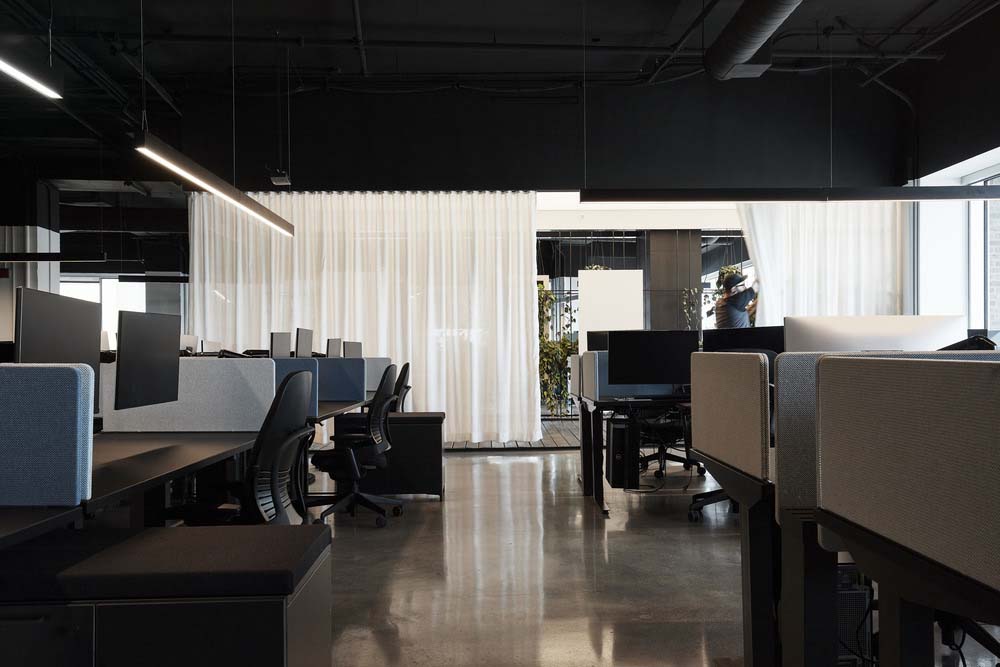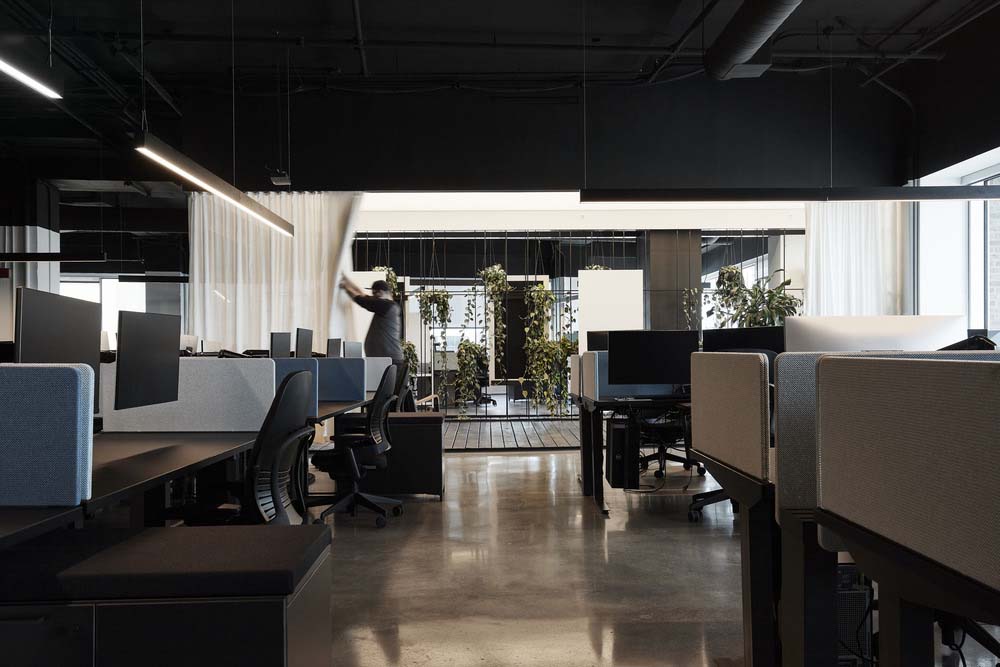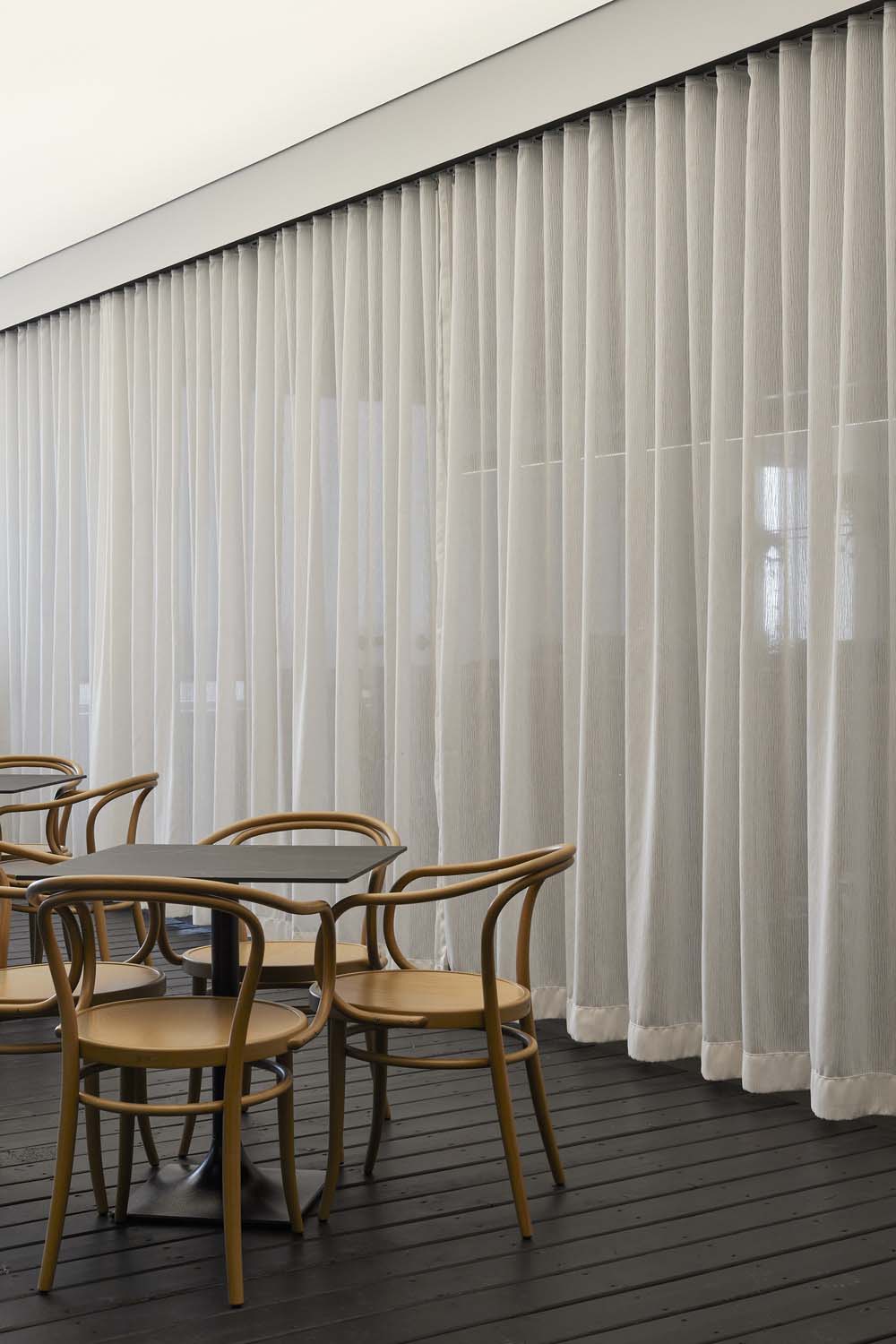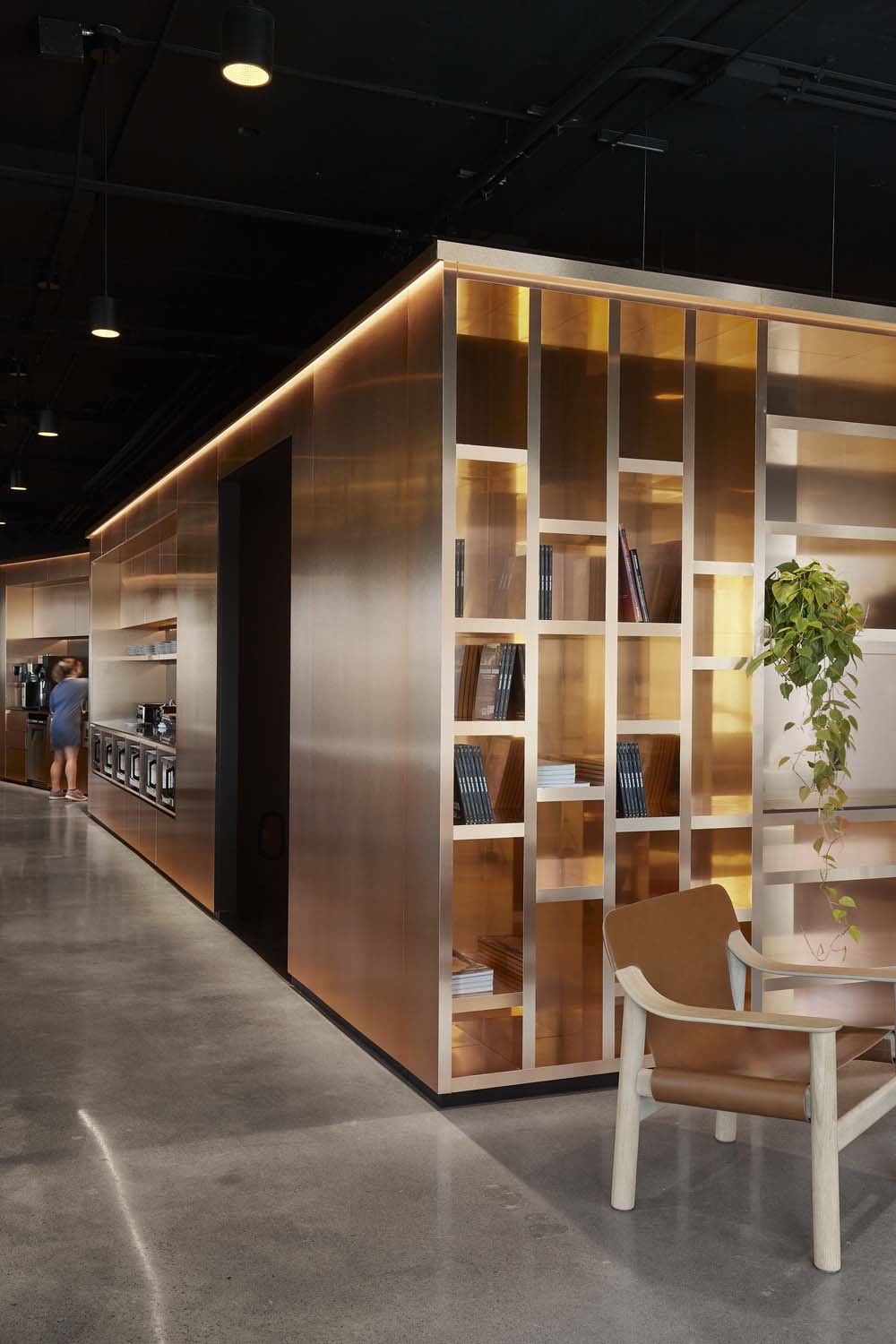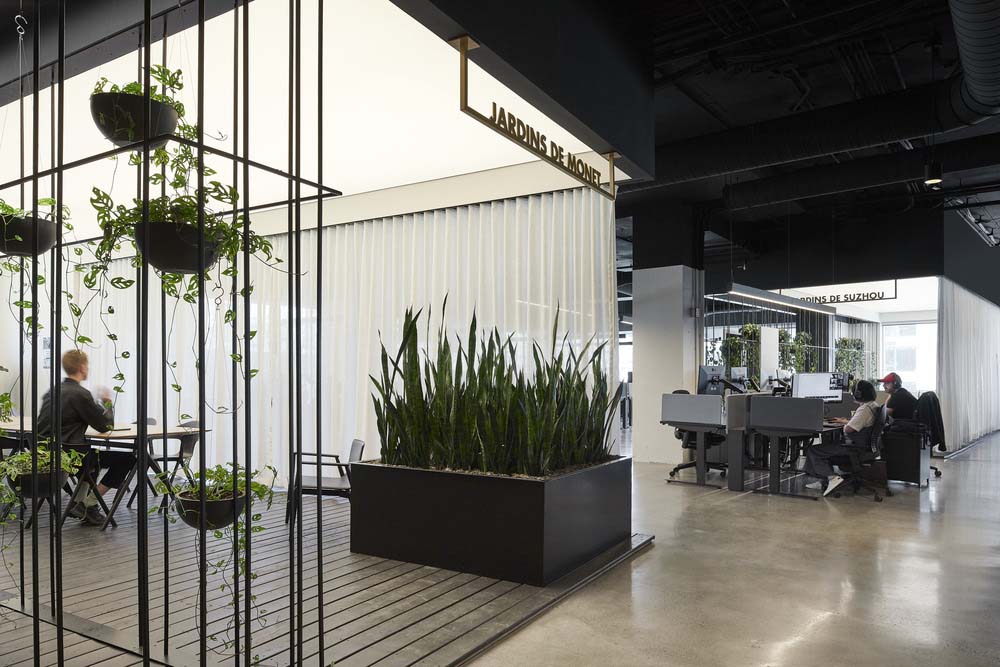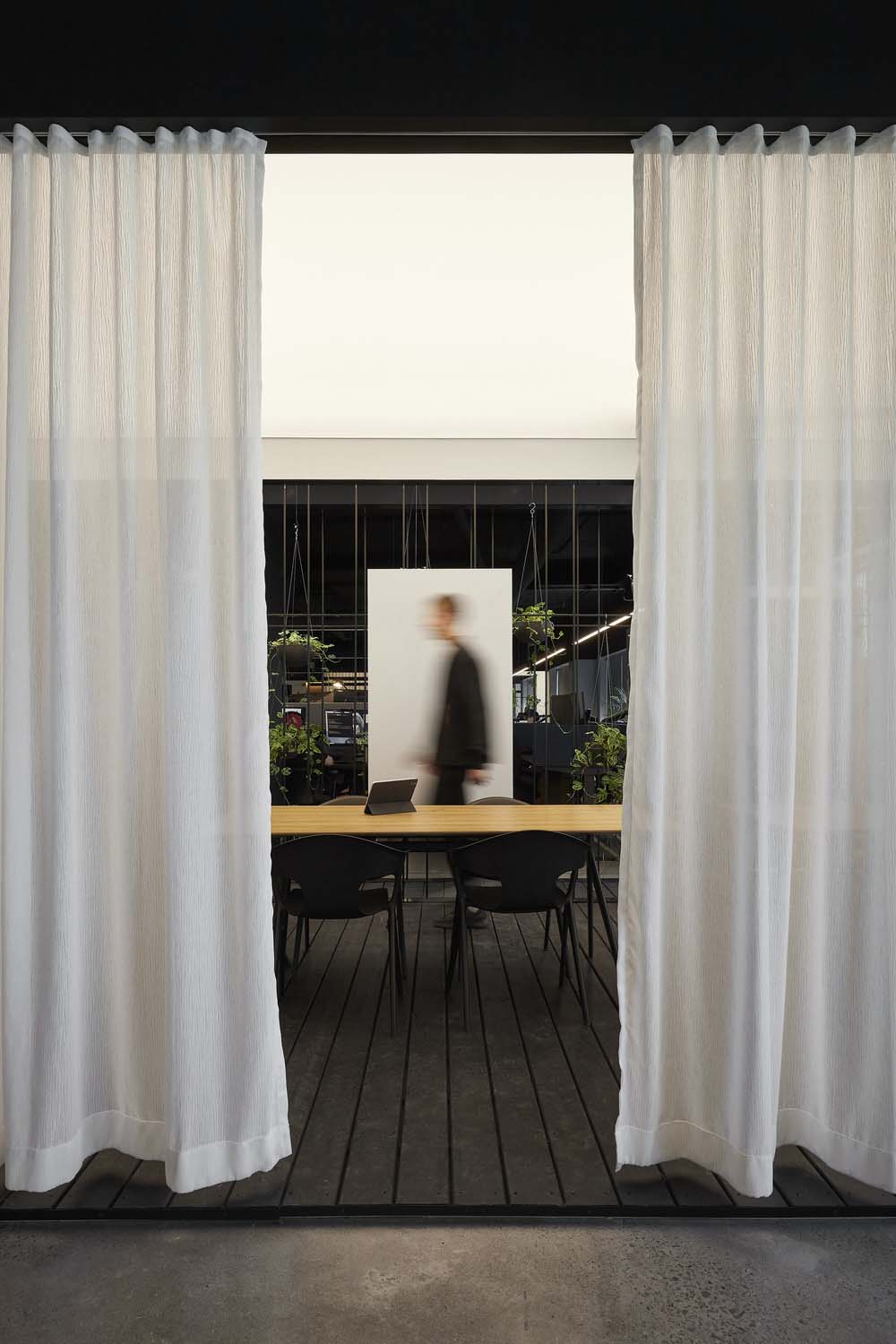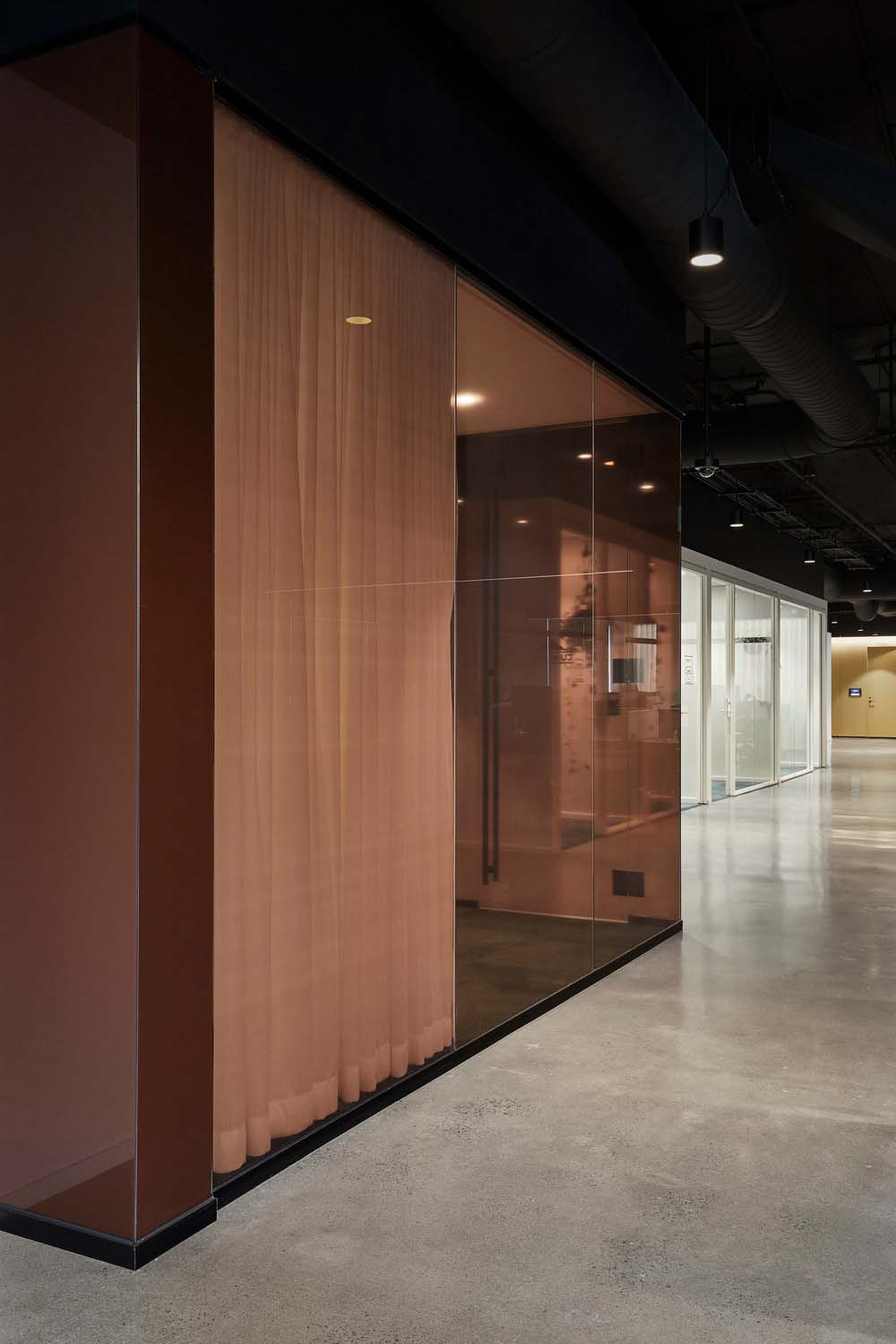 "By opting for a more sophisticated muted design, we strove to create a space that had a sense of composure and improved people's time at the office."
Through the use of premium materials and meticulous attention to detail, ACDF has created a setting that is warm and inspiring by balancing vast areas for group work and socializing with quiet spaces that are similar to the comfort of one's home for intense concentration on work. The concept promotes a sense of community and fosters teamwork while providing a space where employees and teams may locate what they are seeking for whenever they need it.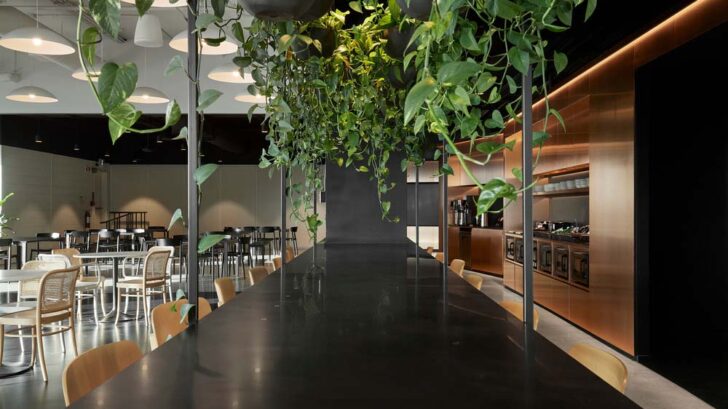 Project information
Cost: $4 million
Area: 26,722 sq. ft.
Year of delivery: 2022
Team:
Joan Renaud
Véronica Lalli
Marco Brissette
Sang Taek Nam
Mireille Létourneau
Carolyn Gouin
Maria J. Briceño
Léa Brisson Walters
Architecture, interior design, graphic design, furniture selection, interior signage, integrated furniture design and lighting design: ACDF Architecture
Contractor: Anjinnov
Engineers: exp
Project Manager: Cushman & Wakefield
Suppliers:
Cabinetmakers : Ameublement Hors série ML inc
Lighting: Lumigroup
Carpet: ShawContract Dye Lab Tile
Wood veneer: Ameublement Hors série ML inc
Furniture: Herman Miller / Pedrali / Hay / Cab Deco / De Gaspé / Softline / Steelcase / Allermuir
Office walls: Haworth Cime
Stretch ceilings: INF Concept nc
Plants : Vertuose
Signage: Duvalcom Christian Duval
Removable wall: Corflex
Find more projects by ACDF: acdf.ca