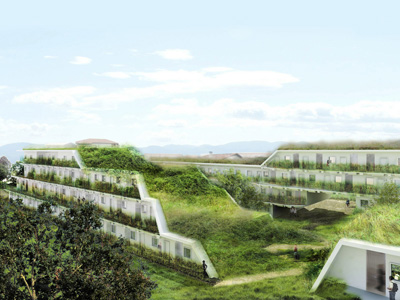 Project: Logements Anglet
Designed by OFF Architecture + duncan lewis SCAPE architecture Architect: D. Lewis
Landscape: Cyrill Marlin
Client: Office Public de I'habitat de Bayonne
Floor Area: 7 350m² NGF
Location: Anglets, France
Website: www.offarchitecture.com
Logements Anglet, a project enriched by flora and fauna is created by OFF Architecture in collaboration with duncan lewis SCAPE architecture Architect: D. Lewis. For more images and architects description continue after the jump:
About the Project:
Blanketed with a layer of lush vegetation, the volumes are generated by a pair of axes which denote the form and function of the various buildings. Considering access points into the complex from the surrounding context, the structures separate or lift from the ground creating pathways and tunnels into the large central garden dividing the property. Emerging from the earth, the native flora and fauna become the dominant visual building material, concealing the conventional concrete and masonry construction beneath it.
Oriented north to south and spanning 12 meters in length, the facades are comprised of balconies for the 70 apartments contained within. Organized with a 2.5 meter grid, the modular system is pushed and pulled to respect local height regulations as well as maintaining views for each of the 98 residences. The dense masterplan attempts to reconcile the effects of development by restoring green spaces to the urban fabric.
Source Designboom. *