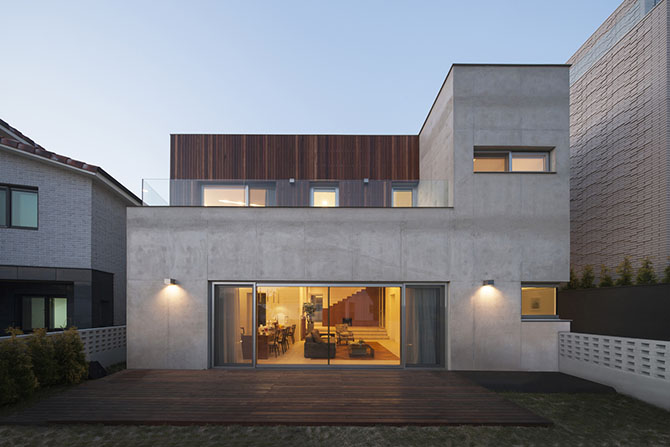 100A Associates designed this inspiring 311 m2 private residence located in Yongin-si, South Korea, in 2018. Take a look at the complete story after the jump.
From the architects: A residential space is completed with the accumulation of time and experiences. It can have a meaning of 'house' when someone resides in it and can be settled down as a real home only when the time is accumulated. 100A associates concentrates thoroughly on 'the subject' who leads time and experiences in it when they design residential spaces. The subject's lifestyle enjoying the space defines the spacial design.
A country house in Yongin is also completed through a process to establish and organize clients' time and life. 100A associates' designers understood a taste of a couple of businessman in their 50s while taking with them dozens of times, before designing a house where they will lead their old age. It is because that the clients' opinion about residential space and their lifestyle had to become the decisive clue to design this space.
The symbolic theme to suggest architectural skin and spatial order was just 'an iron hand in a velvet glove'. It is the propensity of clients who have a fine and delicate aesthetic sense in contrast to their strong and tough appearance, and at the same time a residential environment they have kept in mind. Accordingly, this space had to have the weight of simpleness and to embrace warmness in it. Although strong and rough materials were contrasted with soft ones, rhythm and proportion to connect the gap between them had to be natural.
Consequently, this country house's atmosphere is created by the condensation of the clients' impression and taste, and its another name 'Signature House' implies its spacial sense straightforwardly without adding and concealing anything. Signature House is located in a village enclosed by a low mountain like a windpipe among dense apartment complex. Its southwest toward inner village is very sunny, and its northwest toward outer village has a green view. Centering around this site, the ground had a difference of height about 5m between the inner village and outer village. This house had a condition to obtaining a sense of visual expansion by making a basement and raising the ground higher than the houses of the inner village.
The basement seen first in this house harmonizes with neighboring houses without a sense of incongruity, while its backside is seen from beyond backyard as opposed to its surroundings through simple shape and heavy feeling of concrete. A narrow stairway between both high walls is set up as an access to inside, a transfer space producing psychological tension. Entering inside with this tension, one can feel doubled stability from dense warmness of inside. While the relationship between spaces, a shape to connect them, and the functions displayed in them are created simply, the large and small frames create delicate balance by showing unusual flow.
100A associates amounted to complete Signature House's spacial form through the process to materialize the clue of 'an iron hand in a velvet glove' conceived from the clients' propensity. However, the form of life will be completed with time in it. Architecture is both space and time, and the place has a new meaning as memories accumulate. The designer also says that this project was a process to realize the residents' life rather than a work of 100A associates. Signature House with strongness and warmness formed through the users' daily life, thoughts and trivial habits as well as the potentiality of ground and the surrounding environment, will be a sufficient container to embrace their life.
Photography by Kim Jae-yoon
Find more projects by 100A associates: www.100a-associates.com