AANGAN Architects have recently completed their latest residential project in Surat, India – The Breathing House.
The house is located on a 300 square meter plot in a residential area. The design attempts to strike a balance between the user's traditional lifestyle and their modern goals in a typical village street that has been overtaken by urban expansion. A court that is perforated in the middle of this long, narrow room serves as the home's focal point and lets in plenty of light. The swing and the dining platform enable impromptu activities on the court and provide a bungalow-like sense of the garden. The center of social activity in the house is the court, which maintains the North open for all-day natural light.
On the north side, where it shares a wall with the house next door, the house brings in a good quantity of light through the linear court. Because a humid climate is particularly necessary and thus provides a suitable interior atmosphere, a constant draft of air is guaranteed in the house with the stack effect formed by the sectional play and cross ventilation. Every room in the house is connected to the greenery and sunshine, which are an essential component of the house thanks to the integration of the constructed and natural environments. It also has several unusual characteristics, such connected bridges that cross the court.
The courtyard offers a pleasant, private spot to gather or unwind outside but inside the house. It is traditionally characterized as a roofless space that is either totally or partially surrounded by walls. With the aid of sectional play, the expansive pergola at the Chiratan home makes sure of this comfort on all levels. In the courtyard, hot air rises up and escapes the building through windows set into the terrace parapet. This guarantees daylong daylight and comfortable living temperatures in every area of the house. The area reflects the clients' enjoyment of natural features including greenery, water, and natural light. With the utilization of open planning and the introduction of green alleyways inside the house, the distinction between open and closed space is blurred.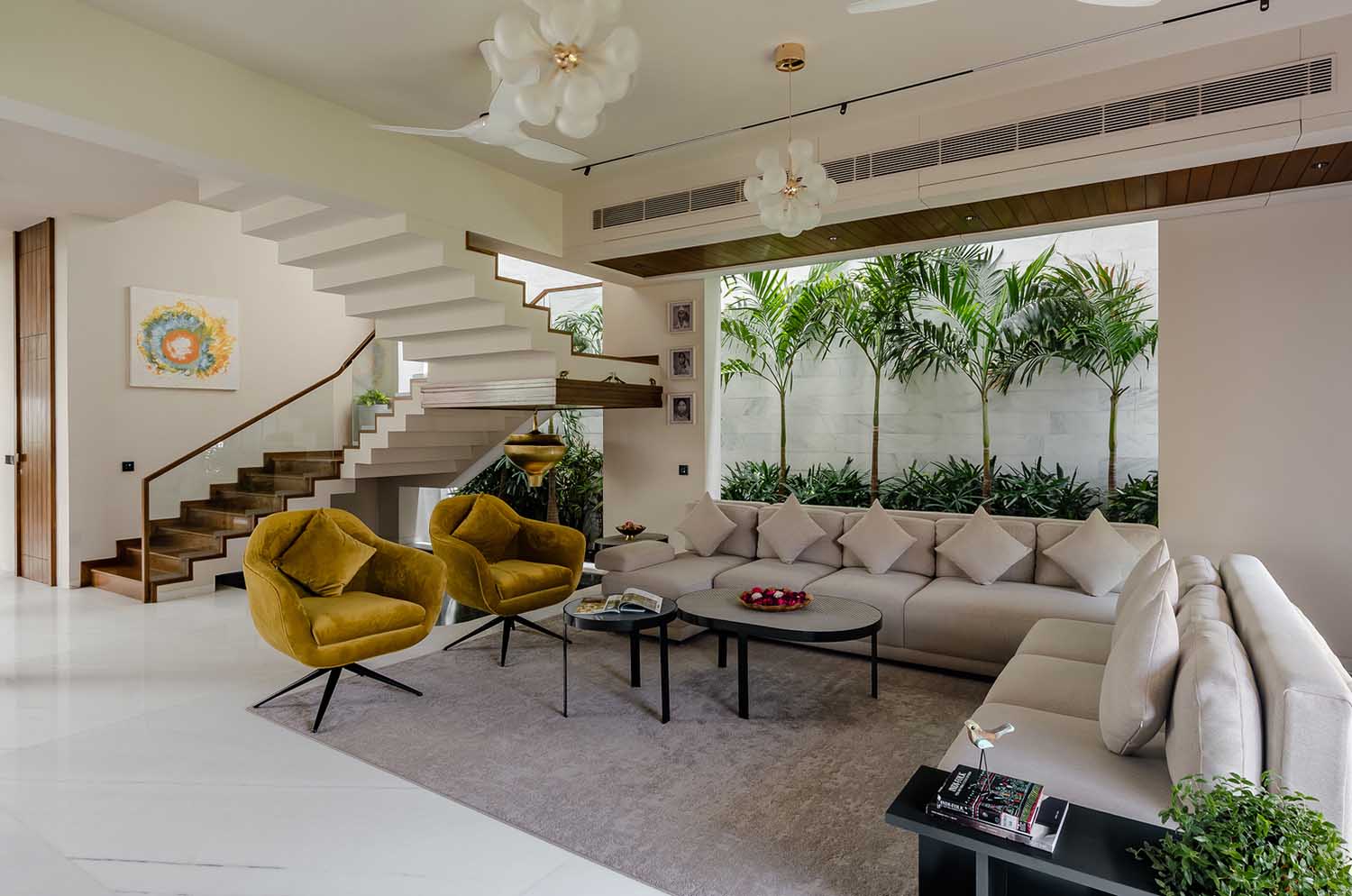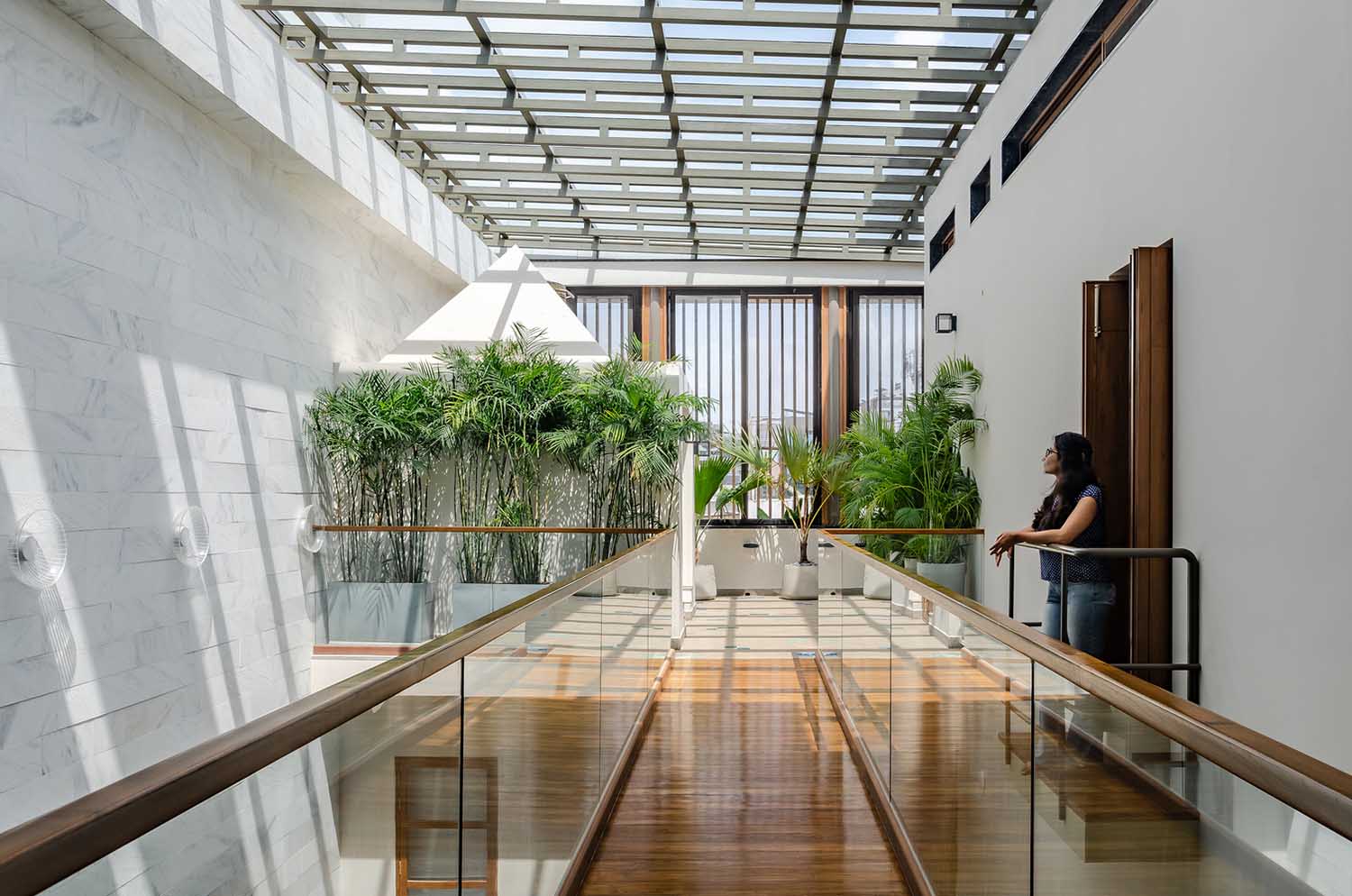 Wood is used for the ceilings and furniture, Makrana marble is used for the flooring, glass is used to enhance the views outside, and white paint is used on the walls to create a serene atmosphere inside the house. Natural elements such as wood, marble, sandstone, and indoor plants give the otherwise extremely simple interior design the much-needed flair.
The design of this contemporary temple, which is located in the semi-covered courtyard at the center of the home, was inspired by the shape of a Ghumbaj.
Project information
Architects: AANGAN Architects – aanganarchitects.org
Area: 1014 m²
Year: 2022
Photographs: Pratikruti09
Manufacturers: Astral Pipes, Bison panel, Century, Classic Marble, Crompton, Daikin, Delta, Domal, Express Lifts, Hafele, Hybec, Laticrete, Lucky Glass, Marble Magic Wonder, Natural Stone, Norisys, Olive, Simpolo, Swev India, Ultratech
Lead Architects: Vishal Shah, Vishal Desai
Structure Consultants: S&V Engineers
Landscape Architect: AANGAN Architects, Niti Shah
Furniture: Maanavi Homes
Lighting Design: Tirupati Lights, Decor Story
Project Architect: Rajvi Mandlewala
Project Engineers: Harry Icecreamwala, Meghal Patel
Drawing In Charge: Roshni Patel
Contractors: Jimmy Bhai, Jayesh Bhai
Textile Designer: Prathma Desai
Artifacts: Satyadeep Vadnere
Kitchen: Behomes
Furnishing: Mantra Furnishing
City: Surat
Country: India