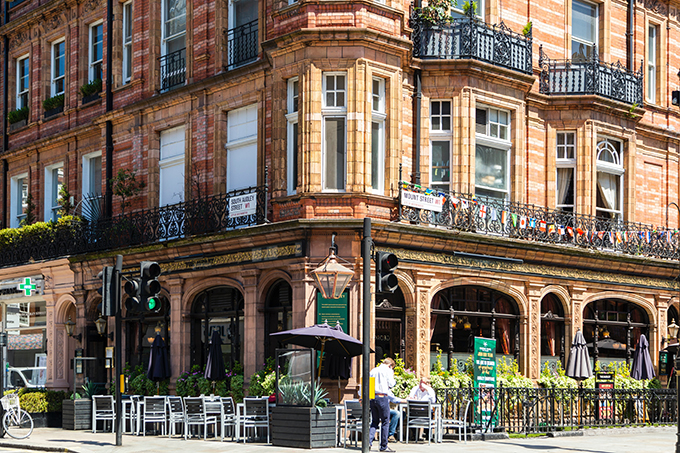 London as a whole is awash with amazing historic buildings and being so many, it would take you days to see even the best of them! Mayfair, once a unwanted, nameless, muddy fields that the River Tyburn swamps, situated to the West of what was then central London (Whitehall, Soho, Covent Garden and the City) was named by King James II in 1686 and was granted Royal permission for a fair to be held on the site of what is now Shepherds Market in the first two weeks of May.
It took many years for any kind of buildings to appear however; eventually in 1720 the Mayfair fields were turned into a building site. Between 1721 and 1850, mansions were appearing all over Mayfair and by the end of this period was one of the most desirable places to live in London. You can still see some of the original buildings constructed in this time along with new takes on modern architecture.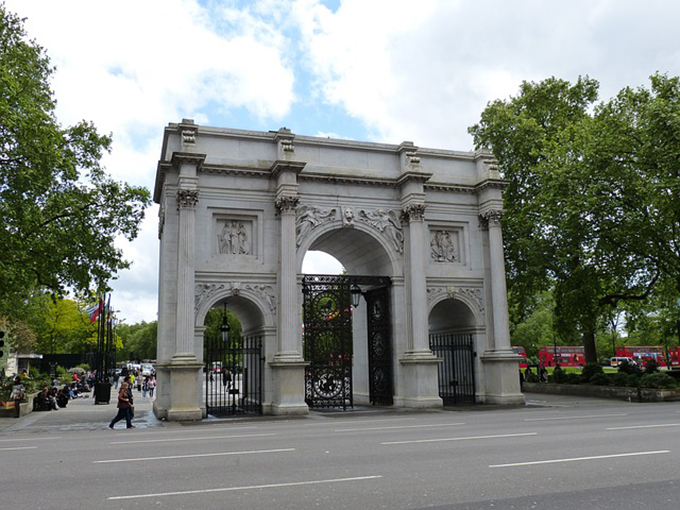 Marble Arch
Perhaps one of the most known landmarks in London, Marble Arch. Constructed in 1827 by John Nash and stands at what was once cour d'honneur of Buckingham Palace. Clad with white Carrara marble, the arches consist of many different carvings and the iron gates host intricate detailing that can only be seen in person to admire in all its glory. Inspired by its Parisian and Roman neighbours Arc de Triomphe du Carrousel and Arch of Constantine , only royals or kings troops were once permitted to pass through its arch. Now it stands proudly as a gateway to Mayfair on the corner of Hyde Park and all that lies beyond.
The Bryanston
The Bryanston is located at the north of Hyde Park, overlooking Marble Arch, Oxford Street, and the upmarket hotels and restaurants of Park Lane. Uruguayan architect, Viñoly is the talent and vision behind some of the world's most iconic buildings, which you can see gracing skylines around the world from New York City to Montevideo, including London's Walkie Talkie building. Now, Viñoly has set his sights on the skyline of West London, with The Bryanston, Hyde Park –an impressive complex of 54 residences right beside London's most prestigious park is set to become some of the most in demand properties for sale in Mayfair. The curvature of this unique building, and its enormous floor-to-ceiling panoramic windows ensure residents enjoy views of the park, and almost feel as though they are floating above it.
Beaumont Hotel
The Beaumont Hotel, situated at Brown Hart Gardens (a delightful 10,000 square foot public garden) designed by Fortnum & Mason architects Wimperis and Simpson and opened in 1926 essentially as a multi-storey car park and petrol garage! Closing its doors as a home for automobiles in 2009, the art-deco inspired building eventually became the Beaumont Hotel in 2014. From the outside The Beaumont is an imposing structure with art-deco detailing but inside, it has been transformed into a luxurious space but keeping the 1920's theme throughout.
Biltmore Hotel
Walk a little further and you will come across the Biltmore Hotel on Grosvenor Square, a 5* hotel designed by Richard Seifert (who's work includes, The Centre Point tower and Tower 42) and constructed from 1967 to 1969 to what was once the Britannia Hotel and renamed to the Biltmore Hotel in 1981. The Biltmore Hotel has a classic red facade with concrete columns to give a very typical London look, which oozes class.
Aspley House
What was once a townhouse for the Duke of Wellingtons, Aspley House is now owned by English Heritage and is open to the public as a museum and art gallery. Aspley House was constructed in 1771 – 1778 in red brick for Lord Aspley (the Lord Chancellor). In 1817, the Duke of Wellington took over ownership of Aspley House and began renovations, extending the property and cladding the exterior in Bath Stone and added a pedimented portico. The house was eventually handed over to the nation in 1947.
Mayfair is full of interesting buildings and the history that surrounds the mall is sure to fulfil any architects dreams.