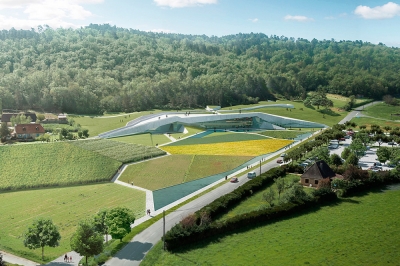 Project: Lascaux Caves Visitor Center
Designed by Snøhetta + Duncan Lewis
Scenography / Augmented Reality: Casson Mann + Jangled Nerves
Economist: Vpeas
Structure: Kephren
Fluid: Alto Ingénierie
Light: 8'18'' Conception Lumière
Acoustic: Daniel Commins
Project Leader: Frank Kristiansen
Main Team: Knut Bjorgum, Rune Veslegard, Igor Duolé, Craig, Riley, Daniel Unger
Client: Conseil Général De La Dordogne
Total Floor Area: 8605 m2
Facsimile: 1600 m2
Site: 65,770 m2
Location: Montignac, France
Website: www.snoarc.no
The world renowned architecture practice Snøhetta shapes the design of Lascaux Caves Visitor Center in Montignac, France. Their solution got the Norwergian practice an award in the competition for the design, in a unique way it displays the artwork created by prehistoric artists on the walls of the natural stone vaults.
Find more info and images after the jump:
From the Architects:
Arriving in Montignac, the hill over Lascaux caves imposes a physical, but moreover an historical presence. An exceptional cultural heritage, unique in the world, has been revealed in these caves, offering an unrivalled perspective on the history of humankind.

The Lascaux IV site is located at the boudary between the hillside and the Vezere valley, where the two landscapes meet. The valley is agricultural land that has been shaped by human activites, while the hillside is covered by almost impenetrable woodland, in which the dense vegetation plunges the undergrowth into near darkness. Deep in the caves below, centuries ago, prehistoric artists produced extraordinary cave paintings. The international centre of cave art will be installed at the boundary of the two diverging landscapes to provide a forum to showcase the astonishing cave paintings. The centre makes optimum use of the arrangements of the landscape, following the example of the prehistoric artists. A simple incision between the edge of the hill and the valley houses the Montignac-lascaux International Centre of the cave Art. The compelling form to unveil and share the secrets hidden within. The centre faces north, towards Montignac, with the main entrance embracing as they arrive. The roof of the building cuts a gentle line into th limestone, mirroring the profiles of the Montignac hills. The facade ranges from transparent to translucent to opaque an d maintains an inseparable relationship with the exterior, offering hints of what is contained within. Illuminated at nights, the centre is the Icon of Lascaux IV, a beacon highlighting the caves cultural influence on the world. The public spaces, reception and catering areas extend along the line of the valley and are bathed in light. The exhibition areas a plunge deep into hillside and into darkness. between the two, the information area, with a fault in the rock presenting light from high above, exudes an almost sacred and spiritual atmosphere.