Project: Fargo Plug-In
Designed by Popular Architecture
Location: North Dakota, USA
Website: www.populararchitecture.com
The elephant in the room of this competition for a 250,000 SF mixed-used development is its need to include a 500 car parking ramp, to be owned and operated by the City of Fargo, that the City wants to build as soon as possible. Typically treated as structures that are mere means to an end, parking ramps are usually pushed to the least prime pieces of real estate, with their designs emphasizing a hard bottom-line efficiency of structure and organization.
For more images and rest of architects description continue after the jump.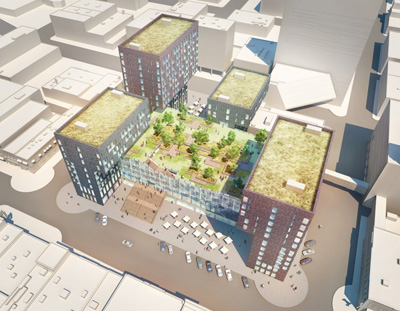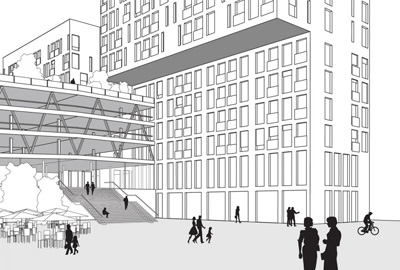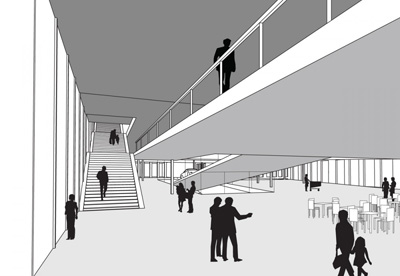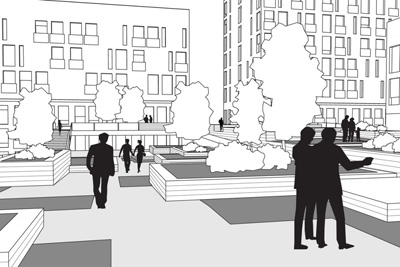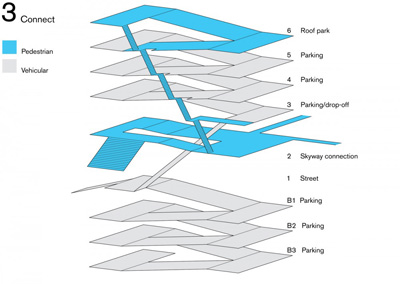 While parking is frequently physically peripheral, it has a central role as an intermodal node, negotiating the transition between vehicular and pedestrian movement. We think the experience of this transition could be greatly enriched by activating the parking ramp's latent connective possibilities.
Our project does this by performing several simple operations on the Carl Walker-designed ramp already proposed to the City for the northeast corner of the competition site: the first is to rotate the ramp into the center of the block; the second is to split apart the ramp's spiral, pushing three levels underground to create a void space in its middle that extends the City's existing pedestrian Skyway system.
The Skyway is further extended by a broad stair connecting all upper levels of the ramp as well as a roof park. The pedestrian and the vehicular are intertwined for their mutual benefit. – from Popular Architecture