World renowned fashion brand Hermès enlisted Renzo Piano to create a building for their Tokyo head office in 1998. To this day the Maison Hermès building remains a showstopping example of the late 1990s architecture. The building located in the famed Ginza shopping district was completed in 2001. The local regulations have in great part shaped the glass facade building, with the strict local laws regarding earthquake and fire safety.
What makes the building even more impressive is the only 10 meter wide Harumi Avenue front facade, with building going 56 meters long on it's quite street side. The impressive facade of the Maison Hermès is made out of 13000 square glass blocks while the building corners feature curved glass bricks. The glass blocks were specially commissioned at Vetroarredo in Florence and had to go by the Tokyo fire and earthquake safety regulations.
While made of glass the facade in case of an earthquake is designed to move responding to the waves thanks to the flexible seals between the glass blocks. The blocks under the earthquake pressure can move up to 4mm, thus taking in the earthquake shock instead of resisting the seismic movement.
Scroll down for the buildings stats and more images.
Interior of the Maison Hermès by ©Renzo Piano
The external 10 meter wide facade of the buildings – photo ©Renzo Piano Workshop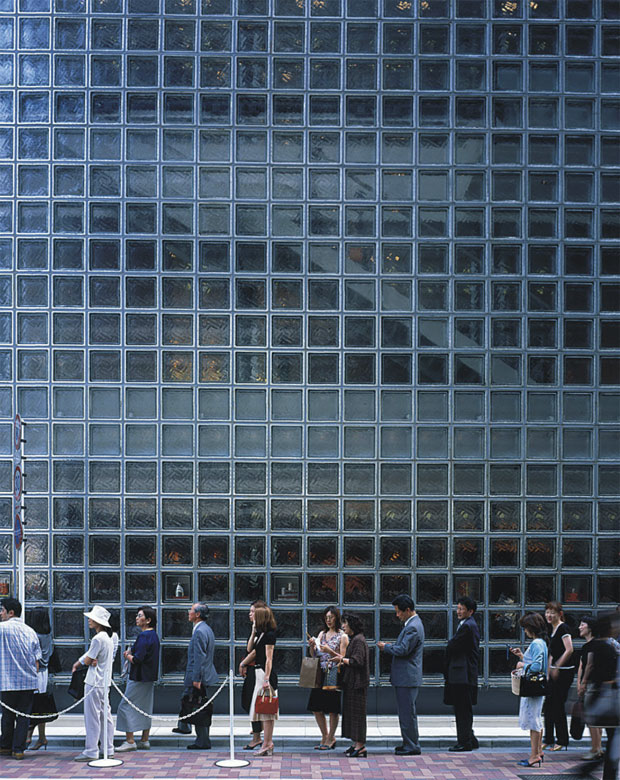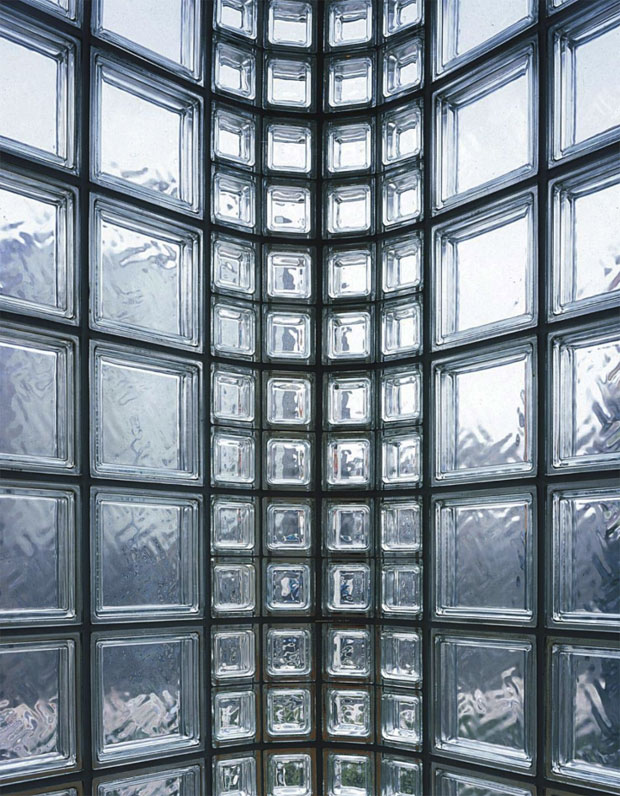 Corner glass blocks of the Maison Hermes, custom made in Italy – ©Renzo Piano

CLIENT Hermès Japon
DESIGN Renzo Piano Building Workshop, architects
in collaboration with Rena Dumas Architecture Intérieure (Paris)
PHASE ONE (1998-2001)
DESIGN TEAM P.Vincent (partner in charge), L.Couton with G.Ducci, P.Hendier, S.Ishida (partner), F.La Rivière and C.Kuntz; C.Colson, Y.Kyrkos (models)
CONSULTING EXECUTIVE ARCHITECT Takenaka Corporation Design Department
CONSULTANTS Ove Arup & Partners (structure and services); Syllabus (cost control); Delphi (acoustics); Ph. Almon (lighting); R. Labeyrie (audio/video equipment); K. Tanaka (landscape); Atelier 10/N.Takata (code research); ArchiNova Associates (site supervision)
SCULPTURE S.Shingu
PHASE TWO (2002-2006)
DESIGN TEAM P.Vincent (partner in charge), F.La Rivière; O.Aubert, C.Colson, Y.Kyrkos (models)
CONSULTANTS GDLC Architectes/L. Couton (consulting architect); Ove Arup & Partners (structure and services); Delphi (acoustics); Ph. Almon (lighting); K. Tanaka (landscape); M. Gonzalez (specifications); ArchiNova Associates (site supervision); Takenaka Corporation Design Department (consulting executive architect)
FOUNDATION ARCHIVE PAGE Maison Hermès – ALL IMAGES ©RENZO PIANO / HERMES
Find more on www.rpbw.com