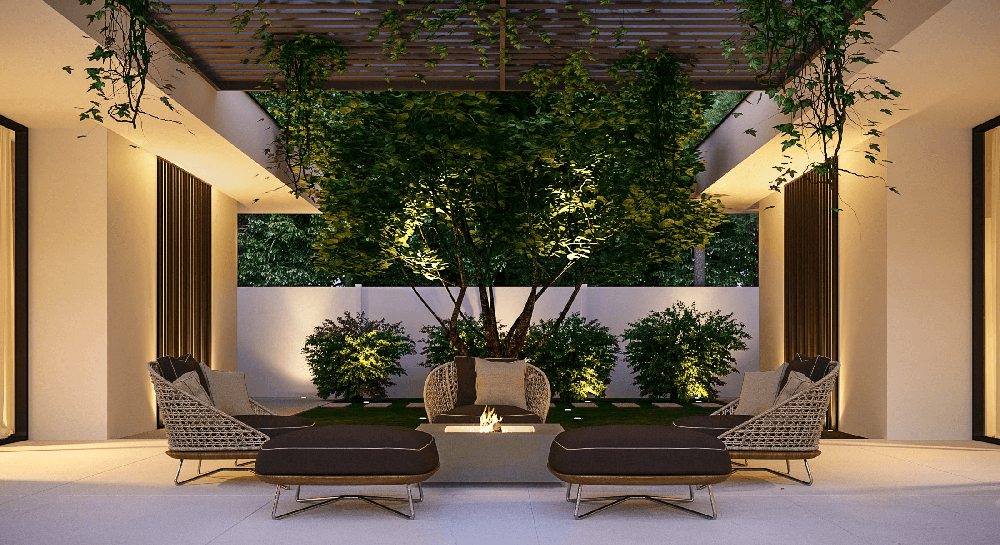 Lighting can be an integral part of your landscape design, allowing you to showcase beautiful features, create ambiance, and even increase safety. Whether you're just starting to think about lighting for your outdoor space or looking for new ideas to try out, this article will provide seven unique lighting ideas that can highlight your landscape's best features.
Keep reading for 5 lighting ideas rounded up by ARCHISCENE magazine editors from conversation with prominent landscape designers:
Idea #1: Accent Lighting
In this idea, you can use small fixtures to highlight specific features of your landscape making your house look its best. This could include a tree, water feature, outdoor sculpture, or flagpole. Accent lighting is a great way to add visual interest to your outdoor space and create a more inviting atmosphere.
Types of Lighting Best for Accent Lighting:
• Path Lights: These lights are good for lighting walkways and highlighting architectural elements like columns or steps.
• Spotlights: Spotlights are great for directing attention to a specific area, such as a tree trunk or outdoor sculpture.
• Wall Washers: These lights can be used to splash light across the side of your house or another wall element in your landscape design.
• Up-lighting: Up-lighting is a great way to create drama and emphasize texture in your outdoor space through its projected light.
• Down-lighting: This style of lighting is used to create subtle illumination and often requires fewer fixtures.
Idea #2: Path Lighting
Path lighting is a great option for both security and aesthetics. These lights line walkways, driveways, decks, patios, and other paths throughout your outdoor space, providing safety as well as an inviting atmosphere. They also provide the perfect opportunity to show off your landscaping features, such as trees, shrubs, and flower beds.
Types of Lighting Best for Path Lighting:
• LED Lights: LED lights are great for path lighting because they produce little heat and are energy-efficient.
• Solar Lights: Solar lights are an eco-friendly option that can be placed away from power sources.
• In-ground Lights: These lights are recessed into the ground, creating a subtle yet sophisticated look.
• Step Lights: Step lights mount onto outdoor steps or staircases, providing both safety and style.
Idea #3: Deck/Patio Lighting Ideas
Deck and patio lighting can make your outdoor area into a beautiful living space. This type of lighting creates ambiance and highlights entertaining spaces, such as seating areas or dining tables. It also comes in a variety of styles and colors to fit your design aesthetic.
If you're looking to bring your dream deck or patio lighting to life, let Blingle Omaha team of experts and designers help you make it a reality. Schedule a consultation with them today to discuss your project and receive professional guidance from the best team.
Types of Lighting Best for Deck/Patio Lighting:
• String Lights: These are great for creating an inviting atmosphere with their soft glow.
• Post Lights: Post lights can be used to light up pathways leading to or from deck and patio areas.
• Hanging Lanterns: Hanging lanterns provide an elegant touch that's perfect for outdoor dinner parties or gatherings.
• LED Floodlights: LED floodlights are perfect to use around patios, decks, stairs, and other entertaining areas.
Idea #4: Water Feature Lighting
Water features, such as pools, ponds, and fountains, can be transformed into a captivating focal point with the right lighting. This type of lighting not only enhances the beauty of your feature but also creates an inviting atmosphere for entertaining guests.
Types of Lighting Best for Water Feature Lighting:
• Underwater Lights: These lights are great to use in ponds and fountains to create a beautiful display of light and color.
• Floating Lights: Floating lights are perfect for illuminating pools at night for a sparkling effect that's sure to wow your guests.
• Wall Washers: Wall washers provide a gentle glow over waterfalls and other water features for a unique look.
• Submersible Lights: These lights fit into your existing pool system to create a stunning night-time effect.
Idea #5: Security Lighting Ideas
Security lighting is important for keeping an area safe, visible, and well-lit. This type of lighting can also act as a deterrent against potential intruders while providing an inviting atmosphere in outdoor spaces.
Types of Lighting Ideas Best for Security Lighting:
• Floodlights: Floodlights are perfect for illuminating larger areas, such as driveways or pathways leading up to the house.
• Motion Sensor Lights: Motion sensor lights can be installed around the property's perimeter to trigger when someone approaches, warning them they're being watched.
• Spotlights: Spotlights can be used to highlight a specific area, such as a door or window, for extra security.
• Dusk-to-Dawn Lights: These lights turn on at night and off in the morning, providing 24/7 security without having to remember to turn them off or on.
These ideas will help you create a beautiful and safe outdoor space that's sure to be the envy of your neighbours. With the right lighting, you can show off all the amazing features of your landscape and make it into an area that your family and friends can enjoy. So get creative and start illuminating your outdoor space today!
This stunning home in the images above is a perfect example of outdoor lighting used right, not only it compliments the design of the home it also serves its purpose. The modern home above is work of Sence Architects for a client who wanted a family home in Florida (USA) – discover the complete project.