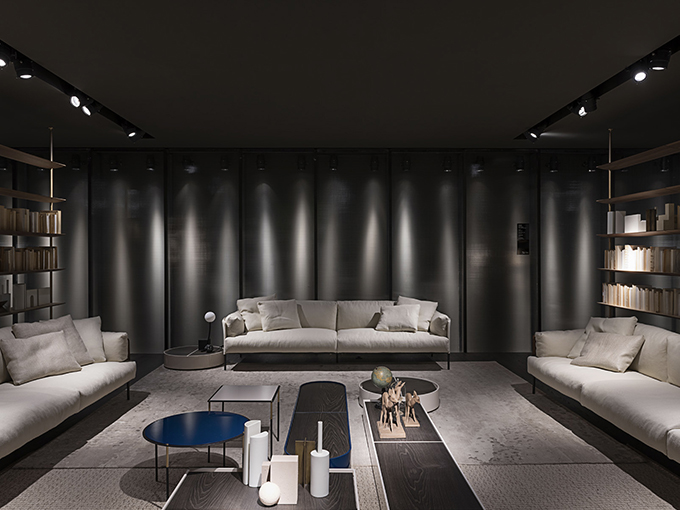 Living Divani collaborated with designers Stephen Burks, Studio Klass and Leonardo Talarico on several new pieces for 2019. The collection includes Storage unit Islands, Table Flap and Materica. Find out more about the pieces after the jump.
Storage unit Islands, design Stephen Burks, 2019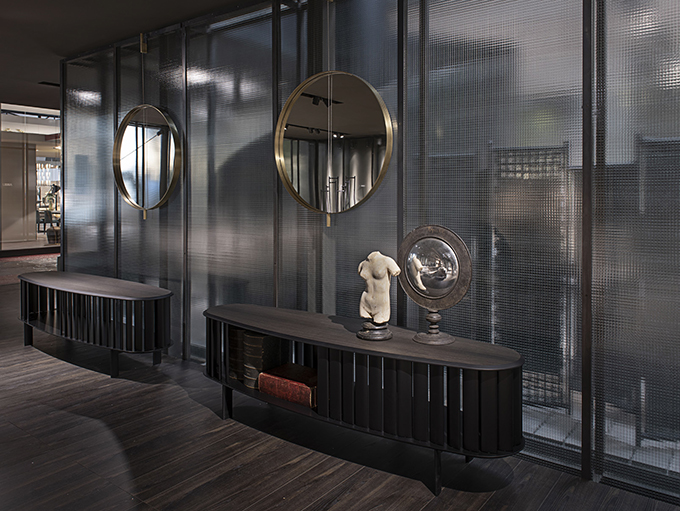 For the first time, Living Divani crosses paths with the New York designer and keen traveller Stephen Burks: Islands is a family of free standing storage units accessible from different sides, thanks to a perimeter of aluminium slats which appear to have been randomly fitted. A central pivot allows them to rotate and create either a compact shape or an airy presence, offering different interpretations of the same product and an example of fine craftsmanship.
Dimensions. L. 160 /200 x D. 55 x H. 60 cm.
Finishings. Top and bottom in MDF. Top veneered in Canaletto walnut "rigatino", charcoal dyed oak, or Stone Oak®, with bevelled edge lacquered matt black, or all lacquered matt black. Bottom lacquered matt black. Slats in aluminium extrusion with elliptical cross-section and legs in MDF with matt black finish.
Table Flap, design Studio Klass, 2019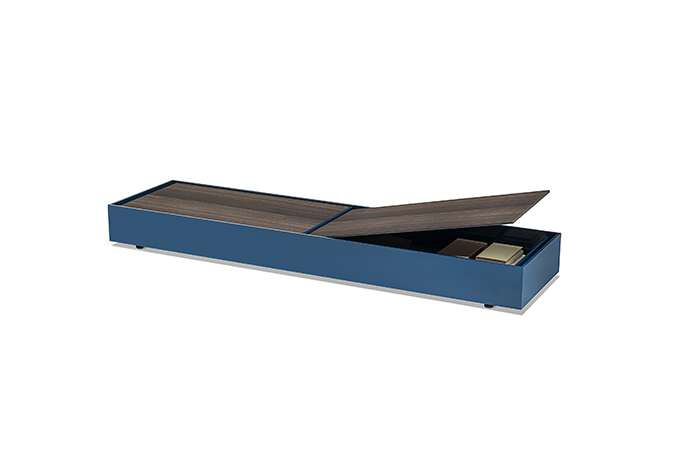 Marco Maturo and Alessio Roscini, from Milan-based Studio Klass, seal their first collaboration with Living Divani. The new Flap tables, available in round, rectangular, square and oval shape, are defined by a lacquered structure which welcomes a wooden top that opens thanks to a piston, enjoying always different relationships between humans and products.
Dimensions. Rectangular 180x45cm, internal compartments 77×40 h.10. Oval 180×40,5cm, internal compartments 77×35 h.10. Round Ø 70cm, internal compartments 63×22 h.10. Square 90x90cm, internal compartments 82×35 h.10.
Finishings. MDF perimeter structure and base lacquered matt black, or polish in glossy finish Wine Red, Ocean Blue, Stone Grey, Quartz Grey or Cream. Tops made in "sandwich" of MDF and aluminium sheet, veneered in Canaletto walnut "rigatino", charcoal dyed oak, Stone Oak®. that can be opened by means of two pistons. PVC black feet.
Glassholder Vizio, design Leonardo Talarico, 2019
Living Divani's clean silhouettes meet the essential style of young Italian designer Leonardo Talarico. The new glass holder Vizio, furnishing element for indoor and outdoor use, consists of two lines that cut through the air, evoking dynamism and ethereal balance at the same time: a gesture that becomes real and acquires three-dimensional value thanks to the lightness of the steel rod, enriching Living Divani's outdoor space with a powerful visual element.
Dimensions. Element L. 32 x D. 21 x H. 64 cm. Tray d. 11 x H 4 cm.
Finishings. Structure consisting of two welded steel rod. Base and 2 round supporting top in laser-cut steel sheet welded to the structure, with finish for outdoor use, lacquered white, black and gunmetal grey. Small tray available either in stainless steel painted white, black, or made by polyamide with finishing white or black.
Materica, design Leonardo Talarico, 2019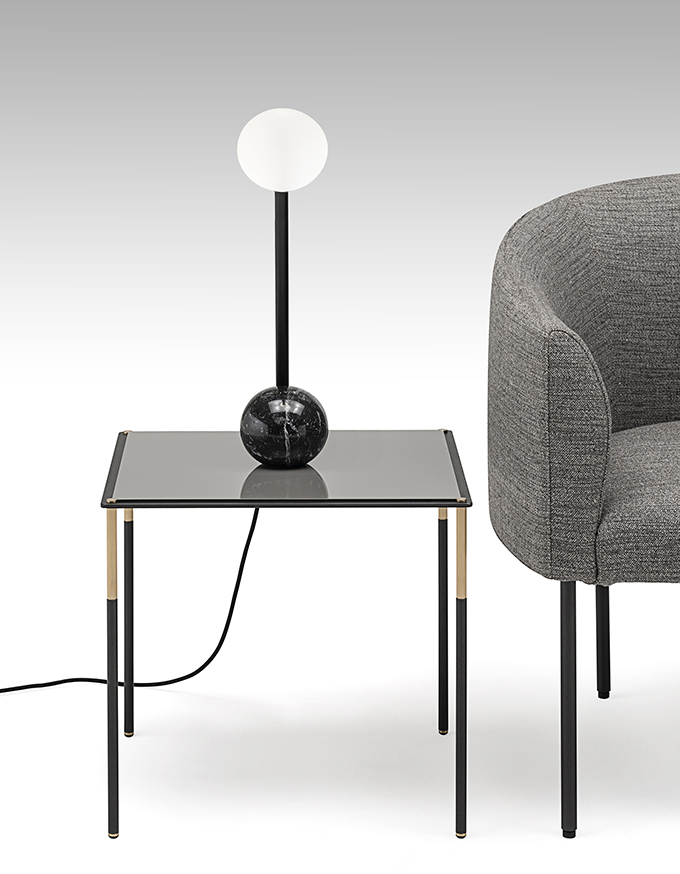 The Materica table lamp for indoor use is a sculpture-like object resulting from the taking out of the excess while catching a fleeting intuition, natural outcome of a free creativity. A delicately modelled steel tube joins two spheres, the lower one in marble and the upper one in glass, from which the light comes out, emphasizing the curve silhouette and highlighting the fine simplicity of the whole.
Dimensions. L. 18 x P. 12 x H. 48 cm.
Finishings. Spherical base in White Carrara, Red Levanto or Black Marquina marble. Steel tube lamp body. Rod bar support. Blown pyrex opal diffuser. Power cord with integrated switch. 1 LED light source.
Find more information on livingdivani.it