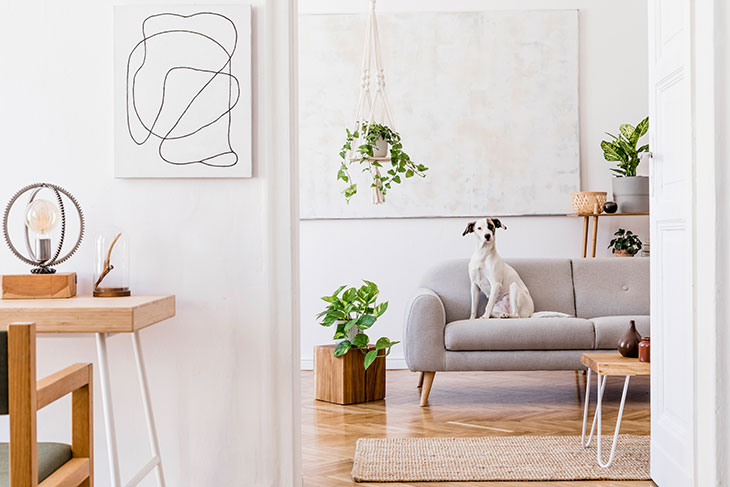 Every house has a unique identity, but not every house is a home. It all starts with an understanding. What makes you feel comfortable? What makes you feel happy? It may sound as a simple philosophy, but it takes a lot of time to make your house a real home. It needs to feel like a place you belong, a place where you feel at peace, comfortable, and to reflect your personality.
Are you moving into a new home and starting fresh? We bring you 5 tips that will help you figure out your style and decorate your house. If you've already bought a home or you need help on how to buy a house for-sale in UK, the furnishing and decorating is a next step for you.
Read our tips after the jump:
EXPRESS YOURSELF
Figure out your decorating style. Learning how to choose a design style that matches your personality will make the process of decorating much easier. Knowing what will look beautiful and make you happy, will save your time and money, and will prevent you from buying things that end up feeling wrong once you get them home.
When choosing a style for your home, you shouldn't limit yourself to one particular trend. Try discovering what you love so you aren't overwhelmed by all the choices out there.
ADD SHELVES
Bookshelves can be like some kind of curiosity cabinets, if you fill them with books and objects that you like or that have some important meaning to you. Play with various shapes and heights. Place the books in uneven parallel and perpendicular lines, but sort them by theme or color.
The best items to decorate the shelf are the ones you already have in your home. Look around to find artworks, pictures, frames, vases, candles and other accessories that match the color scheme and style.
Try to resist the urge to pack in too much stuff on every shelf. Place the largest items first, and then fill in with the rest of your objects. Keep a clean look by choosing a one-color or tone-on-tone scheme.

DECORATE WITH HOUSE PLANTS
In my opinion, the more plants you have, the better. Not only do they improve your homey aesthetic, but they're good for your home as well. Adding plants to the empty corners, bookcases, shelves, tabletops and mantles is an effortless way to bring a new energy into your space. Adding the living elements to your interior space makes a huge difference.
If you're limited on space, hanging plants are the perfect solution for you. A dramatic draping plant like philodendron, ivy or fern are ideal. They add a tropical vibe to every interior, plus they are low maintenance.
Invest in nice planters. No matter what your style is, planters are an easy way to tie together a space. Use baskets and natural materials, or go for ceramics or metal planters.
ADD DECORATIVE OBJECTS
Whether you are styling a shelf, dresser, coffee table, night stand, dresser, or console table, there is a one simple formula that never fails. Place one horizontal thing, such as tray or a stack of books. Then, add in something vertical, like vases, a lamp, or candles. The last part that holds it all together is a standout object, that should be the most interesting item that gives character to a space. It can be a figurine, a plant or a lantern. The objects with interesting lines or in a fun color can help break up the monotony and bring fun to your setup.
DON'T FORGET THE HALLWAYS
Transitional spaces such as entrance zone, hallways and staircases are often forgotten when it comes to decorating. Just because they are not "rooms" in a traditional sense, that doesn't mean they should be neglected.
You should create a space that fits your design sensibility, while being functional and welcoming. They are ideal places to play vertically. You can achieve a lot with striking wallpaper, a stylish mirror and standout lighting. Or simply create a gallery wall. If you have a long, narrow corridor, lay down an area rug. And finally, take it to the next level with a few plants.