Project: New Waste-To-Energy Plant
Designed by Bjarke Ingels Group + realities:united + AKT + Topotek 1 & Man Made Land
Location: Copenhagen, Denmark.
Website: www.big.dk
BIG architects featuring art studio realities:united + AKT + Topotek 1 & Man Made Land wins the international competition to design a new Waste-to-Energy Plant for Copenhagen. realities:united transforms the plant's smoke stack making it puff smoke rings, serving as a gentle reminder of the impact of consumption and a measuring stick of CO2 emission. The designers also incorporate a ski slope to the project.
View more images and architects description after the jump: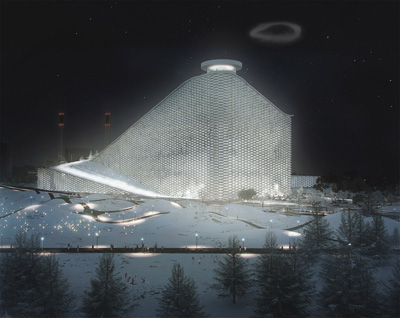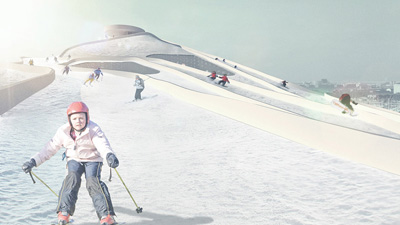 Amagerforbraending is in many ways situated on an edge condition. It is a place in the outskirts of Copenhagen, but also the centre for new recreational activities. It divides the local area in two, with factories on one side and housing on the other. It is a place you know from afar, but where few people ever go. On one hand the city of Copenhagen on the other hand Amager. The aim of the project is to tie all these opposing forces together, forming an identity for a new place in Copenhagen. We want to turn it into a place in itself – a destination where people will travel to. Most of the recently build power plants are merely functional boxes, wrapped in an expensive gift paper. The main "function" of the façade is to hide the fact that factories are having a serious image/branding problem. We want to do more than just create a beautiful skin around the factory. We want to add functionality! The ambition of creating added value in terms of added functionality does not stand in contrast to the ambition to create beauty. It does not have to be either/or – it can be both! We propose a new breed of waste-to-energy plant, one that is economically, environmentally, and socially profitable. Instead of considering Amagerforbraending as an isolated object, we mobilize the architecture and intensify the relationship between the building and the city – expanding the existing activities in the area by turning the roof of the new Amagerforbraending into a ski slope for the citizens of Copenhagen. Now is time to re-brand the factory.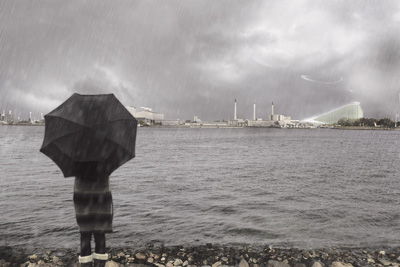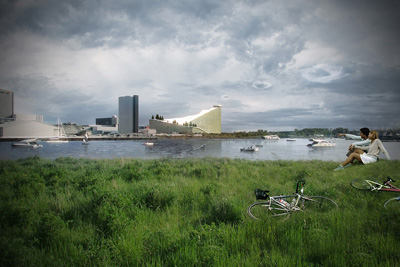 Use: Commercial, Body Culture
Client: Amagerforbraending
Status: 1. Prize
Budget: 3.5 BL DKK (650 MIO US$, 460 MIO €)
Site Area: Building: 95,000m2, Landscape: 90,000m2 Total Floor Area: Roof + ski slope: 32,000m2, Façade area: 74,000m2, Administrative + Visitor center floor area: 6,500m2, Landscape: 90,000m2 Architect: BIG (Architecture)
Collaborators: Realities United (Interactive Façade), AKT (Façade & Structural engineering), Topotek/Man Made Land (Landscape)
Partner-in-Charge: Bjarke Ingels, David Zahle
Project Leader: Brian Yang
Team: Jelena Vucic, Alina Tamosiunaite, Xing Xiong, Armor Gutierrez, Jakob Lange, Andreas Klok Pedersen, Maciej Zawadzki, Daniel Selensky, Gül Ertekin, Sunming Lee, Long Zuo, Ji Young Yoon