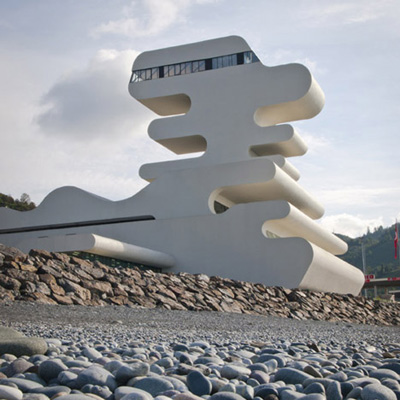 Project: Sarpi Border
Designed by J. Mayer H. Architects
Design Team: Juergen Mayer H., Jesko Malkolm Johnsson-Zahn, Christoph Emenlauer
Architects on Site: Beka Pkhakadze, Ucha Tsotseria
Building Company: JSC Transmsheni
Structural Engineering: LTD BWC
Structural Engineering of Tower: Nodar Edisherashvili
Client: Ministry of Finance of Georgia
Location: Border Between Turkey and Georgia
Website: www.jmayerh.de
Do not mistake this uniquely shaped building with for a five star design hotel, in fact Sarpi Border building designed by Jürgen Mayer H. Architects is a customs checkpoint. For more continue after the jump:
From the Architects:
The customs checkpoint is situated at the Georgian border to Turkey, at the shore of the Black Sea. With its cantilevering terraces, the tower is used as a viewing platform, with multiple levels overlooking the water and the steep part of the coastline. In addition to the regular customs facilities, the structure also houses a cafeteria, staff rooms and a conference room. The building welcomes visitors to Georgia, representing the progressive upsurge of the country.
Source Dezeen. *