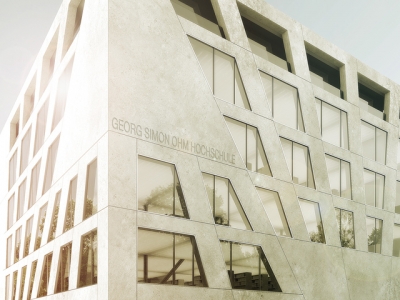 Project: GSO Nürnberg Information Centre
Designed by Studio DMTW
Project Team: Marc Anton Dahmen, Maximilian Schmitz, Mint Penpisuth Wallace, Simina Dron
Size: 8.700 sqm
Location: Nürnberg, Germany
Website: www.studio-dmtw.de
Impressive design of the GSO Nürnberg Information Centre comes from the drawing board of Studio DMTW architects. For more images as well as the architects' description continue after the jump:
From the Architects:
The new information centre aims to be the central representative identification point in the overall context of the Georg-Simon-Ohm-Hochschule. Both, a high degree of aesthetics as well as the functionality of the building play a major role while reflecting the spirit of this supra-regional institution. The centre's programme covers a library including an open reading area, individual working spaces and several seminar and meeting facilities.

The design stipulates a clear structuring for all the functions with regard to both the outdoor areas and the new building itself. Instead of being a big obstacle, the centre acts as a connector between the campus in the north and the waterfront of the Pegnitz in the south. During the day the linking route between these two poles runs straight through the foyer which thereby becomes the central meeting place for students and teachers. The indented entrance areas are clearly readable from the sculpture and thus stimulate a self-evident orientation.

A big glazed void forms the core element of the cube providing daylight for all the internal functions while subdividing them into easy controllable sections. This atrium also establishes a visual but soundproof contact in between all programme parts and makes it thereby easy for the visitors to orientate themselves. Due to its location conterminous to the void, also the compact-magazine on the top-floor in its capacity as an inaccessible "knowledge storage" becomes a visible part of the building and reflects in a subtle manner the basic functionality of an information centre.

The backbone of the build is formed by two independent adjoining cores on the west side. One connects all the public functions and links them to big atrium while the other one provides access to all the internal service functions. This layout also enables the connection to a potential annexe on that side at a later stage without compromising the internal local public infrastructure. Another stairwell in the north-east corner provides shortcuts between the different reading and working levels.

The sculpture consists of two different components. The plinth forms the first element. The volume touches at some places the circumscribing square while huge indents are carved out at the corners. These openings form the linking elements to the surrounding plaza and the campus. Resting on that plinth a self-supporting cube forms the second element. Its structural facade provides on the one hand a column free outdoor area beneath the three big cantilevers and on the other hand an outstanding and iconic appearance.