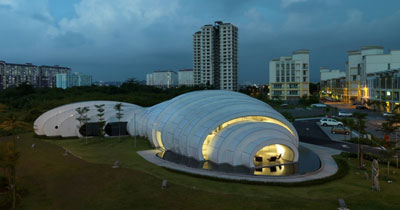 Project: The POD
Designed by Hijjas Kasturi Associates & Studio Nicoletti
GFA: 750 sqm
Location: Kuala Lumpur, Malaysia
Website: www.hijjaskasturi.com & www.manfredinicoletti.com
The outstanding design shapes the solution for The Pod in Kuala Lumpur created by Hijjas Kasturi Associates and Studio Nicoletti. For more continue after the jump:
From the Architects:
The POD is divided into two parts: one zone is dedicated to the on-site sales office and the other serves as the main showroom and sales gallery. From both ends of the POD, it offers a very picturesque landscape to look at. Framed by a vast floor to ceiling glazing located at the end of the exhibition area, there is an infinity reflective water pool, a feature that adds Feng Shui for the design. At the other end, one of the office spaces overlooks a beautiful sculpture garden filled with neatly manicured shrubberies. The combination of these two elements contributes to the Bioclimatic behaviour and wellness of its inhabitants.
Source ArchDaily. *