The inspiring Gothic architecture serves as the backdrop for a mesmerizing light installation by Miguel Chevalier. This Paris Gothic Church is a world renowned landmark of the city, Sainte Eustache is one of the most well known monuments in the city of Paris. The church is the place were Louis The XIV as well as  Cardinal Richelieu were baptized, the construction of this Gothic masterpiece began in 1532.
The centuries old fascination by Gothic architecture, which easily culminated with the religious architecture was the perfect spot for the light projection by artist Miguel Chevalier. The ceilings of this massive temple are transformed into a night sky-like performance. The whole project is  mixed in with additional light effects as well as the music on the organ played by Baptiste-Florian Marle-Ouvrard.
The light installation was revealed especially for the Nuit Blanche when it premiered on the October 1st. See  additional images and the video below.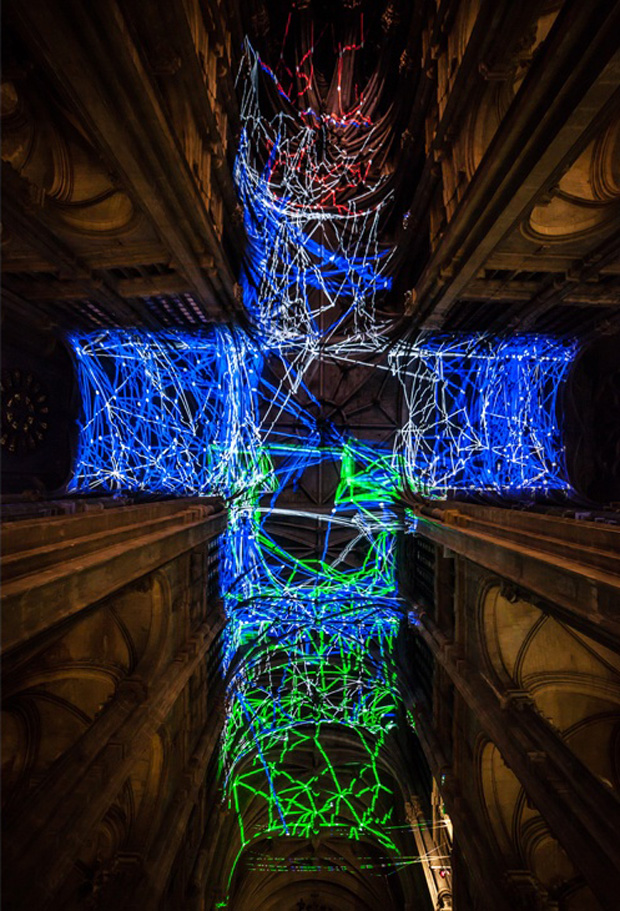 More about The Saint Eustache Church: The Church of St Eustache, Paris (French: L'église Saint-Eustache) is a church in the 1st arrondissement of Paris. The present building was built between 1532 and 1632. Situated at the entrance to Paris' ancient markets (Les Halles) and the beginning of rue Montorgueil, St Eustace's is considered a masterpiece of late Gothic architecture. The church's reputation was strong enough at the time for it to be chosen as the location for a young Louis XIV to receive communion. Mozart also chose the sanctuary as the location for his mother's funeral. Among those baptised here as children were Richelieu, Jeanne-Antoinette Poisson, future Madame de Pompadour and Molière, who was also married here in the 17th century. The last rites for Anne of Austria, Turenne and Mirabeau were pronounced within its walls. Marie de Gournay is buried there. The church is an example of a Gothic structure clothed in Renaissance detail. Although the architects are unknown, similarities to designs used in the extension of the church of Saint-Maclou in Pontoise (begun in 1525) point to Jean Delamarre and/or Pierre Le Mercier, who collaborated in that work.[1] The Italian-born architect Domenico da Cortona has also been suggested.[2] The church is relatively short in length at 105m, but its interior is 33.45m high to the vaulting. At the main façade, the left tower has been completed in Renaissance style, while the right tower remains a stump. The front and rear aspects provide a remarkable contrast between the comparatively sober classical front and the exuberant rear, which integrates Gothic forms and organization with Classical details. The L'écoute sculpture by Henri de Miller appears outside the church, to the south. A Keith Haring sculpture stands in a chapel of the church. (Source Wiki)