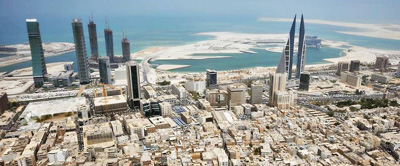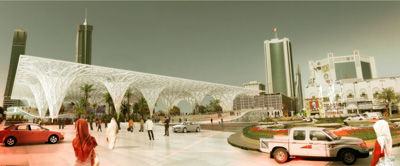 Project: Urban Oasis
Designed by Influx_studio
Location: Manama, Bahrain
Client: Ministry of Culture of the Kingdom of Bahrain
Site Size: 39400 m2
Building Area: 10000 m2
Website: www.influx-studio.com
Influx_studio takes on the design of the much needed Urban Oasis project in the very warm Bahrain, discover more of their design after the jump:
From the Architects:
Bab Al Bahrain Urban Oasis explores the value of the cultural and natural landscape inheritance as a design opportunity to address climate issues in public space, while catalyzing the urban potential of the site in the emerging new city urbanity. Urban Oasis is called to be the most important public space of Manama, embodying its dynamic character and showcasing its new sustainable identity.
GATHERING THE HISTORIC AND THE NEW RISING MANAMA.
A quiet but profound urban makeover is taking place at Bahrain and especially at its capital, Manama. The city is evolving in the global economy and becoming the financial hub of the Middle East. A new urban shape is being unveiled witnessing a dramatic transformation of the urban fabric, opposing two different urban scales from the traditional historic city, through the new breathtaking waterfront skyline.
Hybridizing urban space with landscape and ecology, the BAB Urban Oasis represents by its strategic position and historical importance, a great opportunity to create an exceptional and lively metropolitan interface, able to link and gather both, the historical tight-knit urban fabric and the new modern city front.
The key issue is how to allow this soft transition while integrating both, values from historic urban tradition and from modern dynamics, embodying local landscape character and defining a strong landmark image for this strategic gathering place of Manama.
Read more on Architizer. *