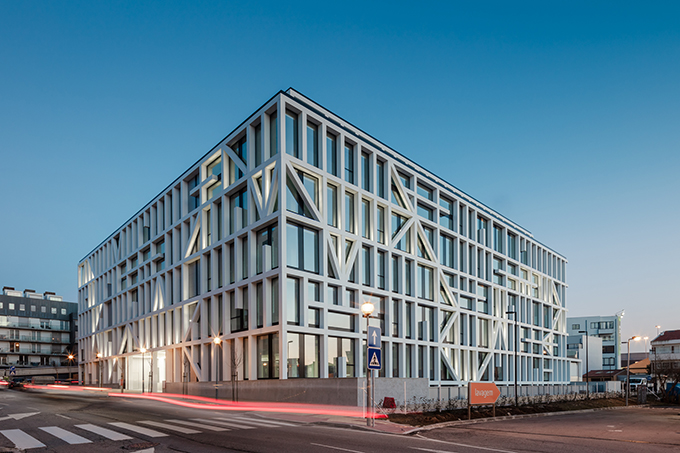 Nuno Capa Arquitecto designed this inspiring 25600 m2 office building located in Matosinhos, Portugal, in 2019. The building consists of 8 floors, 2 underground floors for parking and 6 above ground for offices. It is based on a flexible office spatial programme to host one or manifold occupants. Take a look at the complete story after the jump.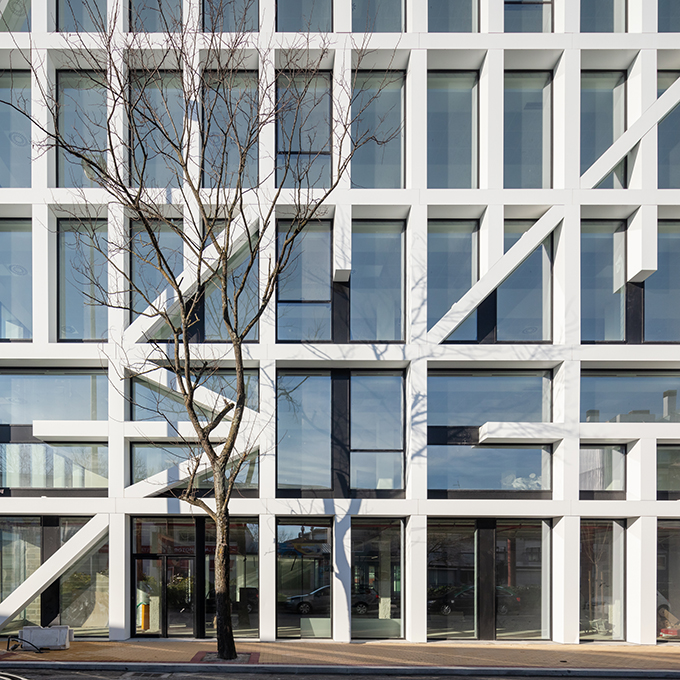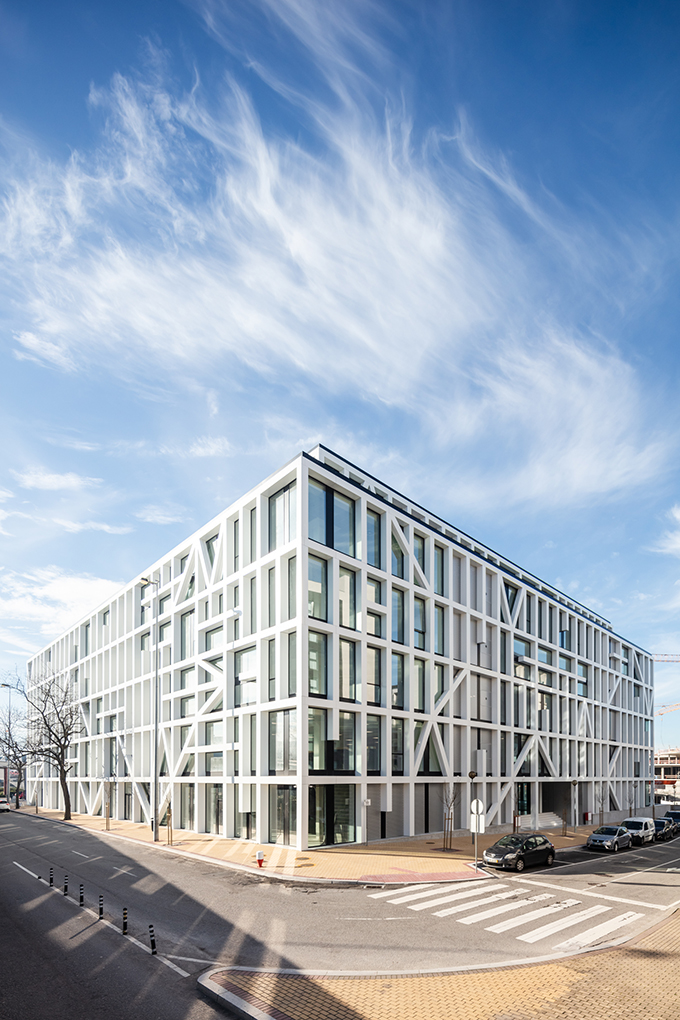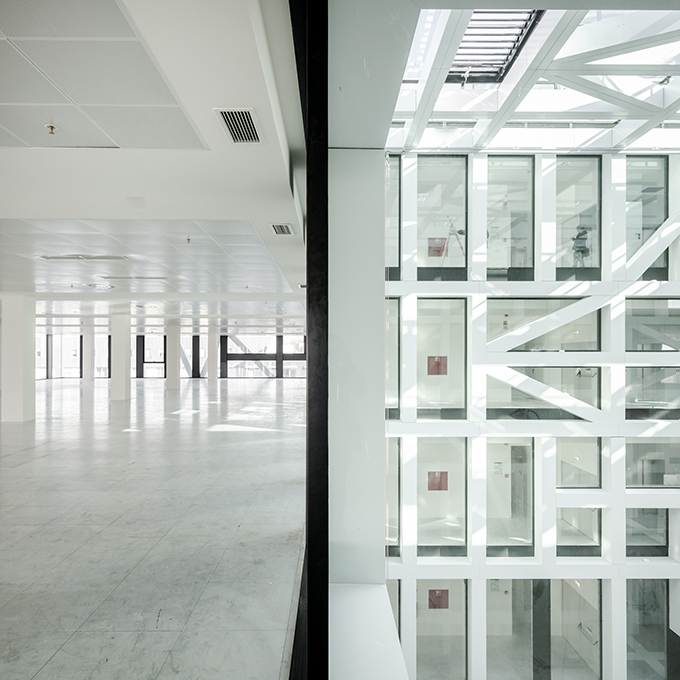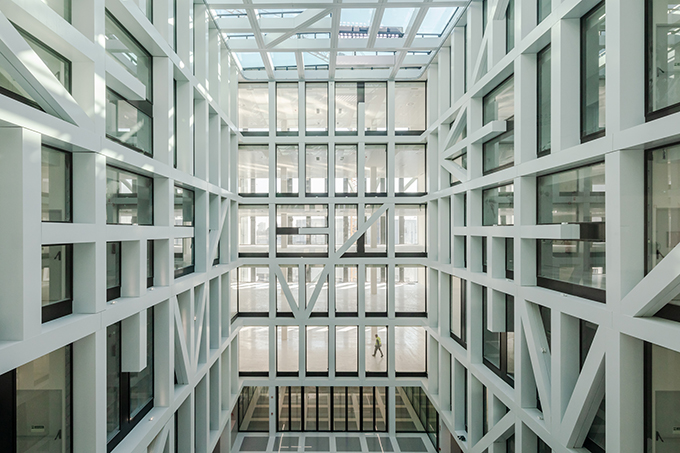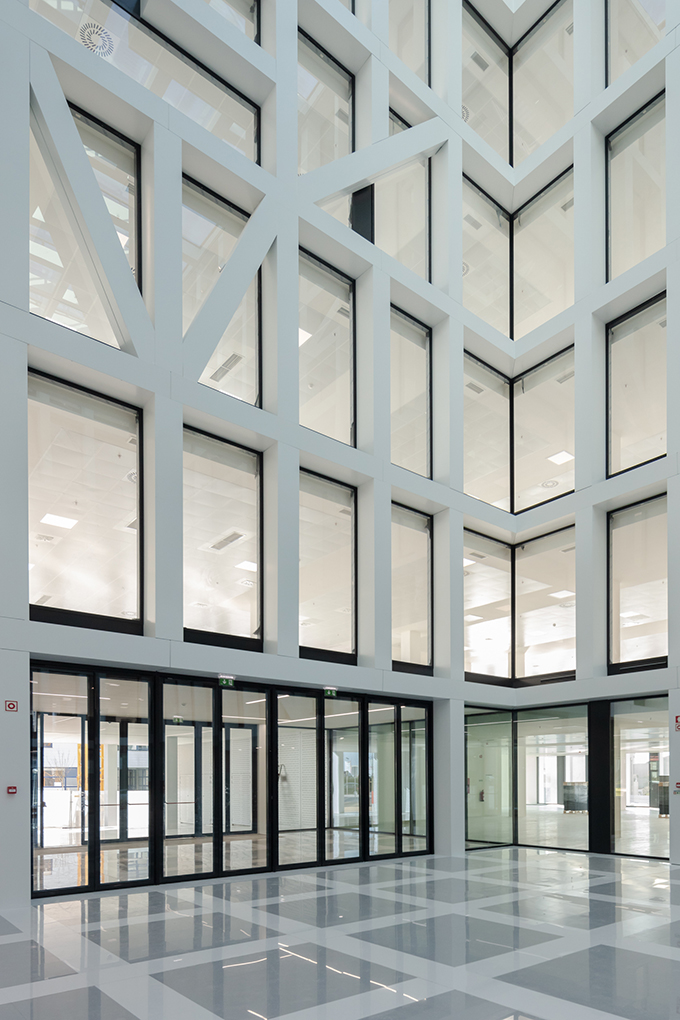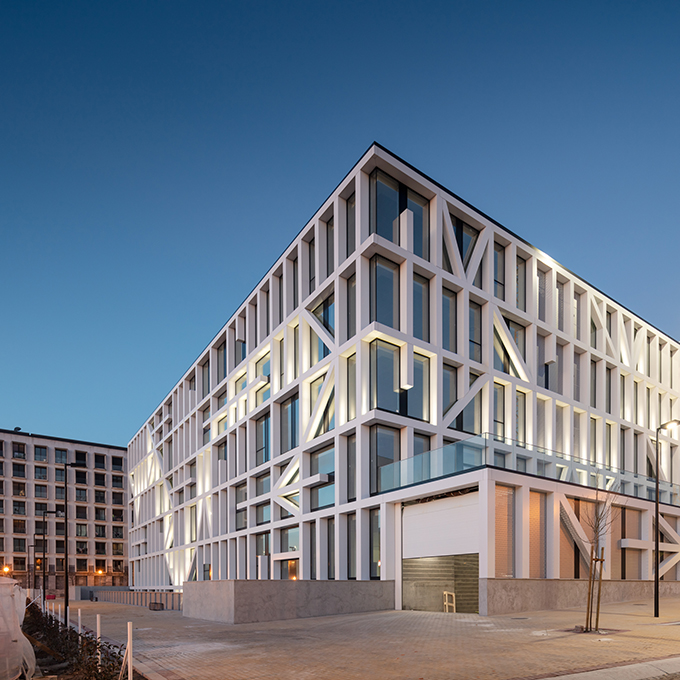 From the architects: The Urbo Business Centre is a building for offices and services in Matosinhos, Portugal. The building, with 25600m2, is a single volume, with a detached implantation of rectangular geometry comprising eight floors. Six above ground, for offices, and two basement levels, for car parking, except an area on the first level facing the street (west side), for service providers.
The sidewalks, wider on the north and south, create a double entrance in opposite facades, establishing an inner crossing line and a seamless merging of both entrances in the core of the building: the foyer. This foyer reaching 24m height, reinforced by a wide skylight, produces visual relationships across the floors, the workspaces and the circulation areas, enhancing the closeness and collaboration between the users and the occupants. It also sets the spatial and functional organisation of the building: two vertical access cores –stairs and group of elevators- taking to the lower and upper floors. The upper floors (3000m2/each) arranged around the foyer, are serviced by two opposite nerve centres evenly enveloped by the exterior and interior facades. These nerve centres take to the building's top floor where two smaller volumes conceal mechanical equipment.
The building's architectonic solution is based on a flexible office spatial programme to host one or manifold occupants; on a constructive programme embracing the most recent and best sustainability practices during the design, construction phases and life span of the building. The constructive solution is a metal structure with composite floor for the positive floors. The exterior skin is a building envelope system -curtain walls composed of extruded aluminium frames infilled with glass and opaque aluminium composite elements.
The façade is the most striking visual element of the architectural design. Enhanced by the composition of the night lighting, the arrangement of the rhythmic elements discloses melodic interpretations.
Project name: Urbo Business Centre
Architect: Nuno Capa Arquitecto
Project location: Porto, Portugal
Completion Year: 2019
Gross Built Area (square meters): 25600 sqm
Photo credits: Joao Morgado Architecture Photography – www.joaomorgado.com