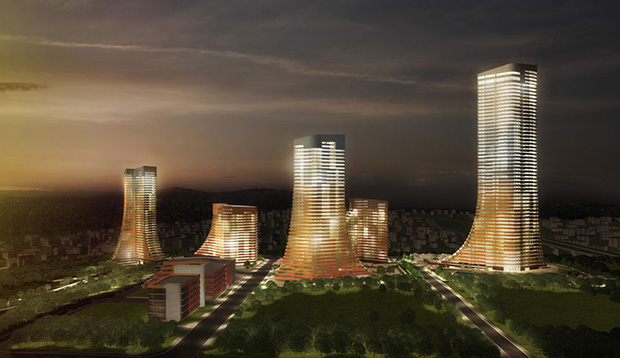 RMJM, the international Architecture and Design office, is celebrating 60th anniversary as a leader in architecture and design. It has been founded in 1956 by Sir Robert Matthew & Stirrat Johnson-Marshall with a vision to revolutionise the architecture industry. With studios across five continents and more than 2500 architects who collectively represent 56 nationalities and speak more than 40 languages, RMJM hes been consistently adapting to market changes and shifting social demographics, evolving into one of the largest and most geographically diverse architecture firms in the world.
Read more after the jump:
With sixty years of experience, hundreds of international design awards and a portfolio comprising some of the most iconic structures in the world, RMJM is one of the largest most geographically and culturally diverse architecture firms in the world, with series of high profile projects, such as: Scottish Parliament in Edinburgh, the Gazprom Tower in St Petersburg, the Media and Broadcasting Center for the Beijing Olympics and many more.
At RMJM, we believe we must build a strong and lasting presence in each market in which we work in order to consistently redefine international architecture. While celebrating our 60th anniversary, we continue to strive towards a new standard of design, infused with our determination to deliver international standards informed by local knowledge. Given our extensive experience, it is no surprise that RMJM boasts one of the most diverse international portfolios of built work in the global architecture industry today. Whilst our geographical presence allows us to design projects across multiple continents, the strength and depth of our design expertise allows us to demonstrate a capability in every project type. The RMJM Group is a family of architecture studios. We share knowledge, expertise and design talent, we work together to solve design problems and we are focused on consistently adding world class projects to an ever-expanding portfolio. We are RMJM. – from RMJM