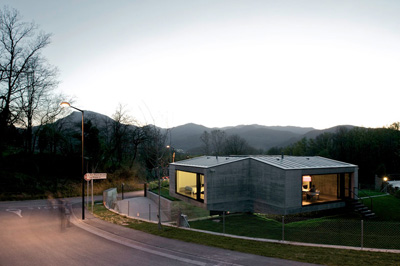 Project: Casa Pocafarina
Designed by Hidalgo Hartmann Arquitectura
Location: Girona, Spain
Website: www.hidalgohartmann.com
Casa Pocafarina in Spanish town of Girona is work of studio Hidalgo Hartmann who made sure the house takes advantage of its position and landscape view around it.
From the Architects:
The house is situated on a corner plot with some good views over the distant landscape. In order to enjoy these views and avoid the neighboring buildings, the ideal configuration for the house was to create a compact form of cross which is placed at the center of gravity of the plot. The four wings are oriented in a way that ensures the selected views from inside the house. On the top floor, the cross-shaped plan organizes the four wings around a central space, an exterior courtyard, that provides sunlight into the heart of the house. The ground floor contains the housing access, the porch, garage and laundry. The four wings contain the different functions of the house with the living room area and the kitchen-dining area connected with each other through the transparency of the courtyard. Distributed on both sides of this main space there is the master bedroom with it's own bathroom and the two children's bedrooms also with a bathroom hidden by a concrete wall.
Source DesignBoom.*