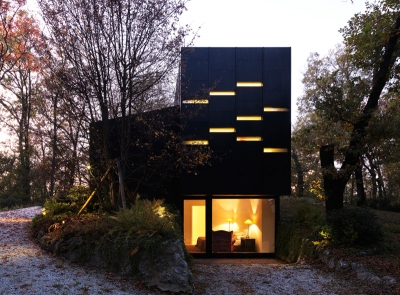 Project: Guesthouse
Designed by Enrico Iascone Architects
Location: Bologna, Italy
Website: www.iasconearchitetti.it
A contemporary shaped Guesthouse designed for a location near Bologna comes from Enrico Iascone Architects studio.
From the Architects:
This small house is located in the hills of Bologna, in a forest of strong character and natural landscape.
It is designed to achieve a building of wood, both to respect Energy saving features, and to emphasize the relationship between architecture and landscape.The building is covered with wooden panels of a gray color that echoes the tone of the trees bark. The coating is interrupted only to make room for small holes that become light' blades inside, and large windows that brighten the living area.The interior design is characterized by simple and neutral theme like the white resin floor, just to let the surrounding nature as a single pattern and decorative element.