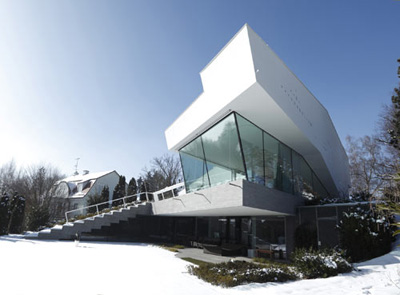 Project: House R
Designed by Bembé Dellinger Architekten
Location: Munich, Germany
Website: bembe-dellinger.de
Bembé Dellinger Architects create a house near Munich in Schondorf on lake Ammersee for a young design conscious couple in mind, contemporary lines and dominant white form the sentiment of this design.
View more images and architects description after the jump:
Schondorf on Lake Ammersee has become an attractive place to live due to its location, its good infrastructure, the short distance to Munich and the airport. A mansion for a business couple, curious, brave and interested in design. A house with complex functional sequences. A framed view of the sculptural landscape. 380 massive acrylic glass cylinders perforating the building's exterior skin.
Source | dezeen