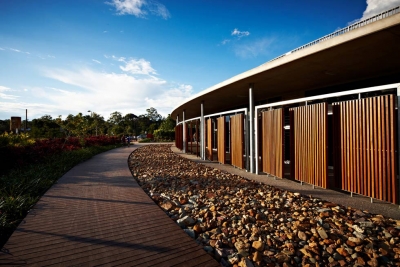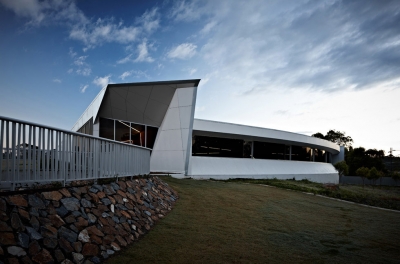 Project: Cooroy Library and Digital Hub
Designed by Brewster Hjorth Architects
Project Area: 1 650 sqm
Location: Sunshine Coast, Queensland, Australia
Website: www.brewsterhjorth.com.au
Photographs: Mushenko & Jackson
Cooroy Library and Digital Hub building is work of Brewster Hjorth Architects designed for a location on Australia's Sunshine Coast in Queensland.
From the Architects:
The new Library and Digital Hub creates a bridge between the Butter factory Art Gallery and the main city street, opening up to the recreational park created within the site of the Mill Place timber Mill. The link has been achieved by digging the new library in into the existing slope, bridging level difference of 6 m between the Art Gallery and the recreational park.
The building includes a large new public library design for the Cooroy community and capturing the larger community living in the hinterlands surrounding Cooroy. The library incudes a technology rich hub, with digital training rooms, community rooms, community lounge, reading areas and café that can open onto a large covered verandah visually and physically connection it to the recreational park.
Building Form. The building was designed a two curved opposed pavilions. The western pavilion is dug into the slope of the site, and is covered by an earth sheltered grass roof. The grassed roof provides the setting link to the art gallery, and extends the grounds and the park and the gallery. A prominent sculpture has been place at a pivotal junction between the library and the art gallery to unite the creative, cultural and recreation precinct created.
To the east, the library opens to a sunken internal courtyard, edged by a large stonewall, providing much needed cooling in the summer from the stone mass and shading.
To the north the eastern pavilion sours out of the ground, with a beacon lantern positioned at the junction between the two pavilions. The lantern beings in southern diffused daylight into the library, and provides high internal cathedral space where community lounge, café, and reading areas are located. The form of the lantern has been designed with prominent angled elements, continuing the sculptural form and connection to the site.