Splendid design for The Fabulous Frozen Factory project located in San Pedro, Mexico comes from Jakob Gomez architect. For more after the jump: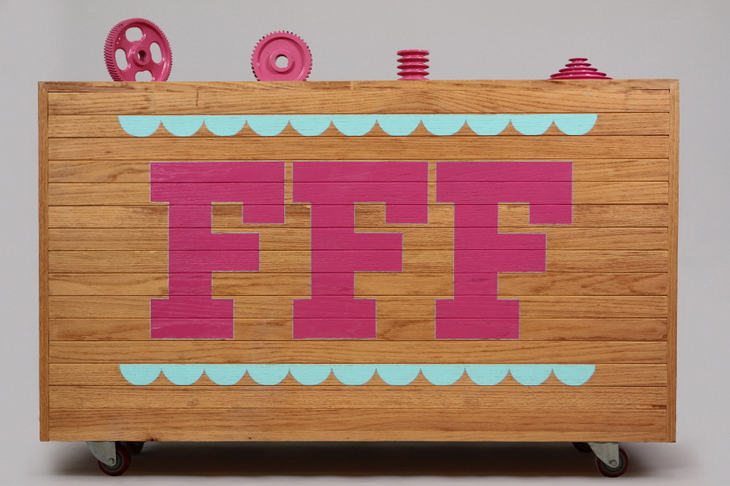 From the Architects:
The Fabulous Frozen Factory, located in San Pedro Garza Garcia, Mexico is a new concept in the city that creates ice cream in cryogenic ways.

The interior concept was based in a big ice cream machine inside a warehouse where the costumer can be part of the spectacle of the preparation experience.

The goal was to develop a machine that can delimit the space and divide the program of the table integrating the original graphic developed by MIUNA y Osvany Tolosa in just one element.

The machine design was based mainly on the operation and reading service, making reference to games of Mexican fairs and also element materials of ice cream prepared through nitrogen.

The machine divides the space in 4 areas of the program requirements and all technical functioning were exposed to accentuate the preparation area, all the Kitchen aid appliances were painted with the original colors. Corian and stainless steel were chosen for operation and cleaning for the surface giving an industrial look, stainlees steel bars subdivide and also link all integrated elements.

The ad was painted with automotriz paint and it was accentuated with 720 mini pixel leds.

Project: The Fabulous Frozen Factory
Designed by Jakob Gomez
Collaboration: Karla Aurora González Villarreal
Hand-painted graphic: Raul Mirlo
Photography: GroovyChaos / Melissa G. Soto
Location: San Pedro Garza Garcia, Mexico
Website: www.jakobgomez.com