Project: Endesa Headquarters
Designed by KPF
Location: Madrid, Spain
Client: Endesa. S.A.
Type: Corporate
Size: 973,000 ft2 / 90,000 m2
Website: www.kpf.com
Impressive award winning design by Kohn Pedersen Associates for Endesa Headquarters located in Madrid, Spain, view more images and architects description after the jump: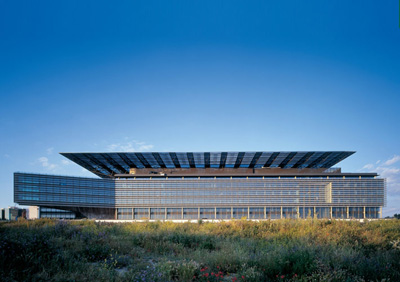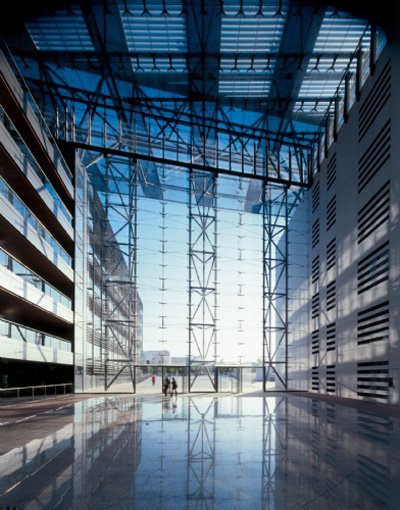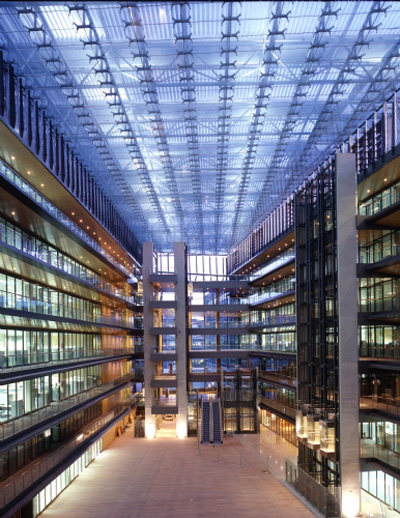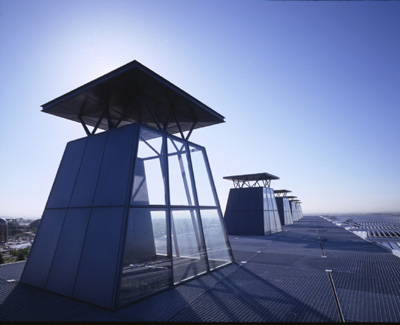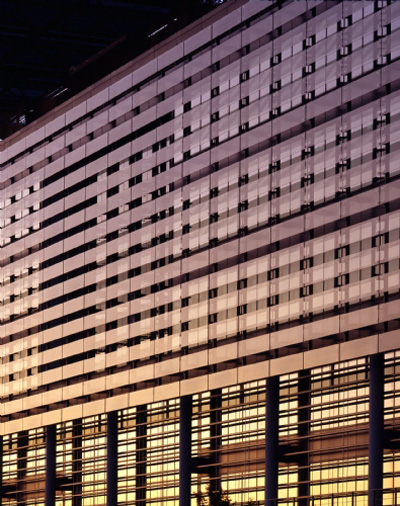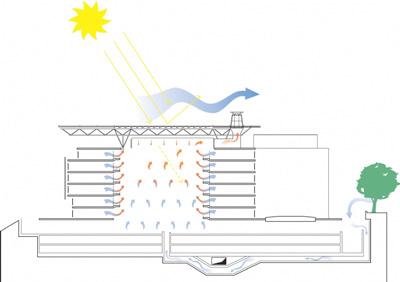 The headquarters for Spanish energy utility provider Endesa fuses innovative workplace design with a progressive environmental program. With the desire to express its commitment to sustainability and to provide a high level of employee comfort, the new facility consolidates the company's operations, which were previously scattered across several sites in Madrid.
KPF's design references the traditional Spanish concept of a large internal courtyard and transforms it into a modern, climate-controlled solution for Madrid's harsh weather. Two six-story office wings enclose a 3,000-square-meter (33,000-square-foot) central atrium framed by 17 light-steel trusses spanning up to 45 meters (150 feet). The structure is shaded by a series of galvanized steel grills and remotely controlled aluminum louvers, which facilitate control of glare and heat load. The intermediate zone between the glass and steel protects the 32-meter-high (105-foot-high) space and acts as a thermal chimney to exhaust stale air from the atrium. Conventional air-conditioning is not required in the offices. Fresh air supplied to the atrium is cooled by underground ducts that are connected to fresh-air inlets. Offices have operable windows for natural ventilation. During the summer, hot air in the atrium vents at the glazed, louvered perimeter and roof-mounted wind towers remain open to increase airflow through the space. In the winter, the wind towers extract air during the day and are closed at night.
Triple-glazed windows with a low-E coating optimize daylight penetration and minimize heat gain. Different shading devices were applied to each façade based on orientation. To the southwest, users are protected from noise, pollution, and excessive solar gain by a double skin of fritted glass. The building's northeast exposures are protected by fixed aluminum louvers, which cover one-third of the glazed area.