MZ Arquitectos designed this stunning private residence located in Córdoba, Argentina. Take a look at the complete story after the jump.
From the architects: On route E53, a few kilometers from Córdoba City, it isfound La Finca del Sol, a simple neighborhood with few lots, which enjoys calm, beauty and simplicity.
The 800m2 lot had an important determining factor: the north orientation faced the street. Without natural gas for heating, it was imperative to open the house towards that orientation and, at the same time, not lose privacy or relationship with the back yard.
This is how the main idea arises. A large living-dining room that, with large openings, captures solar radiation in winter to heat and relates to the patio through the gallery. In order not to lose privacy, a screen wall was proposed, hollowed out with the rhythm of rows and columns.
Upstairs, the bedrooms point towards the sun, leaving the corridor for the most unfavorable orientation.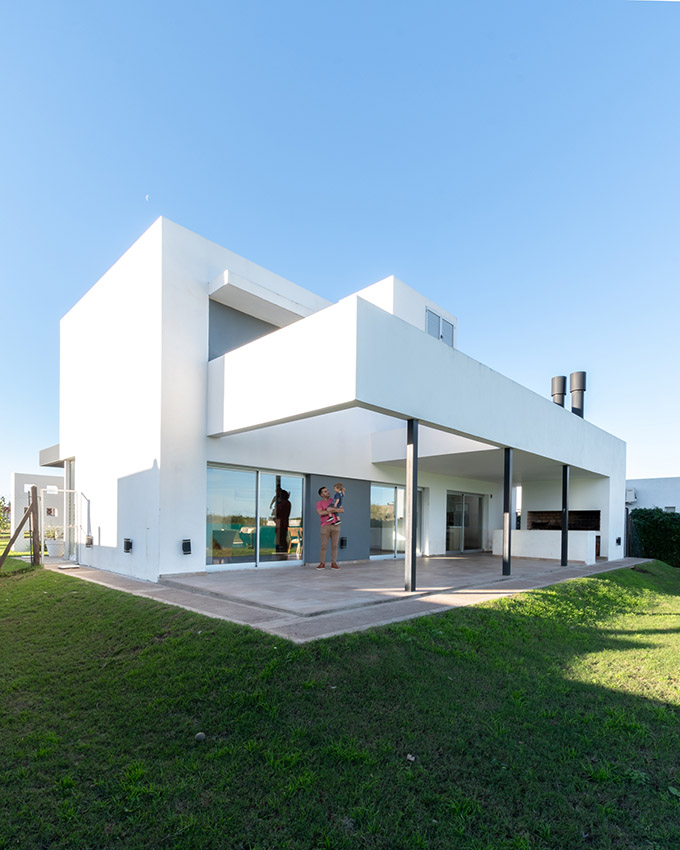 The gallery is combined with the barbecue area to create a dream space that, through door-windows, achieves an intimate relationship with both the kitchen and the living room. This makes the amplitude of the space, the multiple combinations of use.
The merely formal was resolved in a simple way. A large white volume with small details that generate contrast. Little big sparkles. This is how the solid wood door and the eaves take center stage. The perforated wall is the star of the façade.
For the back yard, it was played with plastered concrete ribbons that arise from the spit to finish off in the frame of the gallery, reading as a whole. Details in gray finish assembling the set.
The project of the house planned a future extension: Where today the garage is located (metal, to disassemble and move) to build a study and in PA the master bedroom, with bathroom and dressing room.
Undoubtedly, this project is an example of how contrasts can be generated without using classic coatings such as concrete and natural stone.
Project Name: Vivienda en Finca del Sol
Architecture office: MZ Arquitectos – mzarquitectos.com
AAuthors: Marchetti Guillermo – Zuliani Emiliano
Location: La finca del Sol, Estación Juárez Celman, Córdoba, Argentina.
Construction Year: 2016
Surface: 200 (m2)
Phorogtaphy by Gonzalo Viramonte