Industrial doors come in specific designs suitable for factories, workshops, and other industrial buildings that require the operation and use of passageways.
Once the industrial door opens, they fold up and slide under the roof to provide free space around the door opening, making them excellent for industrial facilities.
Types of industrial doors
The modern industrial door comes with at least a standard locking system for security one descent piece should have two locking points internally. You can also upgrade to a four locking system for extra protection. However, an industrial door's overall safety can only be as effective as the door panel's strength and fixing. Let's look at some of the commonly used types of fittings used by industrial door supplier:

1. Up and Over
The style is one of the most recognizable designs with a one-piece panel that goes up and over, just like the name suggests. It's popular because it accomplishes its purpose easily by targeting individual needs. A modern locking system can be used to deter thieves.
Benefits
⦁ Easy to install
⦁ Easy to operate both manually and electric
⦁ A reputable and reliable design
⦁ Comes in numerous designs, materials, and colours
2. Sectional
The slightly complicated industrial doors come in panels that fold upwards and curve into the roof or horizontal rails. It offers a great deal of insulation and security that is not possible with most other types. The electronically operated doors have an internal operating system that prevents intruders from using them for access.
Benefits
⦁ Incredible strength and security
⦁ Stylish and impressive engineering
⦁ Its comes in large dimensions for massive gateways
3. Side Hinged
They open like the typical double swing door and are a timeless choice, especially for doorways for pedestrian access pathways. The industrial door offers security, easy operation, and access to a commercial building. Though they are sturdy, an alarm system and multiple locking points increase their security benefits.
Benefits
⦁ Easy access for pedestrian use
⦁ Easy to operate and install
⦁ Secure and robust option available
⦁ Automated services are available

4. Roller
The industrial door opens vertically, but they curl up and slide above the opening instead of going into the roof. The option is suitable for places with little headroom. The diverse roller door can be installed outside, inside, or in-between the garage opening. Roller doors come in layers of materials that are almost impenetrable.
Benefits
⦁ Easy installation and operation
⦁ Suitable for manual and automation use
⦁ Great for saving on space
5. Round the corner
The name says it all as to where this door goes. It's a lovechild between the sectional and roller door where it folds along one side of the wall, round the corner doors c use of an alarm and locking system.
Benefits
⦁ Offers horizontal operations
⦁ Requires no headroom
⦁ Can be opened partially for pedestrian use
⦁ Suitable for large openings
What to consider when choosing a robust industrial door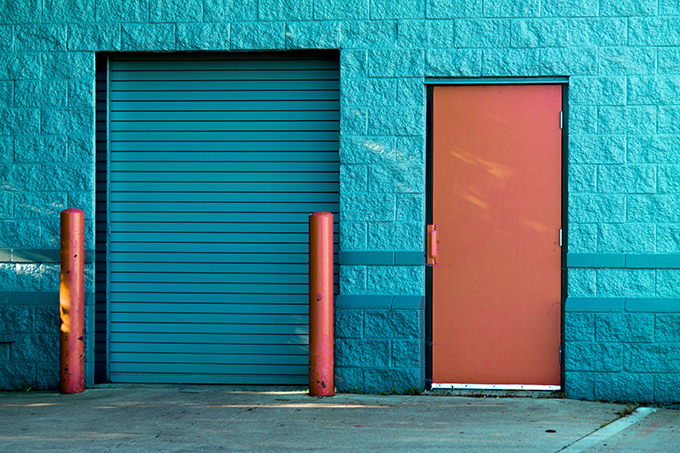 Materials
The materials used in manufacturing industrial doors are strong enough to provide security for your property. They include:
⦁ Wood- It's a timeless option that is easy to customize and a favourite among most ⦁ industrial door supplier. However, it's not as strong as other materials and not as durable.
⦁ Steel- it's one of the most sought options because it's strong and requires little maintenance. Also, compared to other industrial door materials, it's relatively cheap.
⦁ Fiberglass– consists of an aluminium frame and is lightweight. Fiberglass also resists the effects of saltwater, and it's translucent.
⦁ Aluminum -The lightweight material is very durable and reasonably cheap.
Conclusion
A strong industrial door helps keep your business safe. With increased crime rates, a strong and security and enhanced industrial door is a great way to offer protection for your industrial facility.