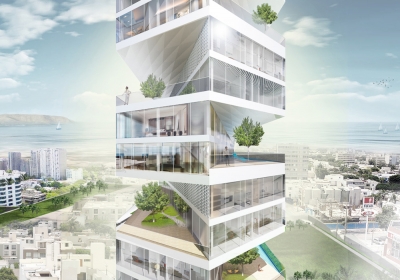 Project: Writhing Tower – Sky Condominium
Designed by LYCS Architects
Project Team: Hao Ruan, Devin Jernigan, Vedrana Puhalo, Max Peterschmidt
Location: Lima, Peru
Website: lycs-arc.com
Designed for a prestige location in Lima the Writhing Tower is work of LYCS Architects, in a specific way each unit is rotated 45 degrees allowing an extended view of the location.
From the Architects:
Writhing Tower, a LYCS designed "Sky Condominium " for one of the most beautiful residential zones in Lima, is a global architectural competition initiated by ARQUIA, an international development firm interested in comissioning architecture as art.
Each unit is rotated 45 degrees to create a cruciform shape in plan and the appearance of a linear hinged volume. The enables each unit to have uninterrupted views to both the public park in front of the site, and the ocean to the rear of the site. Additionally, each unit has blocked views to the unit above and below it, so as to create extra privacy. Each unit is a two-story townhouse, with a terrace for a garden with trees, and a pool with a deck. Due to the uniqueness of the geometric play in the overall tower form, each terrace is able to receive the tropical sunshine and breeze. The metal hypar that connects the second floor plate to the underside of the unit above projects the user's view out from the structure due to the way that the smooth surface blends the two box geometries. Consequently, the hinged volume takes on the appearance of being twisted from unit to unit, up the structure. A mesh triangle is added to provide additional sun protection and synthetic connection to the hypar form.
The project is an experimentation of contemporary design tendencies, henceforth standing out for its uniqueness in regards to the traditional or substandard urban tissue of Lima, Peru.