Riofrio Arquitectos designed this stunning private concrete residence located in Paracas, Peru, in 2018. Take a look at the complete story after the jump.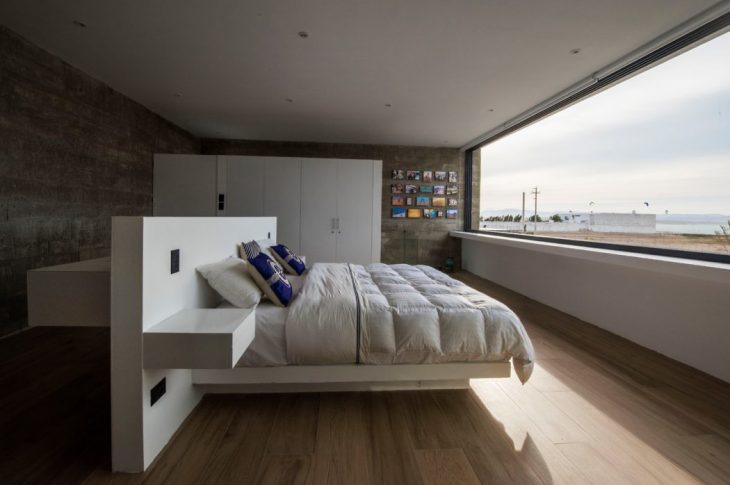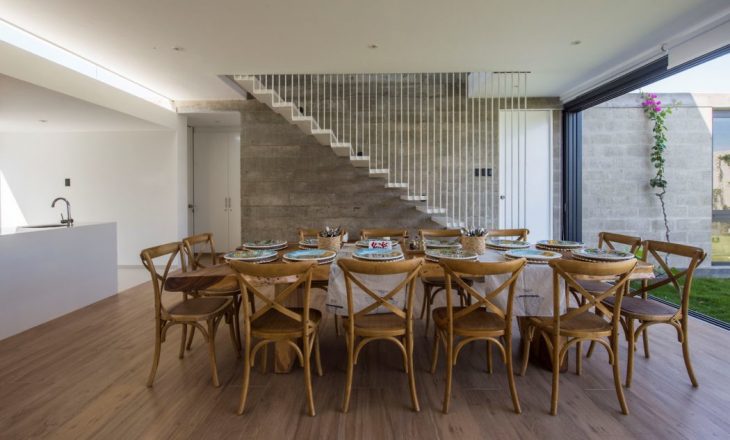 From the architects: This house is located in an temporary housing development near to the Paracas Natural Reserve overlooking the Bay. The particular climatic conditions of the place are solved by laying a solid base that serves as a barrier for the strong winds of the afternoon. This allows to generate at the interior a sheltered and private garden. The base volume contains most of the program of the house and for each of these environments a small depth is raised in the facade for protection of the interior of the direct wind and to achieve an adequate privacy. The rhythm of these openings unifies the base and gives a clear reading of the composition. On top of this first level rises an almost cubic volume that stands out for its proportions and crowns the geometry of the house. This cube concentrates the main spaces as well as the circulations and connections with the rest of the house.
The house aims to relate with the background landscape of the desert. For this, the decision was to use colors and raw textures to express the materials in their brutal character. Exposed concrete, polished cement and concrete blocks are used both outside and inside. Recycling wood is the highlight at the entrance and in the main bedroom window.
The program on the first level includes a living room with double entrance, kitchenette, bedroom with bathroom, social area with hall, living room, dining room and kitchen, guest bathroom, two additional bedrooms each with bathroom and full service area. On the second floor there is a large open master bedroom with bathroom and wide view of the sea.
Find more projects by Riofrio Arquitectos: www.rrmr.com.pe