Margaret Howell + Open House This Weekend in London
|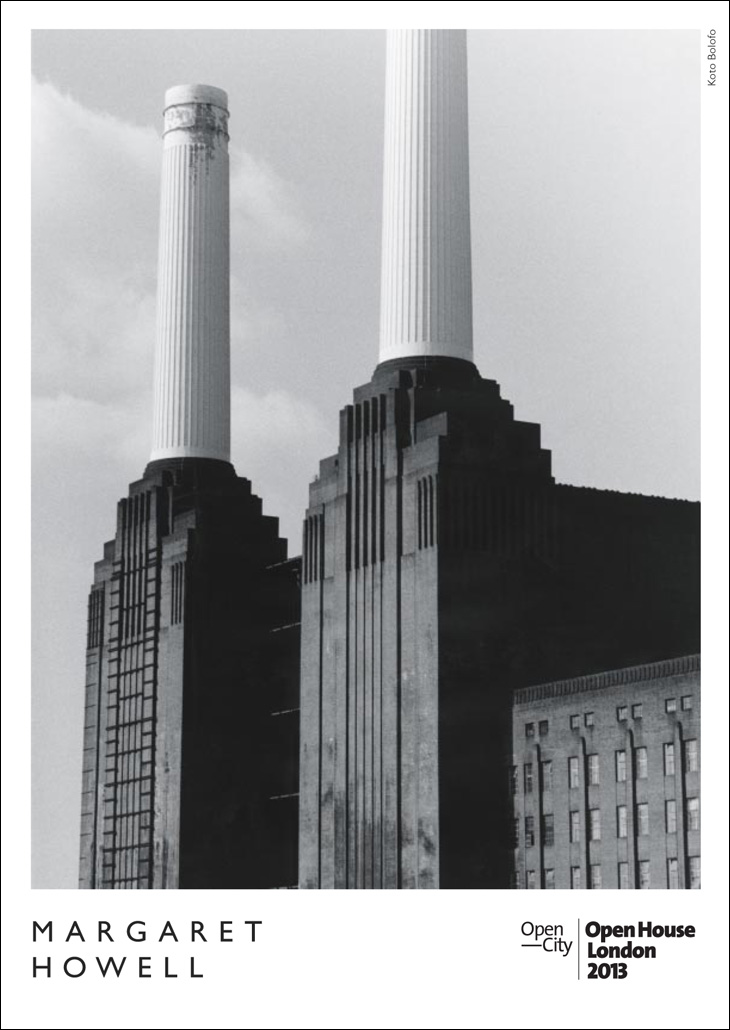 The renowned London based designer Margaret Howell shows her support for the Open-City initiative and its Open House London Weekend. The designer has supported Open House London Weekend since 2003, this once a year weekend event allows the access to public and private buildings of architectural merit.
Open House in London is this Weekend, 21 – 22 September. This time Margaret's supporting The Royal Festival Hall, Swiss Cottage Library, Balfron Tower and Span Housing. As well as the landmark of London, the Battersea Power Station. Open House will allow the public to visit the building before the site undergoes its massive reconstruction scheduled to star in little over a week. To Mark the occasion, the designer has produced a series of postcards showing a stellar selection of her favourite Open House buildings.
Discover more below:
2 WILLOW ROAD NW3 Architect Erno Goldfinger 1939
This unique modernist home designed by Goldfinger for his family is largely in its original condition. It also contains furniture designed by Goldfinger and his modern art collection including works by Riley, Ernst and Moore.
'Erno Goldfinger excelled in making the most of modest spaces. His own home brims with energy – work and living areas are fluent and adaptable. I can imagine myself living there.' — MARGARET HOWELL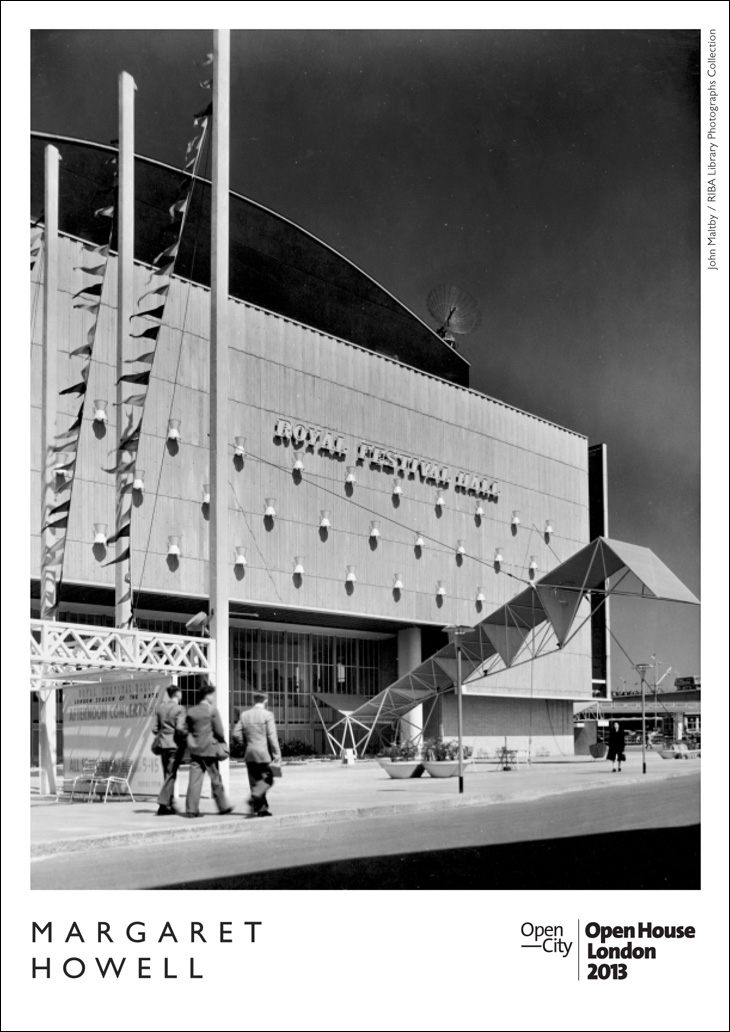 ROYAL FESTIVAL HALL South Bank Centre Belvedere Road SE1 8XX Architects Leslie Martin, Robert Matthew, Peter Moro & Edwin Williams 1951
Completed in 1951 as part of the Festival of Britain and dubbed the 'People's Palace'. The RFH became a Grade 1 listed building in 1988, the first post-war building to be granted this status.
'This building is made to work for people; an effortless movement of space on different levels, carpeted and comfortable. Everything speaks of the designers' thought and touch, from the auditorium to the door handles.' — MARGARET HOWELL
SPAN HOUSING Fieldend Twickenham TW1 4RF Architects Eric Lyons and Geoffrey Townsend 1961

The architects designed the landscape hand in hand with the design of the house. Each house has a small private rear garden and common landscaped parkland comes right up to the front door. The landscapes designed by Ivor Cunningham. Fieldend was awarded a Housing Gold Award 1961 and a Civic Trust Award 1962.
'Nearly sixty years later, Span houses still look good, and right in their setting – the best use of space inside and out. A reminder that budget need not compromise quality.' — MARGARET HOWELL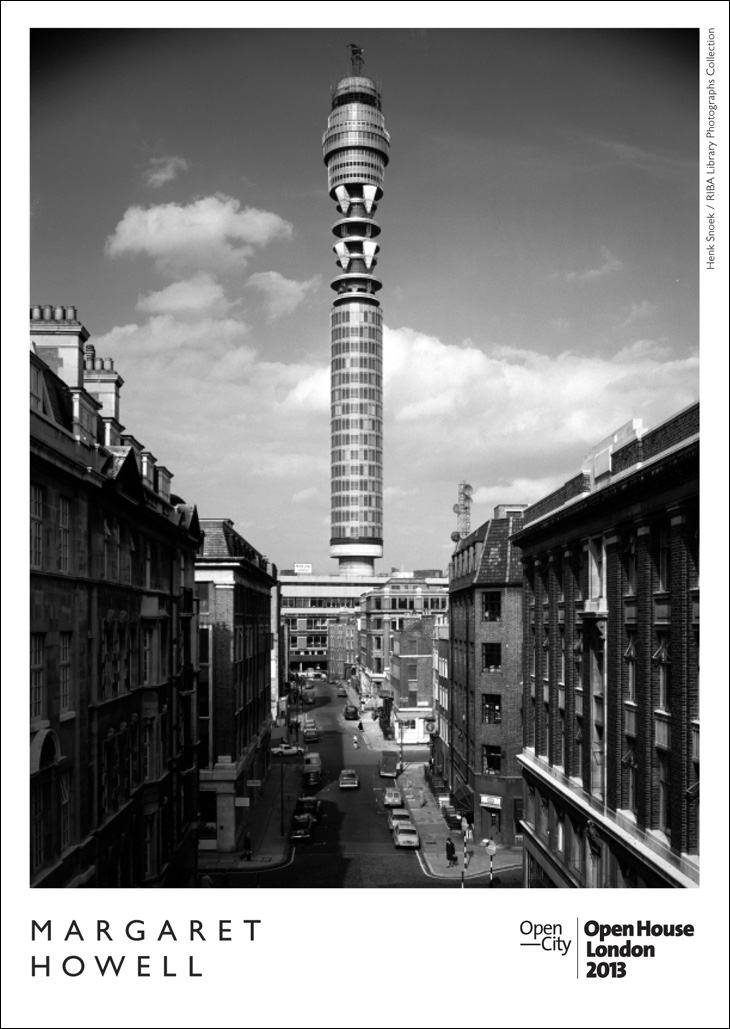 BT TOWER 60 Cleveland Street W1T 4JZ Chief Architect Eric Bedford 1965
The BT Tower was the first purpose-built tower to transmit high frequency radio waves when it opened as the GPO Tower in October 1965. In 2011 it was open as part of Open House and gave a unique opportunity for members of the public to visit the famous revolving floor 158 metres above the capital.
'When it was built as the Post Office Tower there was nothing like it – and there still isn't. Its strong bold design is exciting, especially lit up at night. It holds its own against its newer, eye-catching neighbours.' — MARGARET HOWELL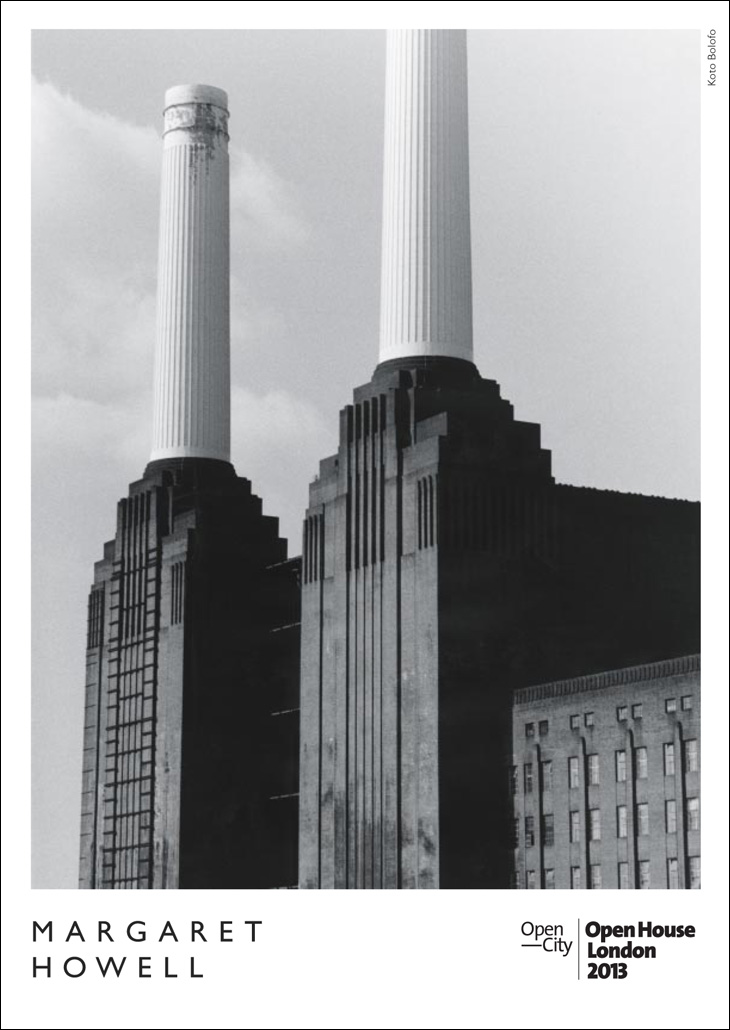 BATTERSEA POWER STATION 188 Kirtling Street SW8 5BN Architects Sir Giles Gilbert Scott, James Theodore Halliday 1935
Built in the 1930s as a coal-fired power station Battersea supplied over one fifth of London at its peak and closed in 1983. Open House will be hosting site visits this September and it will be the last opportunity to see this iconic building before it undergoes redevelopment.
'The sheer scale defeats me when I try to photograph Battersea Power Station. Luckily others have managed it. But the true thrill is to see it for real – from the Thames, or on a train crossing to, or from, Victoria Station.' — MARGARET HOWELL
The postcards will be available at Battersea Power Station and other key venues over the weekend.
FOR MORE INFO LOG ON TO: www.open-city.org.uk + www.open-city.org.uk