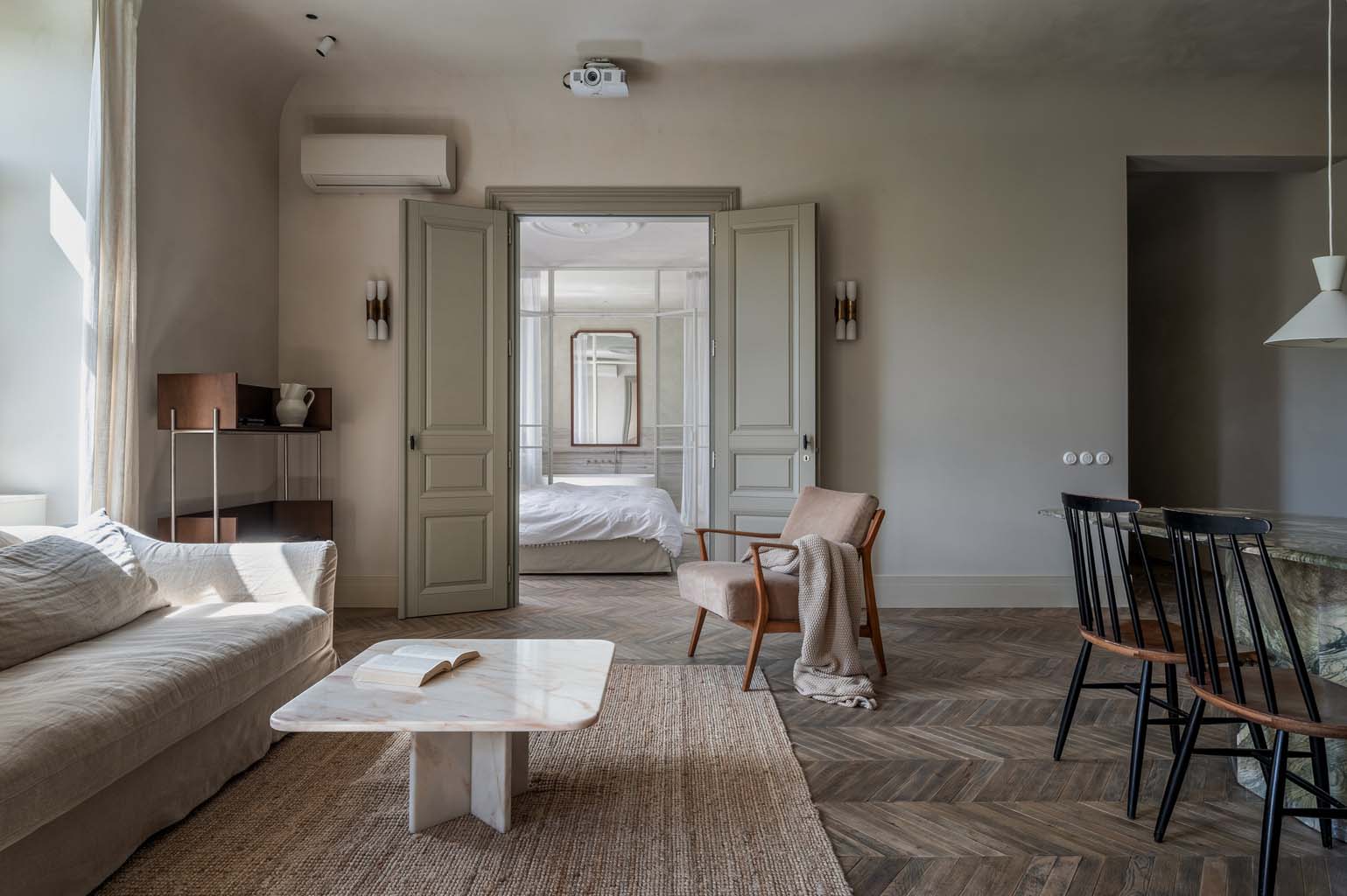 Kyiv based interior design Rina Lovko Studio, has recently completed works on their latest residential project – Semerey. The apartment is located on the fourth level of a building in Kyiv's historic district that was constructed in 1905. The room itself is bright because to the abundance of windows that look out into a peaceful green park and let in plenty of natural light. The unit needed to be completely renovated due to the building's condition. The walls and rotten slabs were discovered during the demolition process, and it was discovered that new flooring was required.
Our client is a young woman, a fashion insider with a strong vision. This project is all about aesthetics, so it was entirely designed to meet her requirements and standards of beauty. Our client is fascinated with Paris, so our target was to recreate a flair of a vintage apartment. Our solution was not to copy the "Parisian chic" tricks, avoiding the ornamental plaster and other obvious elements of direct quotation of this style. The focus was shifted to natural textures, a combination of softness and determined details, and an overall airiness, and nuanced sophistication instead.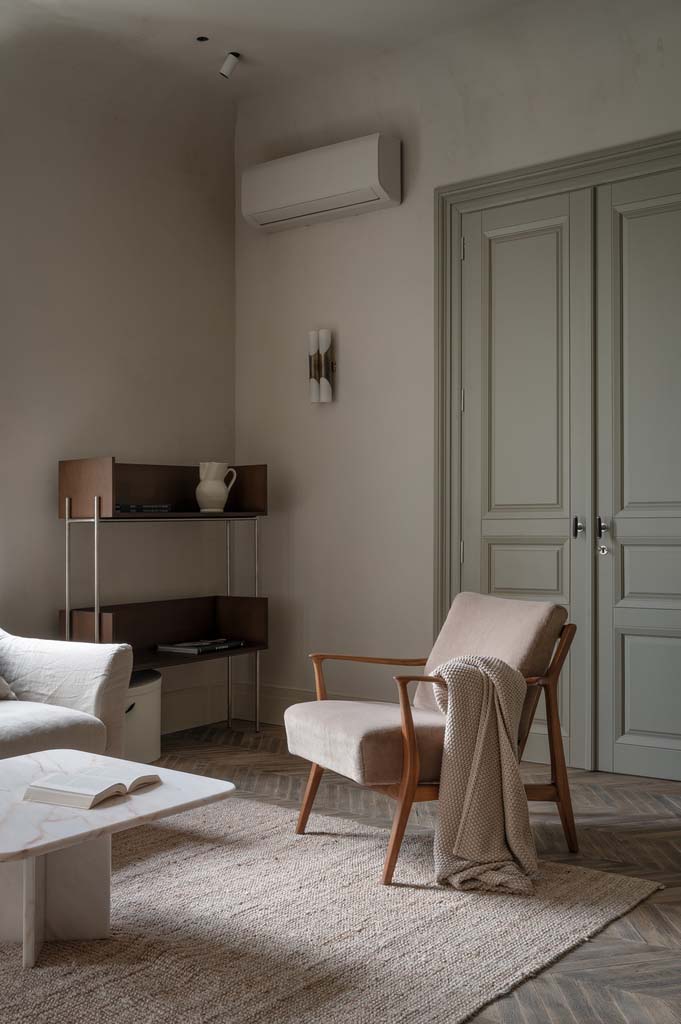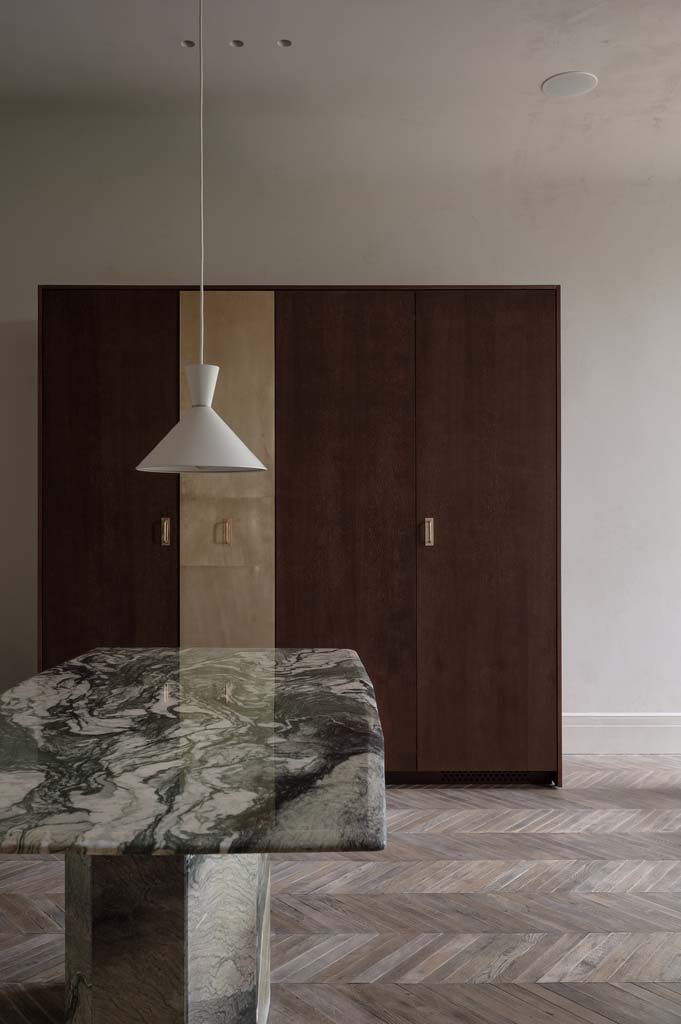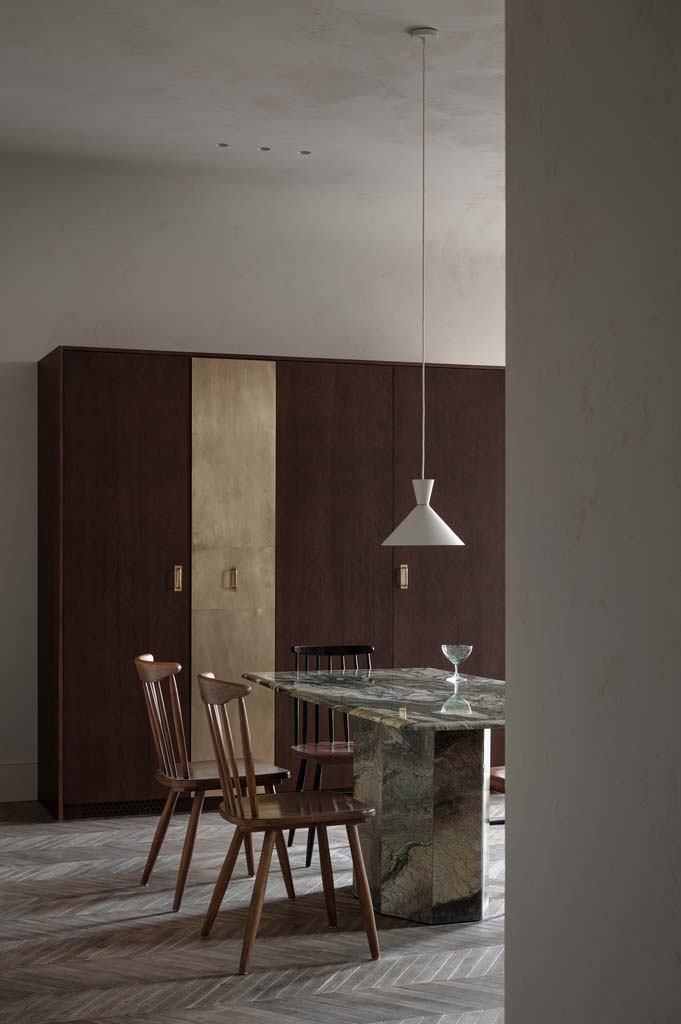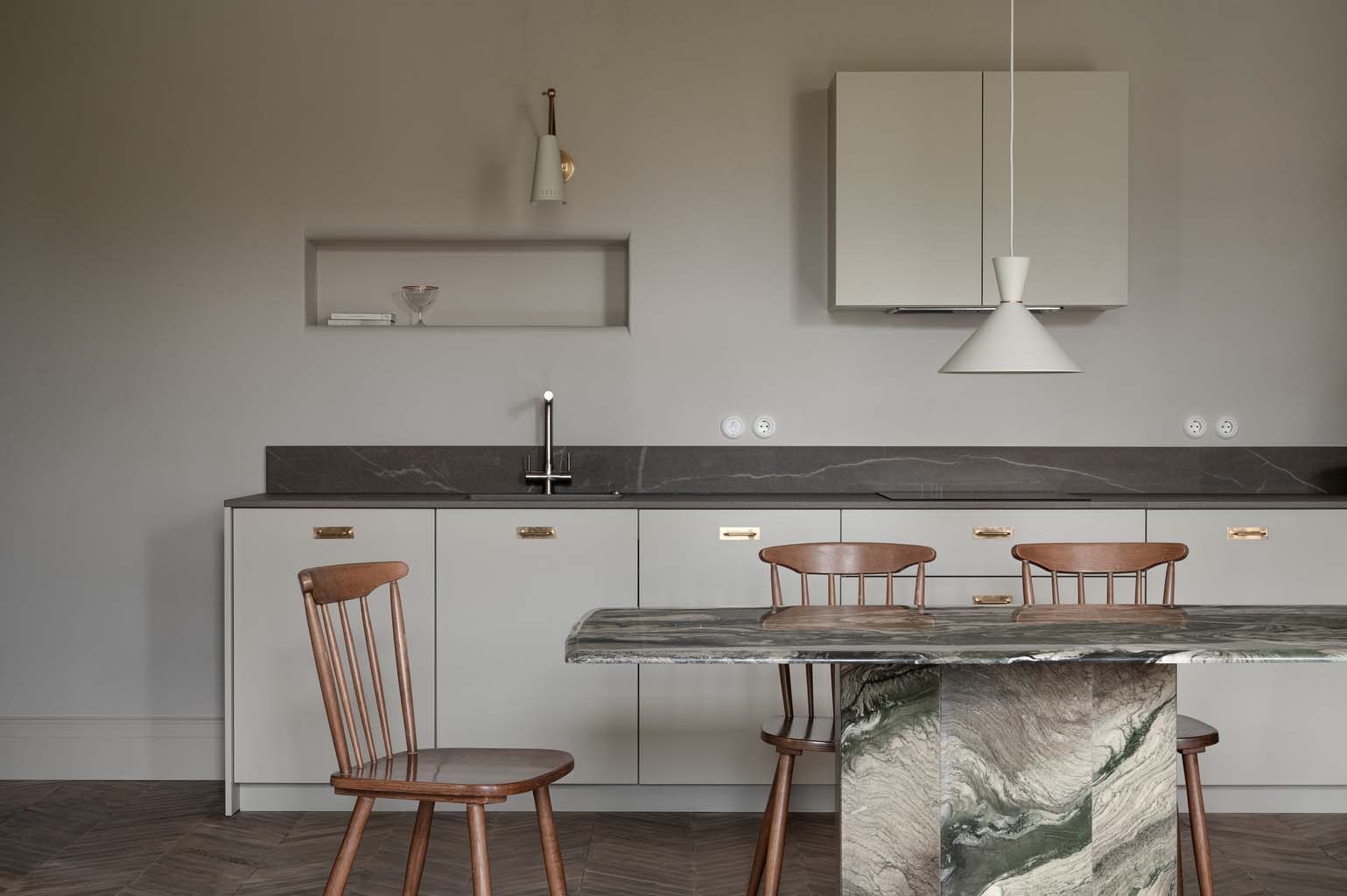 The architects used an enfilade, a tried-and-true method of arranging space. They created a long, useful hallway with an entrance wardrobe, a guest restroom, and a laundry area because the apartment is one-sided. The kitchen has a stand-alone cabinet with a refrigerator and an oven that is close to the living room entry. The bedroom and bathroom are divided by a glass wall that can be seen from the living room through a double door.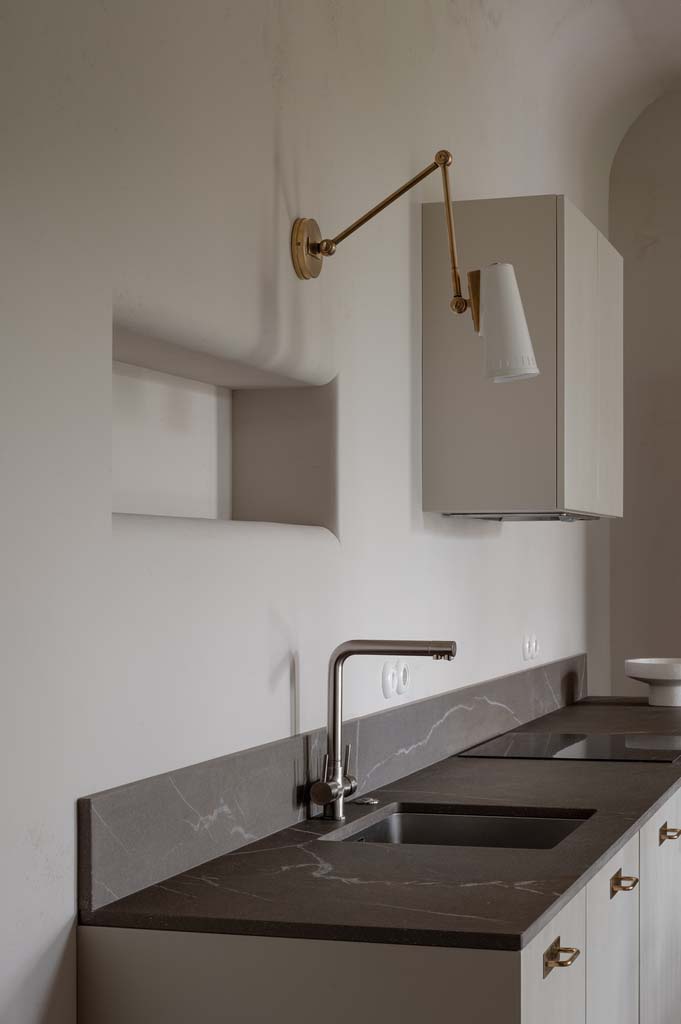 The walls were painted on top of plaster, with the deep texture being left as it is. The angle between walls and ceiling was smoothed out.
A 100 year old oak parquet was assembled in the apartment. The toning part was done in a way to highlight the naturalness and antiqueness of the parquet, leaving its marks of time — the imperfections — unaltered. The Doors are made from solid wood, according to original Austrian door drawing, by the craftsmen from Lviv.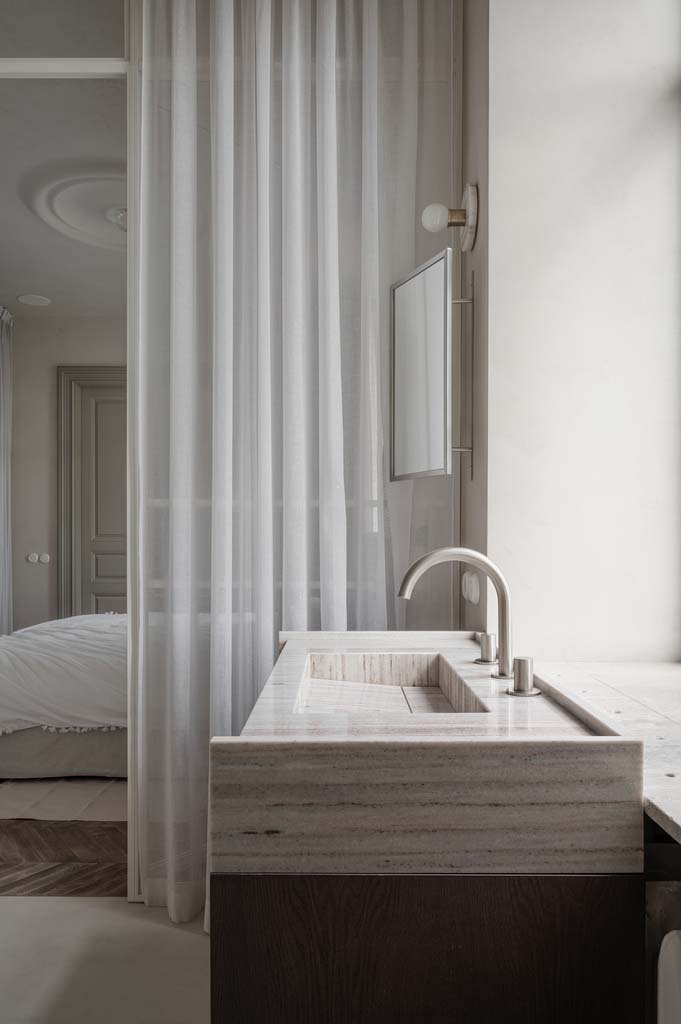 The marble for the shower walls was carefully chosen, the same marble was used to make the sink, and the cabinet was custom-made. A glass wall and soft tulle are used to divide the bathroom from the bedroom, resulting in one continuous area. Micro concrete was used to construct the bathroom's walls and floor.
Team: Rina Lovko, Daryna Shpuryk
Location: Kyiv, Ukraine
Total area: 80 sq.m
Implementation: 2022
Photo by Yevhenii Avramenko
Find more projects by Rina Lovko Studio: rinalovko.com