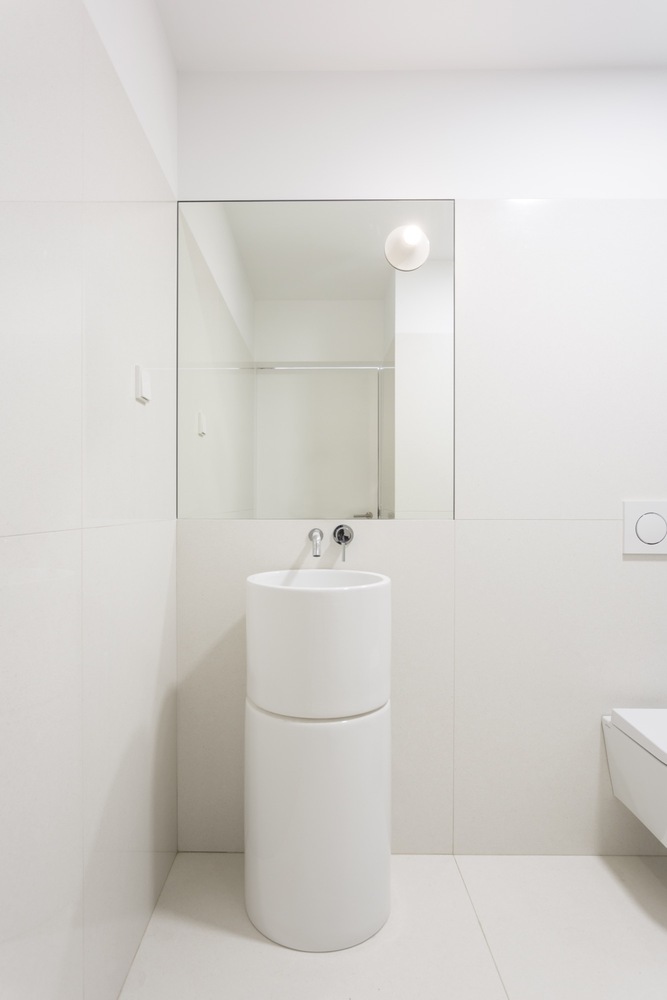 Fresh, modern, sleek—they're all compliments paid to new ideas in bathroom décor. But, such terms are in the eye of the beholder without specific examples. So, when the idea of updating stresses you out, you can make it easy by going modern for a fresh new look.
Architecture Digest says, "Whether you're making small upgrades or going for a full overhaul, a bathroom renovation can make a big difference in the feel of your home (and its future resale value)." But, pulling it off takes planning, strategy, and smart shopping.
Read more after the jump:

Roomy Showers: Designers at HGTV recommend seamless glass surrounds for larger shower setbacks. The glass optimizes internal and external light, and the lack of framing improves cleaning and maintenance.
Shower Tile: Long and narrow tiles in ceramic, stone, and wood simulations create contrasting background for shower installations. Color and texture highlight the shower design and complement other bathroom design elements.
Contemporary Bathtubs: Floorspace permitting, a modern freestanding tub offers a fresh new look in any upgrade. There's nothing new about freestanding tubs except an excellence in design. They come in old-fashioned clawfoot designs and sleek spa experiences. Sleek, elegant, and sculptured, they become the center of attraction.
Sleek Fixtures: Shower fixtures offer fresh shower experiences with multiple shower heads, rainfall shower heads, and temperature and therapeutic controls. Available in brushed nickel, chrome, and other metal finishes, shower heads, knobs, and levers add smart touches to a contemporary plan.
Smart Bathrooms: Technology is changing bathrooms, too. Low-flow toilets, faucet, and showerheads save water and costs. Faucets work without touching, shower functions and lights are digitally controlled, and cabinetry includes TV and radio streaming.
Floor Tiles: Sleek and modern needs something eye-catching. If you decide on monochromatic designs in fixtures and wall treatments, you should consider something bold, patterned, and textured in flooring. Contemporary tile can look like aged barn wood, textured and scored concrete, or elegant geometric patterns.
Vanity Lighting: You may never look better than you do in your bathroom vanity. But, that depends on the lighting. Designers recommend a combination of fixtures—bright fluorescents light bars, soft make up lights, track lighting, wall sconces, and pendants. Designs range from rustic antiques to contemporary chic.
Going modern for a fresh new look
A fresh new look for your bathroom is easy if you have a strategy, plan, and realistic budget. You must start by assessing the situation. Existing plumbing, wiring, and drainage issues have a big impact on you budget and the plan.
You may not want to throw everything out with the bathwater, so you should assess what you can save and what you want to lose. Then, you can prioritize the tasks—and spending. Accomplished DIY homeowners can tackle the tasks, but even they may want to get advice from a designer before shopping for theme, total image, and fixtures.
The bathroom belongs to you and visitors. It may be your place to relax and decompress, but it's also open to judgemental visitors. So, you want comfort, functionality, and as well as a design experience.
Images by ITS – Ivo Tavares Studio – House in Avanca by nu.ma | unipessoal