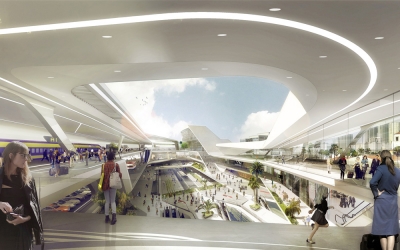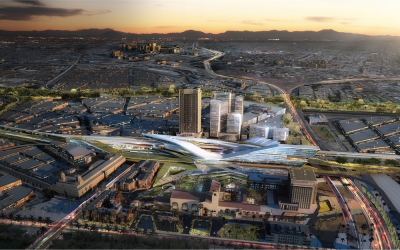 Project: Los Angeles Union Station Master Plan
Designed by UNStudio + EE&K
Team UNStudio: Ben van Berkel, Caroline Bos, Wouter de Jonge, and Imola Berczi, Aurélie Hsiao with Martin Zangerl, Stefano Rocchetti, Elisabeth Brauner, Qiyao Li
EE&K a Perkins Eastman company: Large Scale Design
UNStudio: Architecture, Iconic Places
Jacobs: Rail and Infrastructure Engineering, Constructability
Buro Happold: Facility Engineering, Energy, Sustainability, Performance Modeling
Building site: 40 ha
Location: Los Angeles, California, USA
Website: www.unstudio.com & www.eekarchitects.com
EE&K a Perkins Eastman company collaborated to envision Los Angeles Union Station Master Plan traveling as far as 2050 to imagine the solution of their concept design.
From the Architects:
The vision for the master plan of Los Angeles' Union Station was designed in collaboration with EE&K a Perkins Eastman company, and Jacobs Engineering. The 'Vision Board' – a conceptual rendering in the year 2050 – shows Los Angeles Union Station as a multi-modal transit hub with a mix of uses, new development and outdoor spaces. The intent of the Vision Board was to explore visionary possibilities for Union Station and surrounding areas.The conceptual launch pad for the design of the 'vision' for the L.A. Union Station Master Plan is focused on integrating the transit experience with new outdoor park spaces, providing a much sought after amenity in downtown L.A. At a large scale, the vision creates a 'green loop that includes plans for the revitalization of the L.A. river and possible park extensions connecting Union Station across the 101.
Key to the future architectural development of the site is the maximum preservation of the historic Union Station building and gardens. City and regional transit will be given the stage, with a focus on increased ridership and transit connections, as well as considerations for the introduction of high-speed rail. A uniquely programmed urban park with large-scale open spaces, extending the ideas of the existing historic courtyards, is envisioned as being integrated into the transit experience. The introduction of a vertical, layered strategy for the transit program show the possibility of an open-air station that takes advantage of city's light and climate, creating a distinctly L.A. response to the future of this important transit hub.