A led shop light is a high bay light used in workshops, that provide illumination levels required for performing detailed work. They come in round or rectangle shape, they are typically hung on chain, and tend to be brighter than most lights. They are perfect for both indoor and outdoor applications like garages, workshops and warehouses.
Shop lights are brighter than inefficient incandescent lamps, while using eighty percent less energy. If you are bothered about the carbon footprint, the LED is the best choice.
Continue reading for more tips from ARCHISCENE magazine's editors: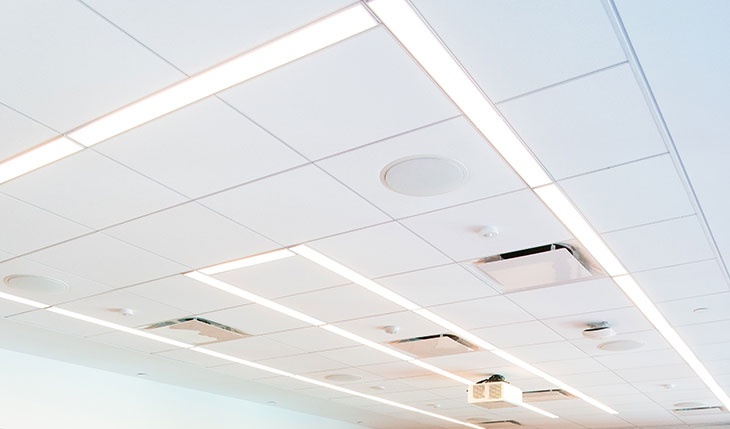 Key Features
Luminosity – The luminosity (luminous flux) indicates the amount of light produced by a lamp. Most shop lights emit about 4000 lumens, which can light up about 30 square feet of space. You can use luminosity to calculate how many lights you need., depending on the work you do in the workshop – different tasks require different numbers of lumens. For example, if you need to light a warehouse, you will need 30 lumens per square foot, while for detail-oriented shops you need at least 250 lumens per square foot.
Color Temperature – LED light sources are based on the Kelvin system of measure. A warm color temperature is typically around 3,000K, while "cool" white bulb has a color temperature of 4,000K and higher on the Kelvin scale. For a warmer lighting, go lower, and for a cooler lighting, go higher.
Mounting – Pay attention to the mounting options your LED shop light comes with. If you're planning on purchasing a fixture and suspending it from your ceiling, linkable LED shop lights are the best choice. They can be adjusted, so you can change their position and height easily. Proper lighting provides excellent visibility to the environment and helps increase the productivity and efficiency of the place.
Daisy Chaining – A daisy chain connects multiple light fixtures to the same circuit. It is very useful for setting up lighting for a larger space. Make sure to see how many lights can be daisy chained.
Benefits
Efficiency – It is one of the most important benefits of LED lights. They use eighty percent less energy than incandescent bulbs, that waste 90% of energy on heat, while LED converts electricity to light. They are always cool to touch and by installing LED lights, you can reduce your utility bills.
Longevity – LED lights can last up to 50 000 hours, unlike incandescent and halogen lights that last only 1000 hours. Depending on how much you use them, they can last for around twenty years. This is one more wat that LED lights help you save on cost since – it takes years for the need to replace it.
Design – They also come in many different designs. Because of the compact size of the LED, they are very flexible, so they can be made into various designs. LED shop lights are available in four feet length tubes.
Duration – LED bulbs are made of very sturdy polycarbonate material, which is very important for shop lights, because they can be struck by tools and other objects.
Mercury – LED lights are free of mercury, so they don't need special disposal.
Directional Light – As a proven directional light source, they offer an impressive range of benefits. They provide focused, concentrated light that can be specifically placed wherever it's most needed in the room, while providing efficient and evenly distributed light.
RELATED: The Amazing Benefits of LED Lighting