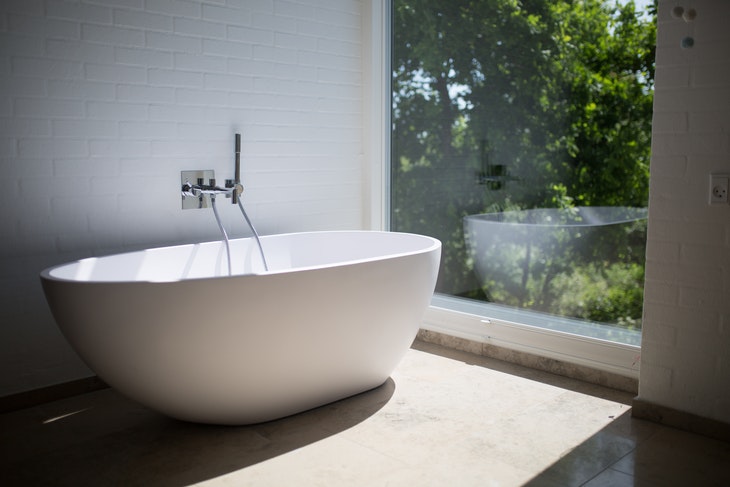 Who wouldn't want their bathroom to look like a home spa? Enhancing your bathroom is much easier than you may think. Moreover, you don't have to break the bank to give your bathroom some well-deserved upgrades and make it look like an oasis inside of your home!
We will give you all the insights on how to make your bathroom the most comfortable and desirable place you'd want to relax in! We have the tips and tricks, from the most comfortable bath mats to the best grout for a shower – we're here to share with you all our inner knowledge of how to turn your bathroom into a mini-spa!
Whether you're trying to stick to a budget and just want to add some decorations to your bathroom, or you're planning a complete tile change- we're here to tell you which products you should get:
Read more tips from ARCHISCENE editors after the jump:
Small Decorations
When decorating, it's important to acquire visually pleasant pieces whilst ensuring their practicality. This may range from scented candles to a collection of bath bombs, with all those small accessories making your everyday bathing experience much more relaxing.
Candles
It's crucial to find decorations that will not only take space but which you can also use to the fullest! Candles are a perfect way to give yourself a spa experience. They will not only look good but will also provide you with a scent of your choice that can help you recharge after a long tiring day.
If you have a small bathroom, it's better to avoid heavy scents as they can lead to migraines. Remember that "less is more". Consider getting ocean breeze, papaya, mint, or lemon scented candles. These are being used during the aromatherapy in spas.
Containers
Another great way to compliment your bathroom with accessories is by putting all your beauty essentials, skincare products, and toiletries into functional but enhanced containers.
A beautiful container might become an eye-pleasing focal point in your bathroom. Moreover, it can help you stop accumulating clutter.
You can find glass bathroom containers in the majority of any accessories stores, as well as great package options online.

Cabinets
There's a correlation between stress and accumulated clutter, so why would you want to collect any unnecessary clutter in a space that's meant to provide you with the utmost privacy?
Cabinets are a great tool to minimize any visual clutter rolling around your bathroom. Enjoy that relaxing soaking bath without having to look at the accumulated mess.
Investing in a set of cabinets can help solve the problem. Those cabinets will not break your bank if you're planning on getting them from sites such as Amazon. You can find some great storage units for as little as $30! A clean environment, free of clutter floating around, will make any mitigating experience much more relaxing.
Larger Decorations
If you've decided that now's the perfect time to give your bathroom the well-deserved facelift, we feel you! Investing in a complete renovation of your bathroom is always a good idea as it can increase the value of your home. Here is what you need to think of in the very beginning:
Tiling
Make sure you choose tiles that do not only look good in the store but something you would also love seeing in your bathroom for the next couple of years. Tiles can be very expensive, so don't rush into a decision.
Remember to take samples, and test them in different lighting around your bathroom. In addition to that, make sure to use a suitable grout to avoid any peeling or tiling falling off (otherwise, it may lead to a hefty reparation bill).
Water Jets
Water jets in your shower or bath can be an excellent investment if you want to get a SPA experience. Bear in mind, they might add an extra row to the list of expenses. However, they're certainly something worth investing in, as they can provide a true feeling of a getaway from the world.
Conclusion
When renovating your bathroom, it's important to add some decorative pieces that will help you to create a relaxing atmosphere.
So say yes to that candle that you saw on sale last weekend or the tiles you always wanted to pick for your shower! Make your bathroom more than what it is, turn it into an oasis of peace you deserve.