Loro Piana Interiors debuts "Apacheta," a new project by Argentinian designer and artist Cristián Mohaded at Milan Design Week. The installation is displayed in the Cortile della Seta, at the Milanese headquarters of Loro Piana, and is transformed into a surreal landscape that draws inspiration from the Andean tradition that has always accompanied travelers.The voyage is concluded by two outdoor installations at Piazzetta Brera and via Montenapoleone 27, in the courtyard of the Loro Piana store.
In the Andes, roads and passes are identified by stone mounds called apachetas. As an homage and a sign of gratitude to the spirit of the Pachamama, Mother Earth, they were created throughout the years by travelers who traversed those impassable distances and brought a stone from the plains to the heights, where they were left, upon crossing a pass. The Apachetas developed into enormous towers as a result of several generations of travelers and stone-layers, rising from the soil to the sky like a prayer composed of erratic rocks. They have a fragile stability despite being gorgeous and revered for many years.
With Loro Piana Interiors, Cristián Mohaded has embarked on a quest to pay homage to nature using a sustainable design aesthetic, and Apachetas have become the beginning point of that adventure.The partnership between the maison and the designer is founded on common ideals including a love of workmanship and materials, as well as the conviction that harmony and beauty may come from opposites.Argentina, and more specifically the province of Catamarca in the north-west, is a country where Mohaded was born and where Loro Piana obtains vicu, one of the most valuable and uncommon natural animal fibers.Two individuals who are profoundly in love with nature and its blessings are connected by a common thread of respect.
We approached Cristián knowing his passion for craftsmanship, his research in materials, his extreme love for them, for their textures and contrasts. Everything he creates starts from this and we thought it was the right artist to entrust with our own materials», explains Francesco Pergamo, Director of Loro Piana Interiors Division. «When we saw the project, we had the immediate certainty that it was beyond expectations. Cristián has not only put all his magic into the materials, but has infused the design with all the values we share.
Mohaded and Loro Piana Interiors' dreamlike setting for the Design Week is inspired by Apachetas and the contrasted landscapes of Catamarca, which feature rivers, white and red lagunas, angular towering rocks, and shrubs that have been altered to resemble salt crystals. A dreamy environment is created in the Cortile della Seta, with twelve towers rising up to 8 meters above the ground. The uneven, angular, and seemingly unstable stones are covered with Loro Piana Interiors fabrics from previous collections, which are given a second chance here. In this sense, the Apachetas' landscape also encourages discussion about sustainability and the potential for upcycling unwanted materials.
The Mohaded-designed furniture, including couches, stools, a seat, and courtesy tables, is on display in the Cortile della Seta, nestled amid the towers. They have a stone-like appearance that Loro Piana Interiors has softened by employing tactile materials. To create contrast, like pebbles between the stones that provide stability and surfaces to lay items on, they include hand-carved wooden components in the more rounded areas. A third material, ceramic, which has the same hues as the towers and is inspired by the Argentine lagoons, joins wood and cloth. All were selected from the landscape's stunning natural color pallet. For the tables' tops, ceramic is changed, resulting in little lagoons between the pieces of furniture.
This project is undoubtedly another bridge of that relationship and connection between Latin America and the brand», explains Cristián Mohaded. «A unique, dreamy landscape that defies the imagination of each one of those traveling souls, who travel and meet those monumental contractions in the form of towers, alive with color and memory of a living land. In which we feel identified by each of those parts that build everything. "Apacheta" is a message to our Pachamama, it is history, it is culture, it is honesty and respect.
During Milan Design Week, the exhibit is accessible to the general public, providing Loro Piana's guests with a rare chance to take in the magnificent view of the Cortile della Seta. Pieces of "Apacheta" are only available by special order.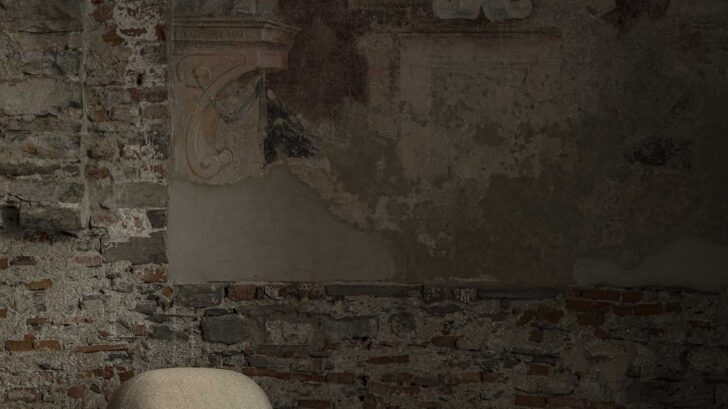 Find out more on loropiana.com