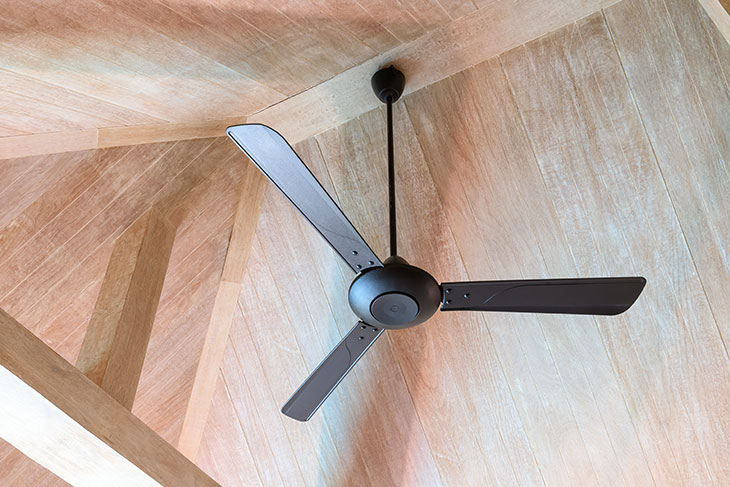 Are you looking to update or replace an old ceiling fan? Maybe you want to save money on your energy bills this summer or help keep your study or home office comfortable. Whether you're just looking to upgrade the look of a room or need to get better airflow in a smaller space, a new ceiling fan is the perfect quick upgrade for the home. If your room is a bit on the smaller side, then upgrading to a smaller ceiling fan is an excellent choice for improving your comfort. After all, small fans are ideal for smaller rooms or spaces. Smaller fans can be just as functional and stylish as their larger counterparts. Here's a short guide covering how to pick the best ceiling fan to fit your small room.
Read more after the jump:
Calculate Your Room Size
The very first thing you should do prior to purchasing a new ceiling fan is to calculate your room size and determine why you want to install a fan in the first place. Understanding the size of the room and the purpose of the fan will work in conjunction with each other will help you to create a comfortable, visibly stunning environment within your home. If the fan is intended to improve airflow, room and ceiling fan size need to correlate with each other to work efficiently. On the other hand, if the fan is largely decorative, you might want to add accessories and mount it differently/at an angle. Very large rooms—those over 400 square feet—may require more than one ceiling fan to be installed. Since you're probably working with a smaller space, you won't have to worry about that too much, but do your best to get exact measurements as possible.
Select The Proper Fan Height And Diameter
Once you know the size of the room in which you're going to place the fan, it's time to select the proper fan height and size. The diameter of the fan should match the size of the room in which it was going to be placed. If the fan is too small for the room, it won't really circulate the air. If it's too large, it'll pull the air downward creating a warming effect and make the room look bad. For instance, an 8 x 8 foot room would benefit from a 30 inch diameter fan. Your rooms may require anywhere from a 40 inch diameter fan to a 70 inch diameter fan. It ultimately depends on the square footage of the room and the requirements of the user. Smaller rooms likely won't require anything larger than 46 inches in general. Be sure to do plenty of research and measuring to optimize the placement and performance of the ceiling fan before committing to a purchase. High ceiling rooms may require higher mounting rods as well. For a significantly smaller area, there are 12 – 16 inch fans specifically designed for such spaces.

Choose A Number Of Blades And Mount To Fit The Room
Now that you know which room is going to be a home for your new ceiling fan, it's time to select a mount and the number of blades you want your fan to have. First, decide if you're going with three, four, or five blades on your fan. Fans with less blades tend to spin faster, while more blades increase energy efficiency. Since most small rooms have low ceilings, flush mount and low profile/ultra low profile fans are great options. They can mount directly to the ceiling or use downrods with higher ceilings. The housings are designed with a small room in mind, so they won't overload the space or be too bulky for the room. When you're looking for the best small ceiling fans, remember that mounts and blade quantity are just as essential as measuring the room itself.
Decide On Lights And Accessories
A tremendously fun aspect of installing a new ceiling fan is deciding on different lights and accessories for your fan. A ceiling fan doesn't need to exist in a vacuum as a featureless, rotating mess of blades. It can benefit from lights, remote control, or other cool features. Lighting is especially important if your small room was converted from, say, an attic or a garage where there weren't any lights originally installed. For most small rooms, the ceiling fan may be the only light source, whether it has one, two, or three bulbs. If this is the case, get a bulb with at least an 800-lumen output. If it's only for adding additional light, you may want a dimmable bulb. Use LED lights for higher ceiling fans in tall rooms. Think about the controls, too. Do you want a pull chain? A wall switch? Smartphone/Wi-fi wireless access? How about a remote control? All of these options are possible with modern fan designs.
Don't Forget About The Casing And Style
The final component of buying a new fan is deciding on the case and style. Choose a color that blends well with your home. Then, select one of the various ceiling fan styles available on today's market. Here's a short list:
● Caged
● Casual
● Chandelier
● Cool
● Farmhouse
● Formal
● Industrial
● Modern
● Nautical
● Rustic
● Traditional
● Transitional
● Unique
Farmhouse and rustic fans have a countryside feel to them, while modern fans are sleek. Chandelier fans might be more elegant depending on the home. Maybe you want something more casual or prefer a fan encased in a cage. It ultimately depends on the look you're trying to achieve and how the style will fit within your home's aesthetic.