Whenever a home makeover springs to mind the living room is first on our list, the contemporary design is always a good referral, it also goes hand in hand with the global trend for affordable home design. Today, home decor sparked interests of high street fashion, with game changers such as ZARA and H&M also joining the design game alongside the already established giants such as Swedish icon IKEA. Not only do these stores offer affordable small furniture and decor pieces for your living room, their design teams are also trend forward creating timeless new decor ideas.
However, with trends of living room rugs and carpets growing smaller, the floor takes it's long deserved spotlight, a quick way to give a new look to your living room is also looking into an affordable laminate wood flooring range. Not only does laminate have a myriad of design options, it is also affordable, plus easy and quick to montage as well as remove when it comes to another redesign down the road.
When it comes to working on interior design, it is certainly easy to higher an experienced interior designer, yet it's hardly an affordable solution for all of us. Thus the best solution is to get inspired by beautifully decorated living rooms. We at ARCHISCENE have spotlighted a list of a few of our favourite living rooms, created by world's leading interior designers as well as top architecture firms and their teams.
STYLISH NEW YORK LOFT IN A RENOVATED FACTORY SPACE
Industrial feeling has never been more on trend than today, this NYC loft makes the best of an old factory space redesigned by ALine Studio. The architects used the most of the open plan solution, with living room, dinning room and kitchen area sharing the massive space. At the same time the often cold industrial space of the building's original design was changed into a warm homely living space with the use of laminated wooden floors.
EMR Home Design Creates A Stunning London Home with an open floor plan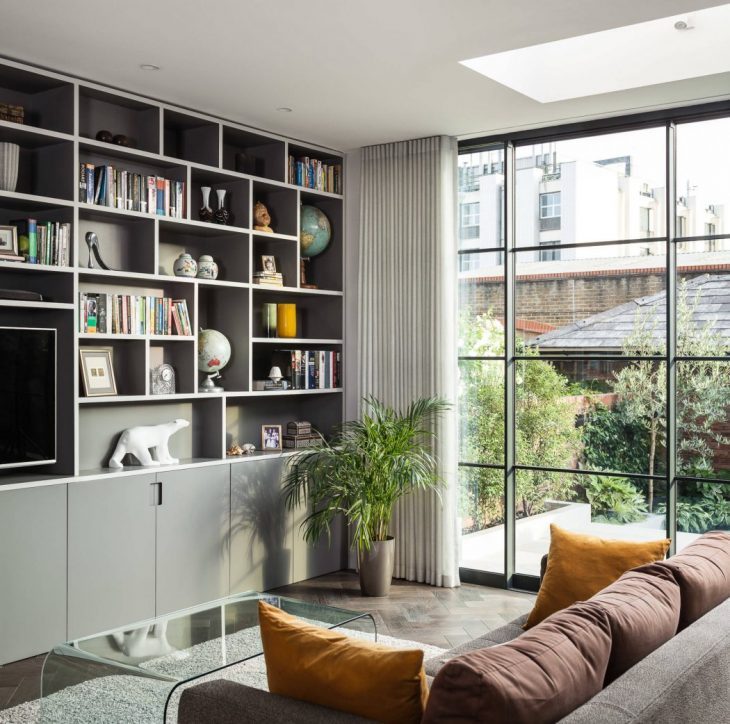 The owner of this stunning home in London have enlisted the talented architects at the UK based EMR Home Design to reshape their complete home. The result is a modern contemporary household with a note-worthy living room, the space both modern and comfortable features two massive sofa oriented towards the TV set and beautifully decorated shelf. But also a stunning outdoor space, which separated by a glass wall blurs the lines between indoor and outdoor. Giving the special feeling once again are the beautifully placed wooden floors. EMR Home architects shared with us: "With bespoke built in joinery and innovative storage systems as well as high quality finishes, Cambria Street is now a practical, functional and beautiful family home."
GOING FOR A WHITE FLOOR AND TIMELESS ELEGANCE
Interior designer Taylor Spellman is one of the most sought after designers in the city of New York, she has recently shared with us her project for a very space constrained yet modern apartment in NYC. Spellman who is also famous for her decor skill on BRAVO TV's Yours, Mine or Ours offering much needed decorator help to millions of viewers, has opted for dominantly white colour theme. Not only has she chosen white furniture, she also selected white wood floor laminate, which helps open up the space and make the whole apartment feel much larger than it originally is.
Spellman also decided to place living area in an open space with the bedroom, allowing the light to flow through the space, but also giving both areas enough of an identity to thrive on their own.
In an exclusive interview for our print magazine DESIGN SCENE, Taylor shared: "My design philosophy is to design for how you really live. People talk about ones home like it's a luxury good and it's not. It's absolutely critical to one's life. This is the place you go to seek refuge from what can be a crazy world. Your home should build you up and be a place for living and loving."
This sublime Manhattan loft is located in a luxury condominium in the prestige Upper East Side neighbourhood of Manhattan. See more of the beautiful Manhattan loft designed by Taylor.