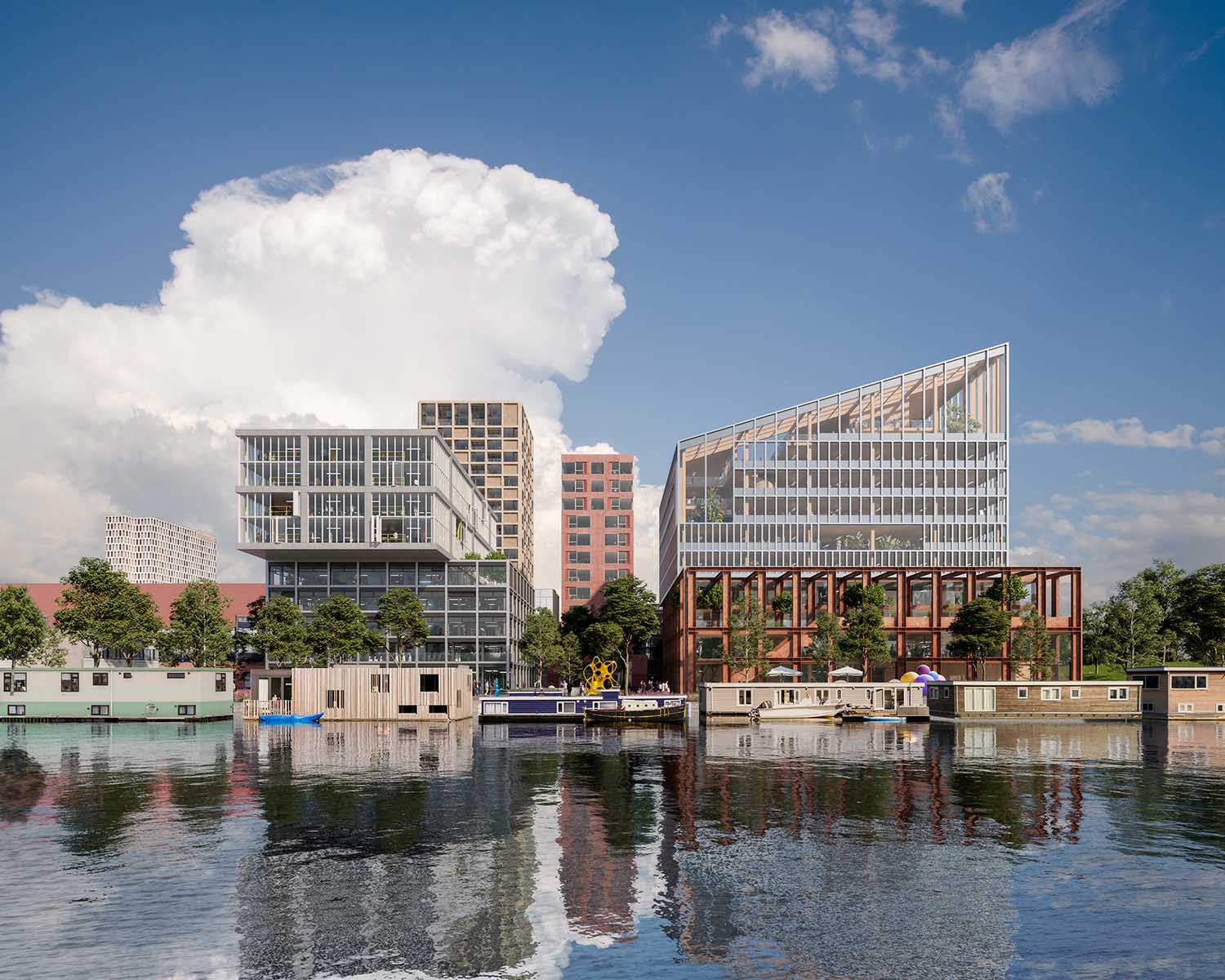 Mecanoo Architekten designed Amsterdam's future-proof mixed-use Amstel Design District that aims aims to have a big impact on the entire city. This plan for a living and working community consists of social housing, homes for middle-class rent, privately owned residences, communal facilities, creative office space, retail, and a design museum. The project adapts to site restrictions regarding logistics and noise pollution because it is situated between a highway and a metro line. By forming the public space between the buildings as pocket parks and plazas, the composition of stacked volumes with setbacks responds to the surroundings.
Intimate and recognizable public roof destinations are made possible by the building setbacks, which spatially expand the public realm. The plan was created with consideration for everyone's access to, and sustainability of, the natural world. Amstel Design District accommodates changing needs from workplaces with a dynamic diversity of business and collaboration spaces, integrating adaptability to ensure long-term resilience.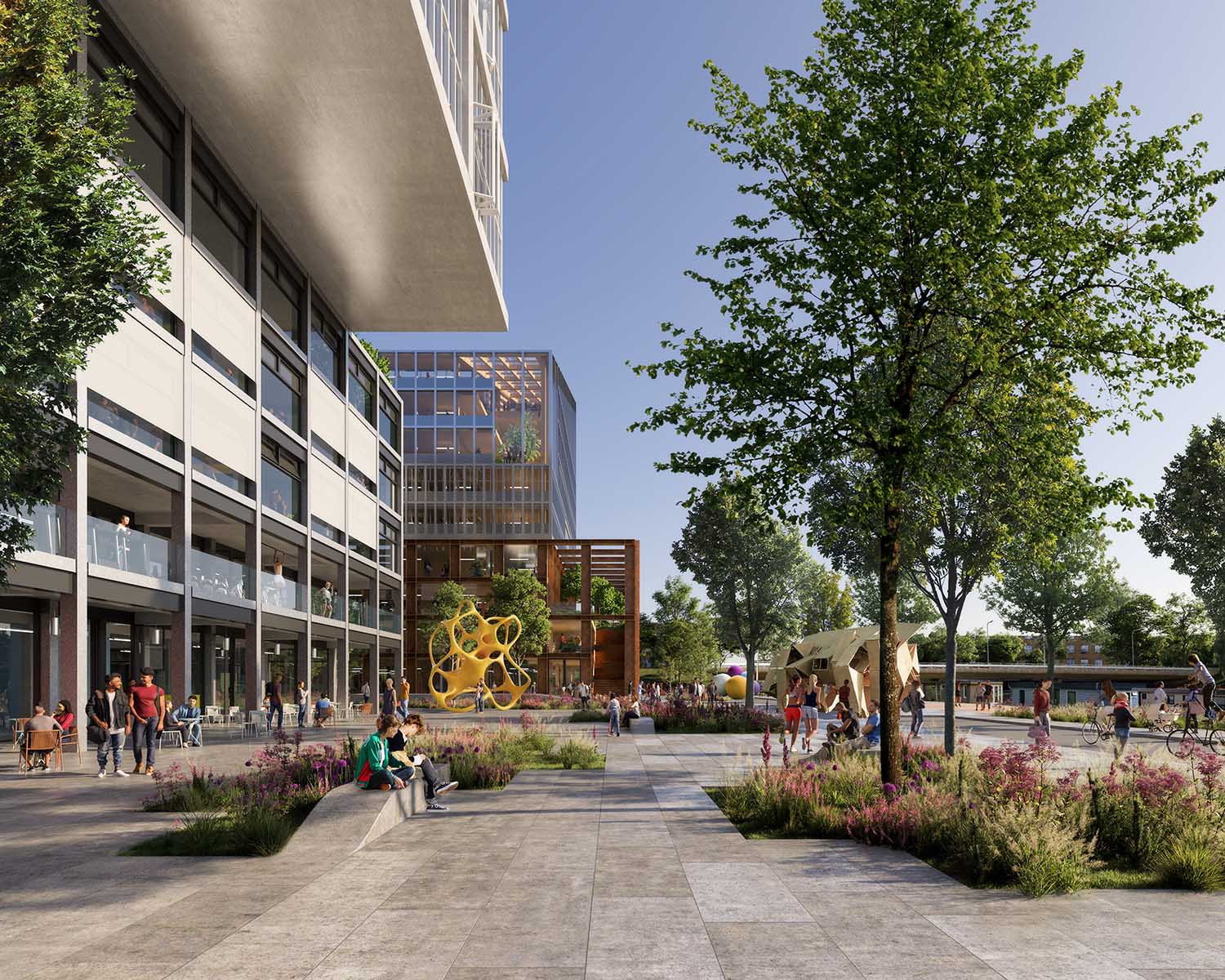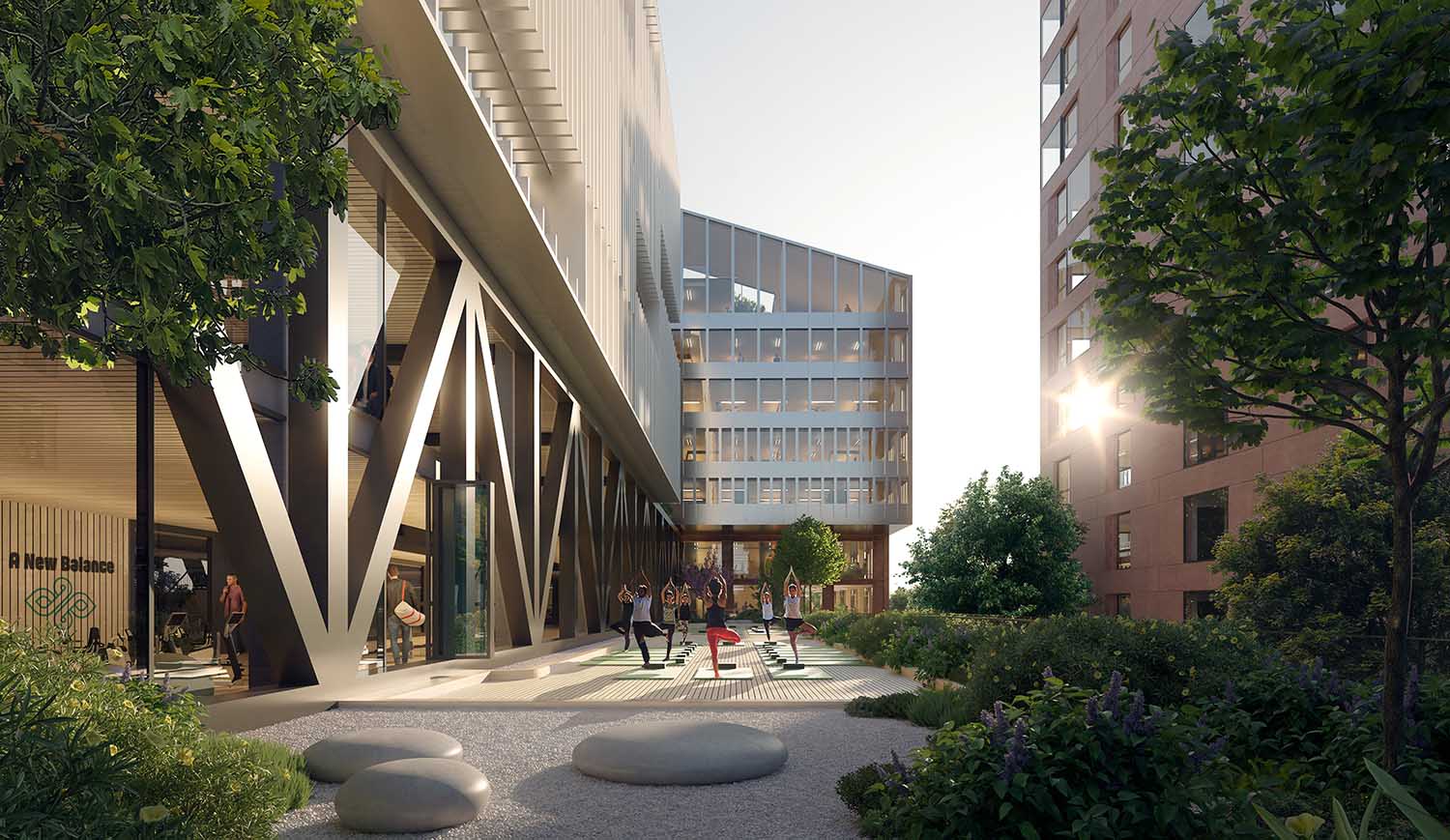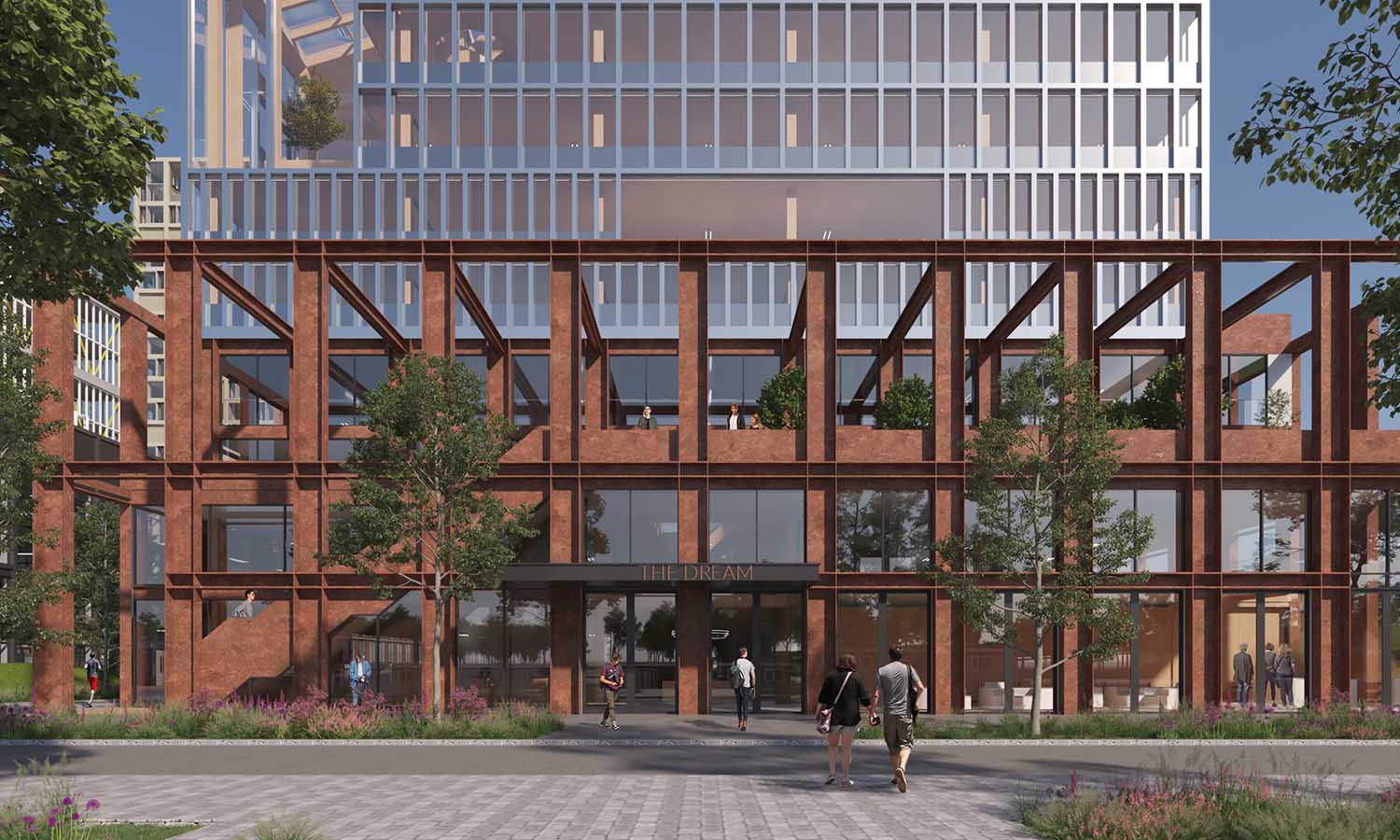 Working environment
The creative hub is a part of the city and is surrounded by a vibrant urban environment that includes restaurants, retail, and entertainment options. A dynamic and innovative work environment is made possible by the local entrepreneurship and dynamism. Work and personal life intertwine and continuously provide life both inside and outside.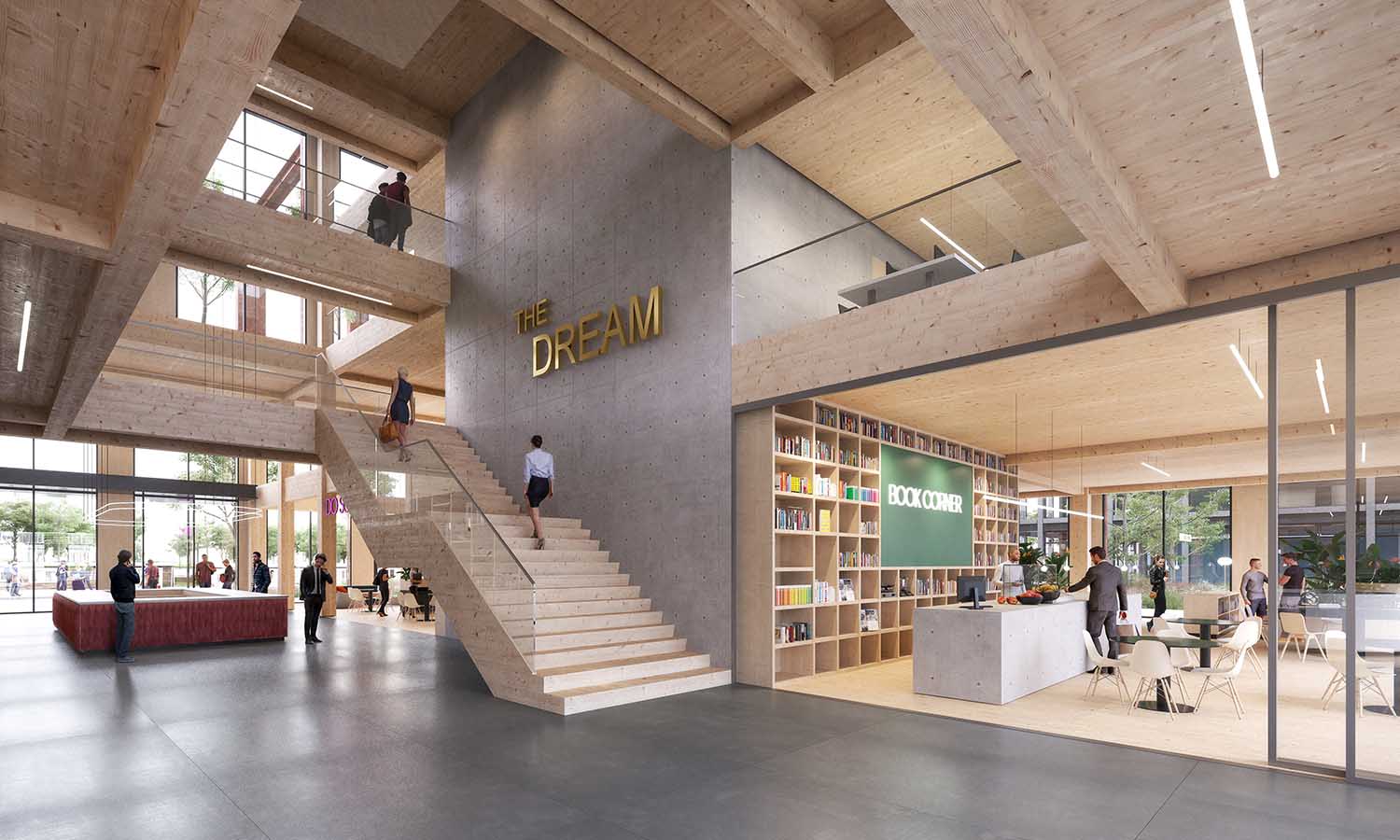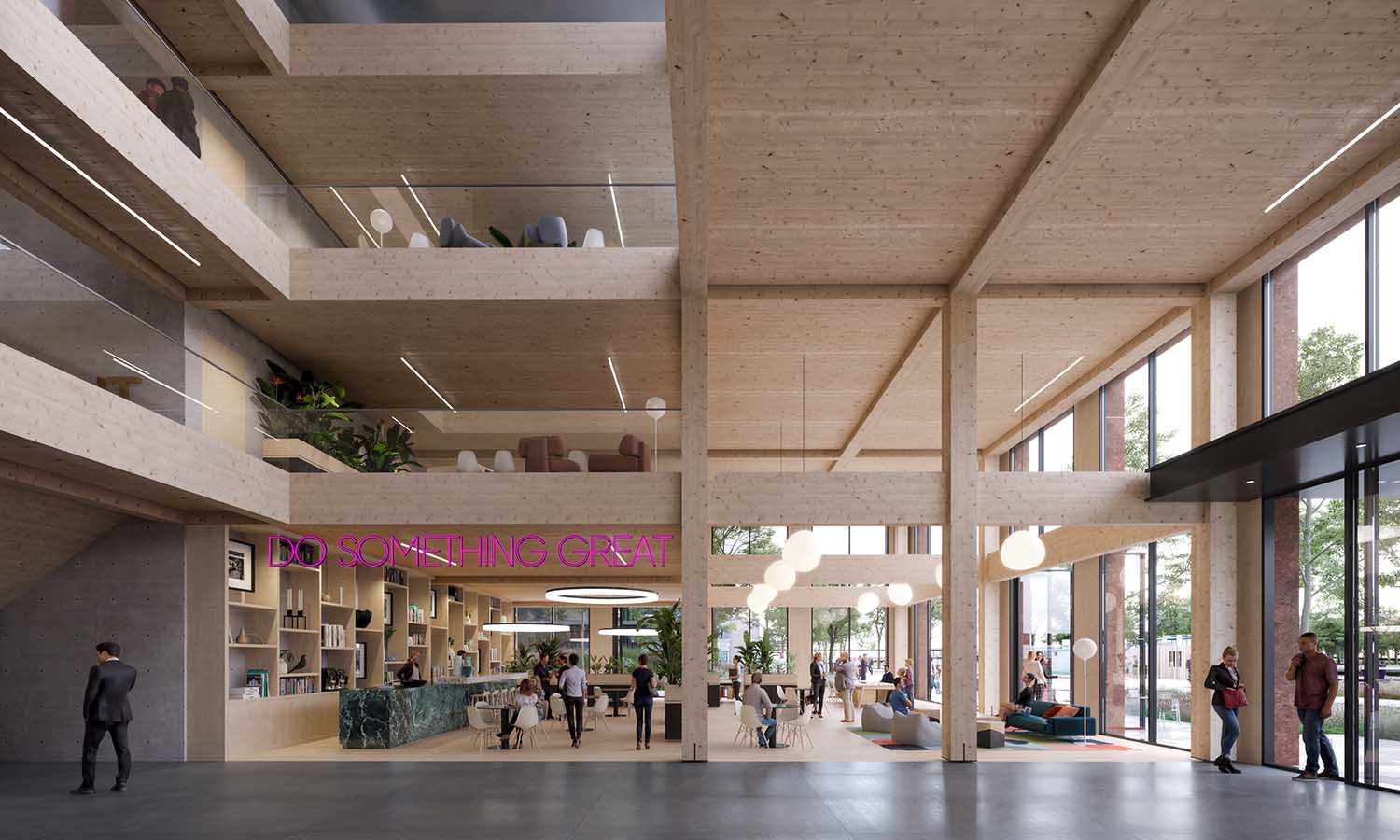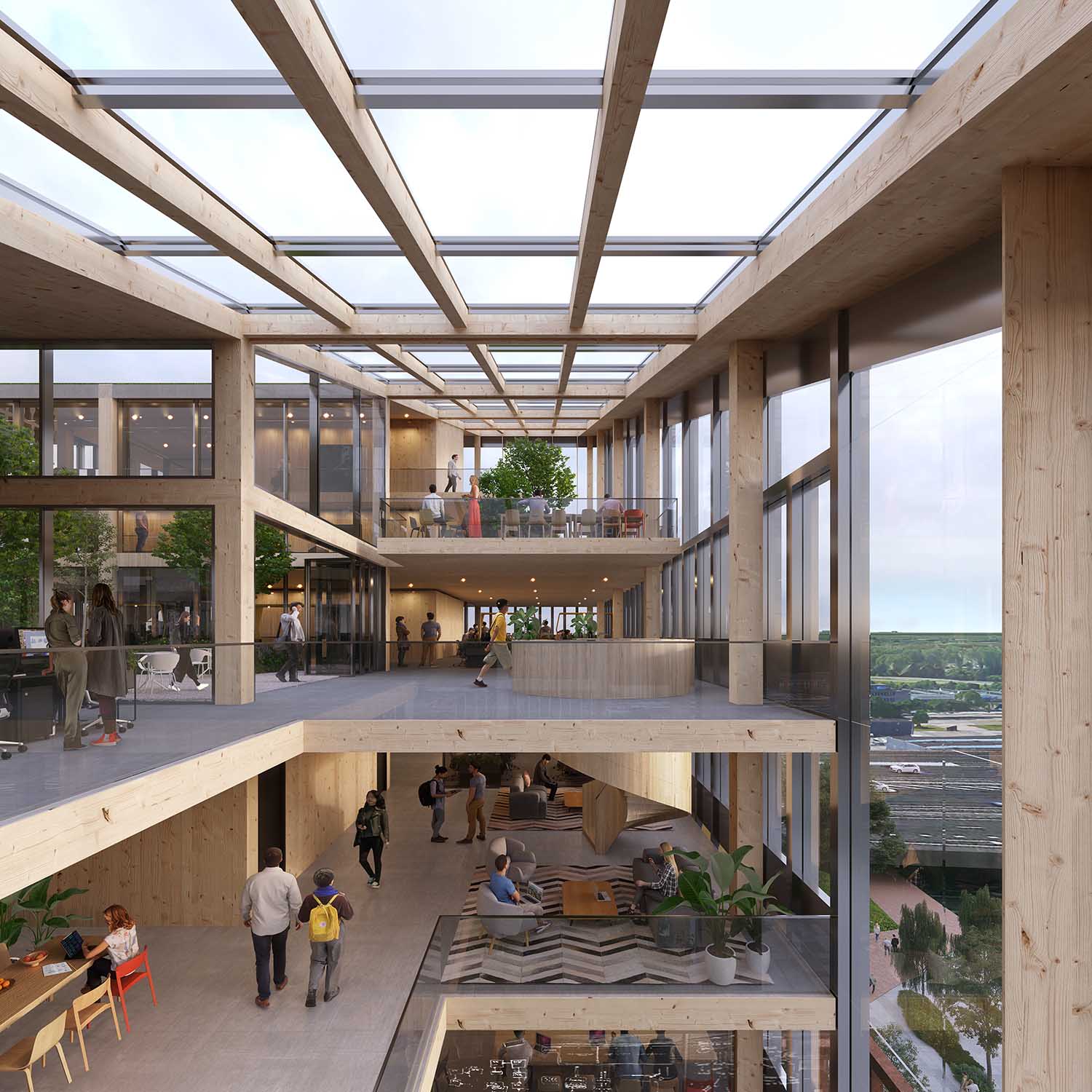 A residential experience
Young urban dwellers spend more and more of their time outside of their homes. The home serves as both the starting point and the location to unwind while the city serves as the living room. Mecanoo designed this with the intention of integrating and enhancing the transitional areas for impromptu gatherings and chance encounters. We want the residents' business and personal lives, as well as their private and public places, to flow smoothly. As a result, a new district is created with common areas for hobbies, family time, and physical fitness, embracing the effectiveness of work-life balance for the community.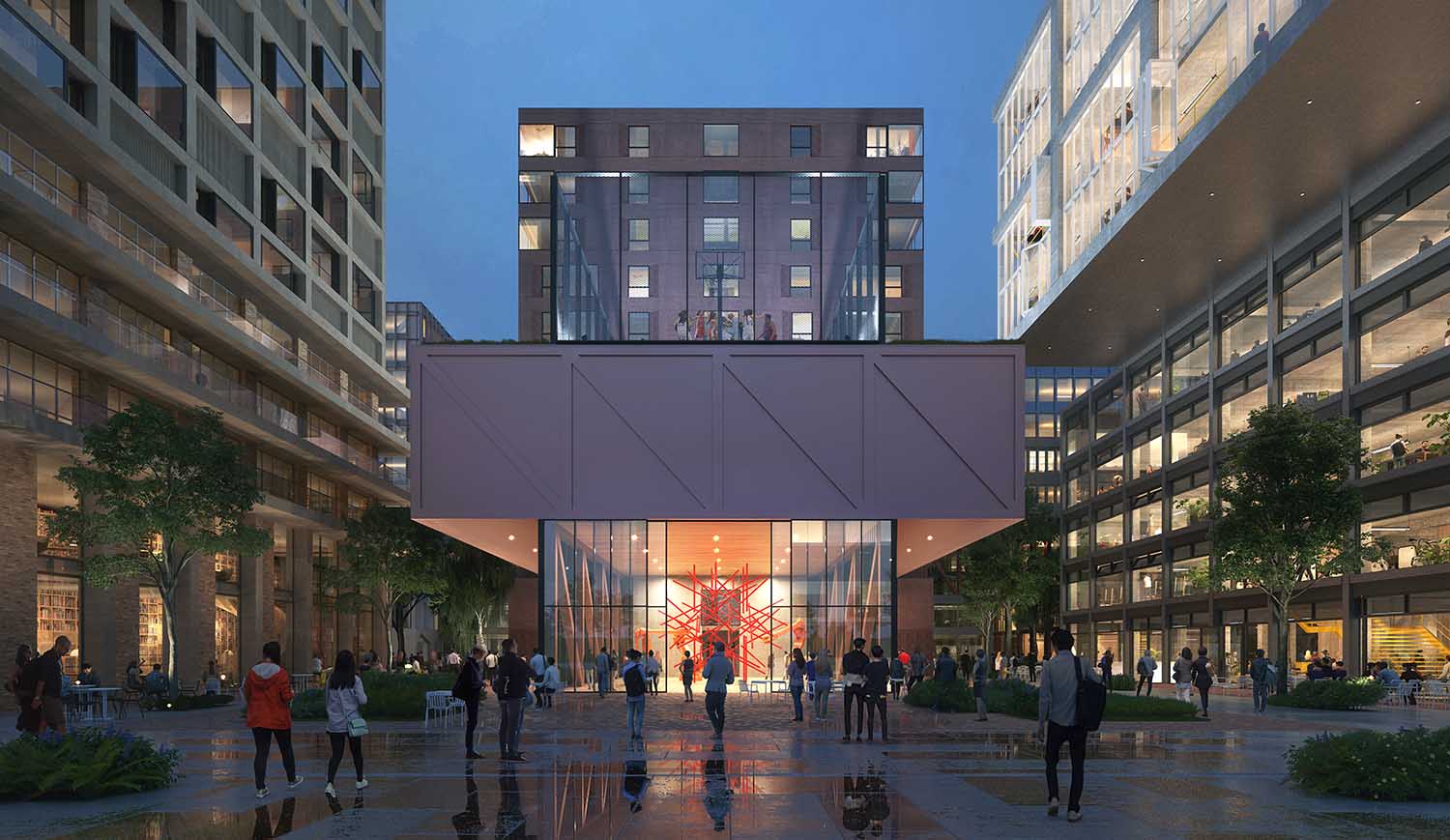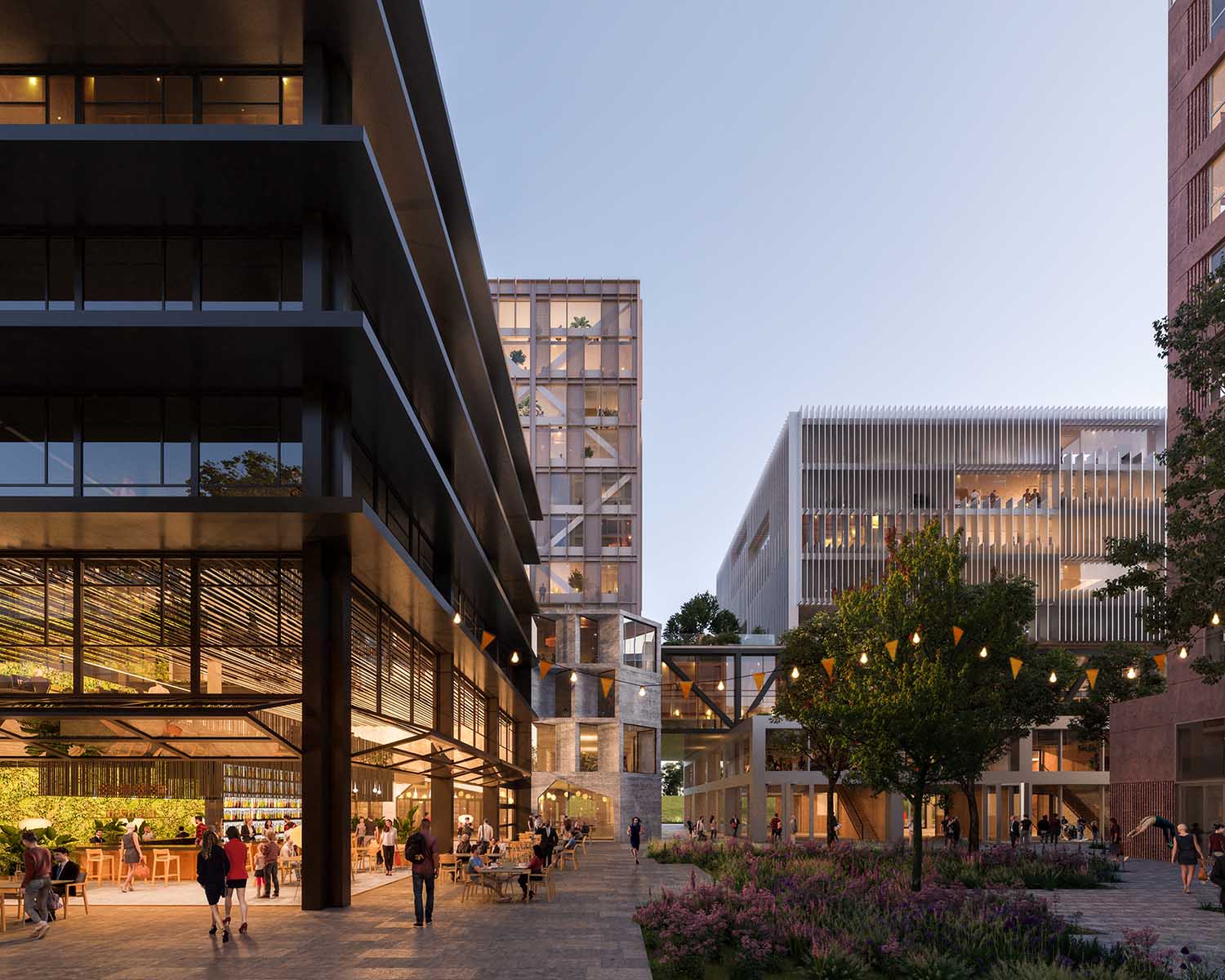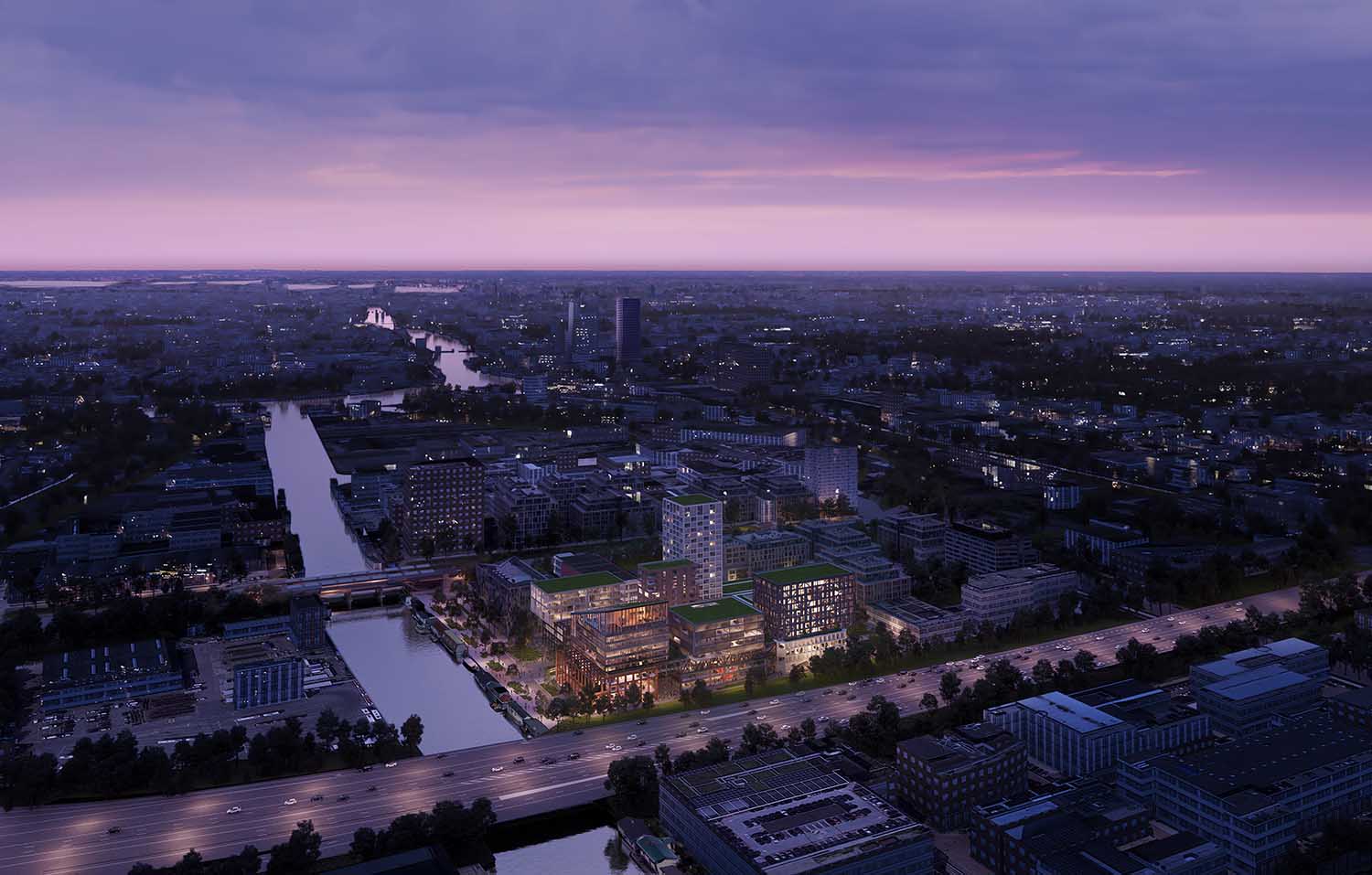 Green connections
Like a green artery, extensive planted areas and small parks weave throughout the neighborhood. Throughout the week, they create evocative and inviting spaces where people may unwind or find inspiration. Residents may stroll through the neighborhood, kids can safely play, and young businesspeople and office workers can enjoy lunch on the terraces of the food court or restaurant. The working spaces include "Green getaways," including patios and roofs with plants, which foster a close relationship with nature. Water retention and water filtration are provided by green roofs, which also promote biodiversity.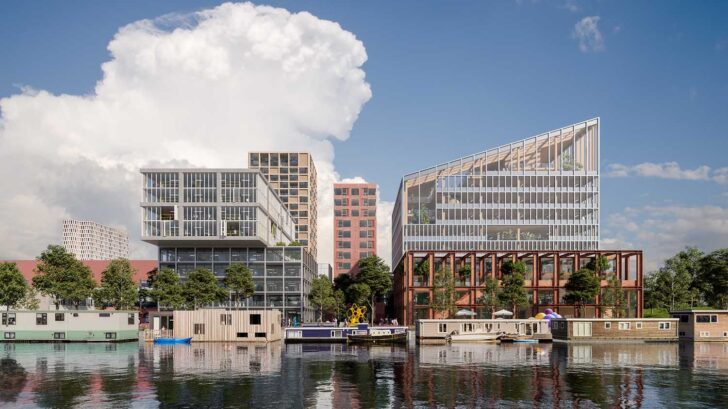 Project information
Programme: Masterplan for an 80,000 m2 flexible framework with a full range of facilities, including flexible offices and co-working spaces, housing, design museum (800 m2), creative workplaces (makerspaces), workshops, commercial spaces and common amenities that ensure a diverse, inclusive, and sustainable community.
Design: 2021-ongoing
Client: Connecting Concepts BV
Design Team: Mecanoo, KettingHuls.
Find more projects by Mecanoo Architekten: www.mecanoo.nl