Nestled in the heart of Lavras, the Casa Calm designed by architect Mateus Monteiro stands as a testament to the union of contemporary minimalism and the rustic beauty of traditional Brazilian materials.
Emerging from the aspirations of a family wanting a summer retreat that could one day be their permanent abode, this 460 m² haven is imbued with touches of personal connection. The client, a mining engineer, brought forth a fascination for concrete, resulting in its central presence in the design.
According to Monteiro, understanding the clients is of utmost importance. "I always aim to get very close to my clients. It's only through this proximity that a project can truly become functional, aligning with the family's daily life and mirroring their dreams," said the architect. The bond was notably unique in this project since the client is Monteiro's own brother.
As you step into the entrance hall, the rich history of Ouro Preto, the couple's beloved city, greets you. A photograph of the university therein is immediately noticeable. Further on, adjacent to the Mole Armchair by Sérgio Rodrigues, a painting showcases the intricate ceiling of one of Ouro Preto's churches. Curated pieces, including photographs by Z. Zurika, woodwork, soapstone, and ceramic vases, weave a narrative throughout the home.
The facade distinctly employs soapstone, etched with veins using the jet-brushed technique. A warm cocoon of comfort awaits inside, with the living room's concrete floor and ceiling juxtaposed against wooden slatted panels.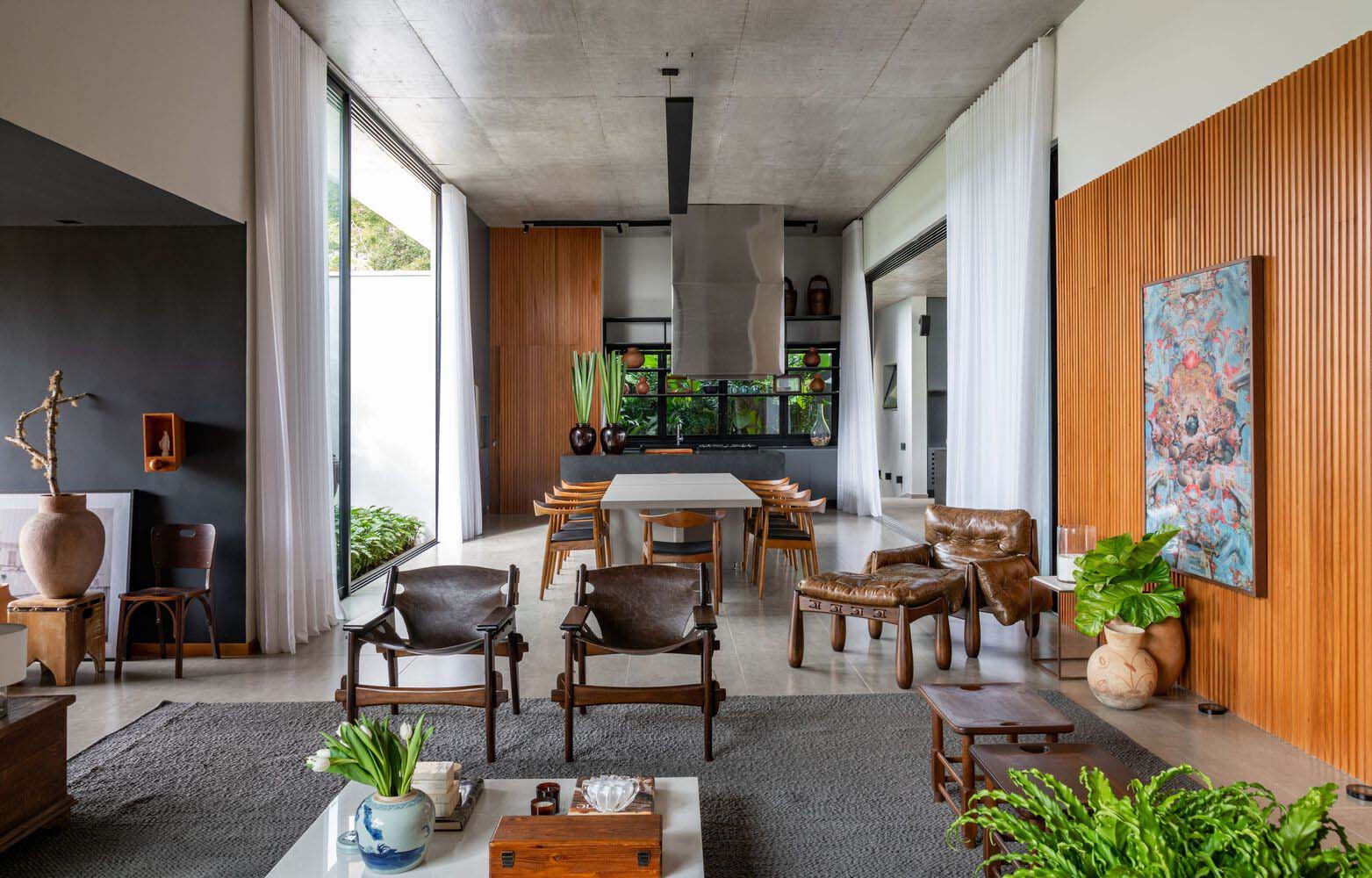 A special request from the residents resulted in the kitchen being ensconced in a lush garden. Moving to the private intimate area, French doors, reinterpreted in Minas Gerais style, incorporate the landscaping into the hallway. The master suite features a bespoke bathtub, once again carved from soapstone.
Flávia D'Urso's landscaping mastery is evident throughout, as every room offers views of the verdant garden. The social areas also highlight the family's inclination towards exposed concrete, with dedicated lighting designs illuminating these spaces.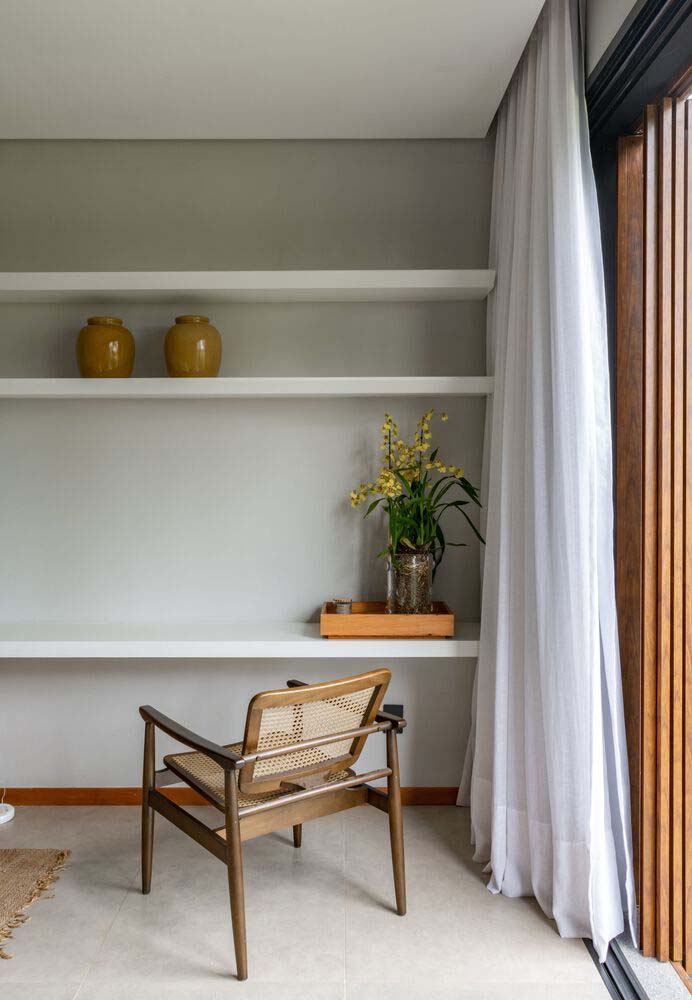 Outside, the pool, clad entirely in soapstone, merges seamlessly with the surrounding landscape. Descending a stairway adorned with ceramic vases, one finds a cozy barbecue area below the pool, complete with an integrated fireplace.
The Casa Calm, in all its architectural glory, epitomizes a sanctuary where nature and design come together, urging one to return and linger.
Project information
Architects: Mateus Monteiro @mateusmonteiro
Area: 460 m²
Year: 2023
Photographs: Favaro Jr.
Manufacturers: Allmad Portas e Pisos, Compose confecções, Eletro Vidros, Galleria Acabamentos, Garden Cerri, Marmoraria Soter, Planejart Moveis e Serralheria, Reinc, Templuz, Z.Zurika
Landscape: Flávia D´Urso
Construction: Siqueira Construções e Reformas
City: Lavras
Country: Brazil