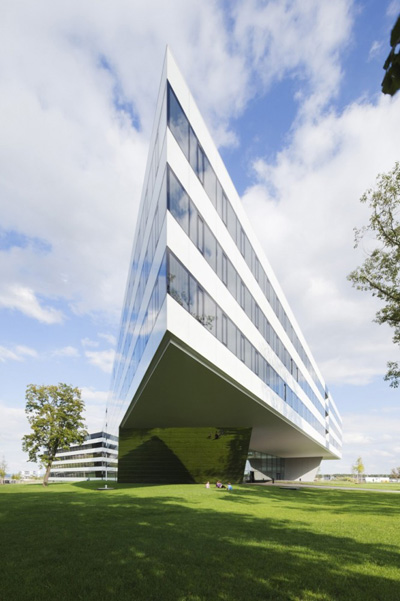 Project: Adidas Laces
Designed by KadaWittfeldArchitektur
GFA: 62 000 sqm
Client: Adidas AG World of Sports
Location: Herzogenaurach, Germany
Website: www.kadawittfeldarchitektur.de
The bold design for Adidas Laces building takes the scope of over 60,000 square meters, located in Herzogenaurach it is work of KadaWittfeldArchitektur. For more continue after the jump:
From the Architects:
The new Laces blends into the existing World of Sports ensemble as a floating counterpart to the black, recumbent mass of the adidas Brand Center. Its clearly contoured volume positively invites the surrounding campus to find a continuation within its interior, an atrium with a controlled climate. Lined up in a circular arrangement, the office areas with their large glazed surfaces open onto the atmospheric inner space and the remarkable landscaped space. The connecting walkways that cross the atrium, the Laces, "tie" the built volume together, as it were, to form a many-layered office building that is rich in relationships. They enable a maximum of interaction and allow open areas of communication to emerge. As delicate connecting bridges, they weave a poetic spatial structure into the interior and thus make the special creative atmosphere of the building legible. The result is an inspiring place for research and product development.
Source ArchDaily. *