Luigi Rosselli Architects were in charge of The Stunning Loggia in Arcadia, the inspiring design shapes this modern yet cozy home in Sydney, Australia.
Arcadia is a mythological place of peace and pastoral happiness, and one can find a Victorian villa named Arcadia in a tranquil street in the suburb of Paddington, on the city fringes of Sydney and walking distance from Centennial Park. This Gothic Revival villa is wedged between rows of terrace houses, hidden from the street, and by the happy accident of a Victorian land surveyor, conceals an unusually large and lush garden at the rear of the property. The new additions open a dialogue with the filigree of the traditional Victorian front veranda and the ashlar masonry pattern of its walls without imitating the materials. The new loggia or upper floor balcony is clad with a finely detailed wall of shutters and elaborate cantilevered timberwork. Below a monolithic exposed concrete wall, formed by seasoned timber planks, provides a contrasting base to the loggia. The mix of modernity with the heritage of the context and the reuse of traditional building details next to contemporary materials is a vibrant new approach to provide new life to tired old buildings. Today, Arcadia bears its name proudly and a family enjoy the peace and pastoral happiness of its setting. – from Luigi Rosselli Architects
A four bedroom home is designed for a large family, providing a comfortable and relaxing household. The architects found the right balance between vintage at modern, yet preserving the historic Victorian heritage of the house.
For more of the design continue after the jump: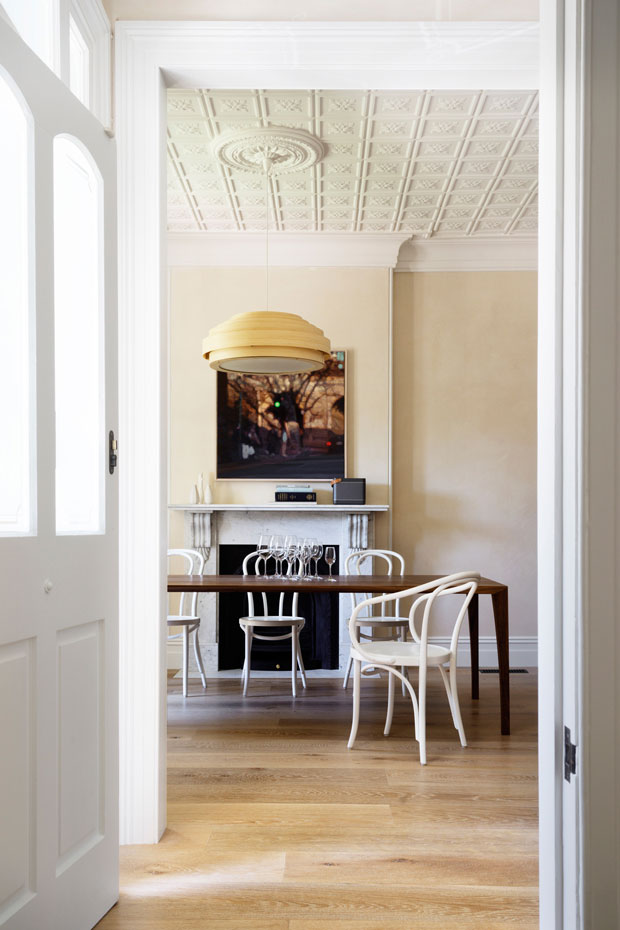 Location: Paddington NSW
Design Architect: Luigi Rosselli
Project Architects: James Horler, Joanna Bridle
Landscape Architect: Secret Gardens of Sydney
Structural Engineers: Geoff Ninnes Fong & Partners
Hydraulic Consultant: Charles Blunt for Rooney & Bye (Australia) Pty Ltd
Interior Designer: Romaine Alwill for Alwill Interiors
Builder: Paul King Pty Ltd
Joiner: Sydney Joinery
Photography: Justin Alexander , Edward Birch
For more projects by Luigi Rosselli Archtiects visit luigirosselli.com.