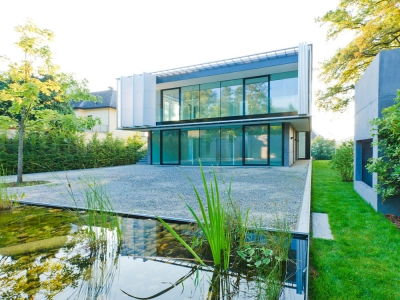 Project: Villa S
Designed by Buerger Katsota Architects
Location: Vienna, Austria
Website: www.buerger-katsota.com
Buerger Katsota Architects design the elegant Villa S in Vienna, the whole project is shaped to meet the needs of an extended family.
From the Architects:
The scheme aims at accommodating and negotiating the differing and ever changing needs of an extended family. A generous, skylight staircase becomes the gallery of the house and the core of the home linking the two dwellings. Living areas of different sizes and acoustic qualities are designed to cater for music events and social gatherings of various scales. Between the 'built' and the 'un-built' of the lush urban garden, frames, platforms, niches and extrusions, create intricate relations and unexpected perspectives. Above the black concrete base, a two storey volume is enveloped with fixed and movable shading panels of white Teflon fabric, a reference to the material quality and texture of the lost Bohemian tradition of linens and domesticity. The building meets the highest building performance and energy standards (low energy house) despite its large glazed surfaces and translucent enclosure. The heating and cooling system is based on a geothermic heat pump and is integrated in the structural concrete.